Margot Robbie, who played Harley Quinn's baseball bat-wielding live action debut in Suicide Squad, is pretty sure she knows when she'll be filming more material as the character. But she's much less sure about what movie it'll be for.
Robbie is currently doing press for I, Tonya, her Tonya Harding biopic (which, by many accounts, seems to be good), and while at the Toronto International Film Festival The Wrap asked her about her role in the DC films.
The conversation here is incredibly telling. "I think next year I'll be back in the fishnets wielding a baseball bat, I hope," Robbie says.
"With the... Joker movie?" asks the reporter, to which Robbie replies, "Your guess is as good as mine at this point. I don't know."
G/O Media may get a commission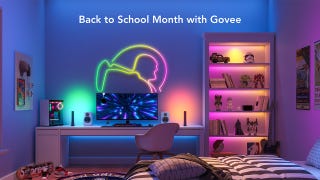 Back to School
Back to School Month with Govee Sale
The actress could be holding back here, but somehow I don't think so. This further confirms something we already know: the DC cinematic universe, particularly where the Joker is concerned, is in absolute chaos. And not the good, villain-oriented kind that Christopher Nolan was into.
Is Jared Leto returning as the Joker in the next movie? Good question. How many Joker movies are even in the development stage right now? Good question. Is Harley Quinn still slated to appear in a Gotham City Sirens film alongside other lady villains of the DC universe? Good question.
One would hope that the actors would have a slightly better handle on this than the rest of us watching from the sidelines, but that's increasingly looking like it's not the case. At least Robbie seems pretty sure she will be returning as Harley Quinn, which may be more than we can say for Jared Leto.
At least we'll always have Suicide Squad, right? Right, guys?
[The Wrap, via Heroic Hollywood]