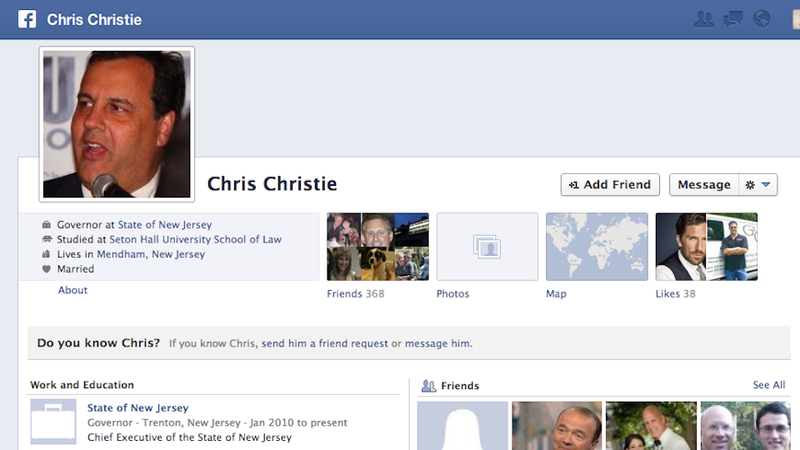 BuzzFeed reports that Zuck and wife Priscilla Chan will hold a fundraiser for NJ Gov. Chris Christie—meaning that Facebook now has political ties. It also means the Republican governor has some serious Silicon Valley cash headed his way.
The event—which will surely draw a throng of affluent and powerful tech figures—is likely the first of its kind for Zuckerberg, who is usually quiet about his political views. But after his $100 million donation to NJ public schools, Zuck and Christie (who's up for reelection this year) have become pals:
"Mark and (his wife) Priscilla have worked closely with Governor Christie on education reform in the Newark school system," said Facebook spokeswoman Sarah Feinberg. "They admire his leadership on education reform and other issues and look forward to continuing their important work together on behalf of Newark's school children."
Giving money to a troubled school district is nothing but noble, but raising cash for Christie means Zuck is throwing his weight behind the man's entire platform—not just the nice things. Christie has proven himself to be an opponent of gay rights, abortion, and unions. His ACLU report card isn't exactly inspiring.
Still, Governor Christie's popularity is at an all-time high post-Sandy and after mega-public appearances with President Obama. For Zuck—not always the most beloved public figure—to attach himself to the thick-necked gov's campaign might be mutually beneficial. But no matter the sum raised, the fundraiser has one major consequence: cash drummed up by Facebook (and you) now has political meaning.
[BuzzFeed]