Do you wish your outfits looked like Tumblr diarrhea'd on a web-cached version of eBay from 1995? Do you get your fashion inspiration by flipping through a vintage Delia*s catalog on a tremendous amount of ketamine? We've got the hot new look for you!
New York Magazine profiled young entrepreneurs running Shop Jeen, an online retailer that sells internet-themed clothes, and I'm not sure if it's meant as a glowing profile or a provocation to generation-gap induced despair.

Shop Jeen's CEO is 23-year-old Erin Yogasundram, whose second-in-command is her 26-year-old best friend/creative director Amelia Muqbel. It's like a nascent, next-generation version of Nasty Gal— independently created by a young woman, focused on selling "edgy" looks online, initially bare-bones operation.
G/O Media may get a commission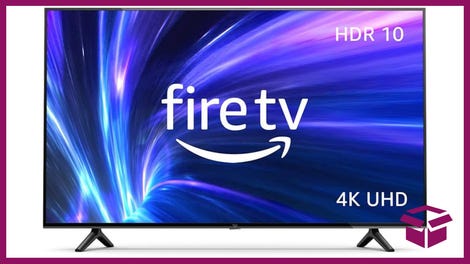 42% Off
Amazon Fire TV 50" 4K Smart TV
I imagine Shop Jeen is goldmine for investigative reporters trying to go undercover at an all-ages Diplo show.
And look: It's great that two women in their early 20s are establishing a successful retail business. Even if it's a retail business selling horrible scene-kid flotsam of objectively low quality! That said—and I don't know if it was deliberate or not—the interview reads like a demented Bret Easton Ellis story about two young, beautiful, meme-lovin' sociopaths. To wit:

"Is there anything else we should know about you?" Erin asks flatly.

"I eat Chipotle, like, every day."

Erin and Amelia nod approvingly.
Or:
"I think that the angle for the story is how I'm this emotional 23-year-old girl, yet I have to combat these crazy 50-year-old-CEO work problems," Erin tells me while lighting up an American Spirit. She takes a puff and exhales dramatically out of one side of her mouth, kind of like a child pretending to smoke a breadstick. "I just started smoking a few weeks ago," she says. "It's been stressful."
You should read the entire feature on these SELF-PROCLAIMED "hype-beast hipsters" at New York Mag, especially if you want to feel like Abe Simpson.
And you should also please, please, please take a photo and send it to me immediately if you see this hot number in the wild:
[NYMag]