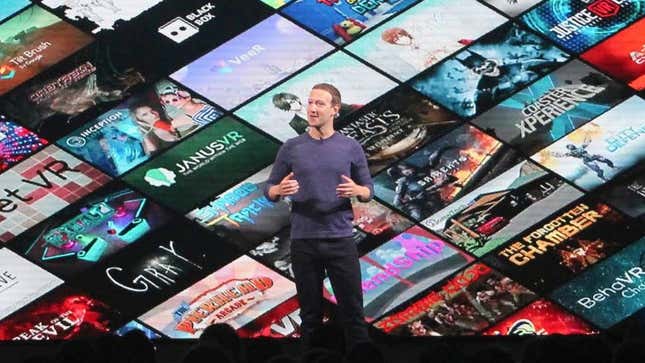 After two years, Meta has opened its Horizon Worlds metaverse video game up to users on phones and web browsers. The company announced Thursday that Horizon Worlds is no longer limited to users who shell out for one of the company's expensive VR headsets. The expansion starts with Meta's Super Rumble shooting game, and will soon include a number of other "Worlds," as the company calls its apps and experiences. In other words, Meta is working on a metaverse that's no longer a metaverse.

"The metaverse should be available to everyone—no matter what device they're on," Meta said in a blog post. "And while Quest headsets are the most immersive way to access the metaverse, we believe there should be multiple entry points. Bringing Worlds to more surfaces is a step toward delivering on that vision and opening up the experience to more people."
But when you login to the mobile or desktop version of Super Rumble, which Meta describes as the "new flatscreen version of Worlds," you are not jacking into the metaverse. You're just playing a multiplayer game. That's an experience that's been available since Pong came out in 1972.

When Mark Zuckerberg announced he was changing his company's name to Meta, the vision he laid out wasn't to make a bunch of poorly reviewed video games, it was to create a "metaverse," an enveloping parallel virtual world where you can do everything you enjoy in physical meat space and so much more. Meta's Chief Technology Officer Andy Bosworth once described the goal of Horizon Worlds as the experience "driving a lot of people" to the metaverse, rather than the company's final destination. Meta did not immediately respond to a request for comment.

This isn't unexpected though. Zuckerberg said he planned a mobile version of Horizon Worlds just months after releasing the platform. But Meta isn't a game developer (or maybe it is now), it's a social media company building out a specific vision of the future. If Horizon Worlds is a loss leader meant to get people interested in the metaverse, letting people play on a phone is probably an attempt to get people interested in the more metaverse-y version of Horizon Worlds. Meta calls it "a great way to keep the FOMO at bay." it's more likely a way to try and encourage FOMO and get you to spend $300 to $1,500 on a VR headset.

For now though, it's all FOMO for most of us. Meta says the new versions of Super Rumble are only available to a "small number" of people for now. I tried to play and just ended up on a wait-list. When it is available to you, you'll be able to play on Android, web browsers at horizon.meta.com, and iOS at some point in the coming weeks.