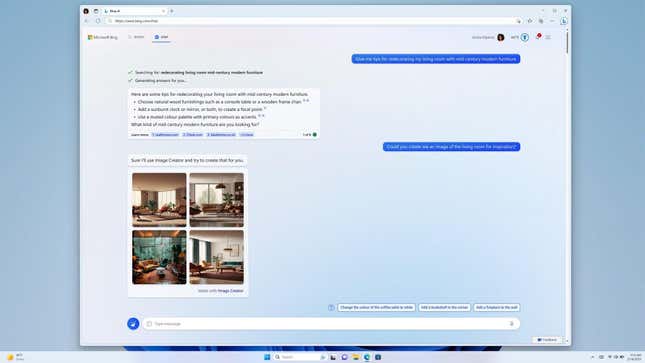 Microsoft on Tuesday announced that it is using an advanced version of Open AI's DALL-E image generator to power its own Bing and Edge browser. Like DALL-E before it, the newly announced Bing Image Creator will generate a set of images for users based on a line of written text. The addition of image content in Bing further entrenches its early lead against competitors in Big Tech's rapidly evolving race for AI dominance. Google announced it opened access to its Bard chatbot the same day, nearly a month after Microsoft added ChatGPT to Bing.
Google's Antitrust Case Is the Best Thing That Ever Happened to AI
"By typing in a description of an image, providing additional context like location or activity, and choosing an art style, Image Creator will generate an image from your own imagination," Microsoft head of consumer marketing Yusuf Mehdi said in a statement. "It's like your creative copilot."
For the Edge browser, Microsoft says its new Image creator will appear as a new icon in the Edge sidebar. Microsoft claims Image Creator marks, "the first and only browser with an integrated AI-powered image generator." Users who didn't have access to Bing's AI previously can still play around with Image Creator by following this link. Gizmodo tested the tool by creating this silly image of a monkey in a cosmonaut suit running through a field of bluebonnets. The experience and result feels almost identical to using DALL-E.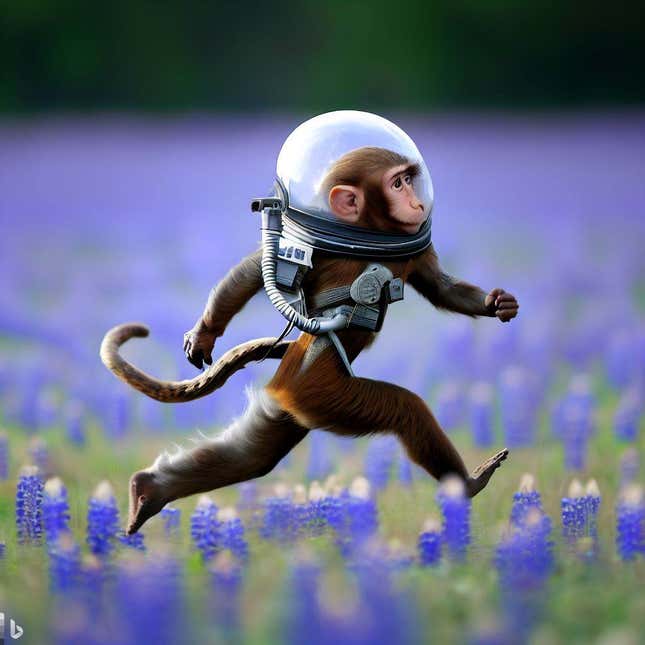 Microsoft shared several examples of how Bing image creators will work through a series of Bing chat screenshots. In one of those chats, a user asks Bing to "create me an image of an astronaut walking through a galaxy of sunflowers." Image Creator dutifully complies, spitting out four images matching the description in the now eerily familiar AI-generated art aesthetic. In another image, a user asks Bing to create an image of a living room for inspiration. Image generators provide four more examples, this time trading in the digital art to look for something more closely resembling reality. Microsoft then shows a user taking one of those images and posting on their social media feed.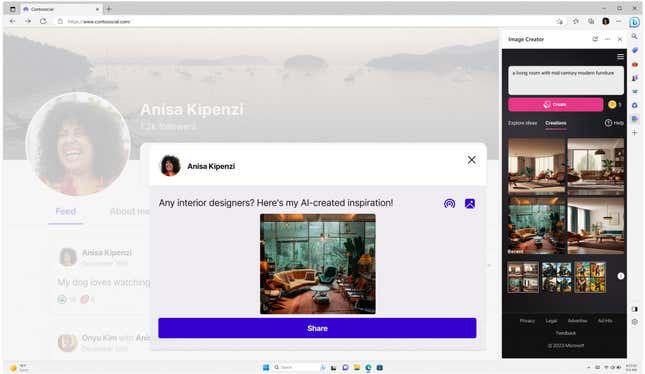 Microsoft opts for a more measured AI rollout
Microsoft is trying to avoid a repeat of its Bing chatbot rollout, where journalists and other users pushed the chat feature to create odd, sometimes uncomfortable responses. This time around, the company says it will only release image creators with a "set of preview users," before expanding it more broadly. Image Creator will also initially only be available in "creative" mode where the AI creates images that are more original and imaginative. The other two modes, "balanced" and "precise" are reportedly more geared toward providing factual answers.
"We continue to believe the best way to bring these technologies to market is to test them carefully, in the open, where everyone can provide feedback," Mehdi added.
Want to know more about AI, chatbots, and the future of machine learning? Check out our full coverage of artificial intelligence, or browse our guides to The Best Free AI Art Generators and Everything We Know About OpenAI's ChatGPT.