On April 22nd, the hormonal teenagers of Manitou Springs High School gathered at City Hall to engage in the rites of prom. There was music, there punch, there was (probably) crying in bathroom stalls. And there was dancing so dirty that two chaperones decided to break out the Lysol. Literally.
Jennifer Farmer and Hannah Rockey are parents of students at Manitou Springs (go Mustangs!). They are also apparently extras from the movie Footloose, sworn to protect their town from the vileness of writhing teen flesh. At least, that's how one prom attendee—who is now pressing charges—remembers the night. According to a local Denver ABC affiliate:
Two mothers chaperoning the Manitou Springs High School prom are accused of spraying Lysol disinfectant on teens for dirty dancing and calling the girls "whores" and "sluts."
Which is one way to restore order! More practical than pouring a bucket of ice water over their heads, at any rate.
The two moms deny the allegations, clarifying that there was definitely no Lysol but probably maybe air freshener or some sort of something. In some ways you can see it from their point of view. They were, after all, witnessing their college-bound progeny move "like they are having sex with their clothes on." But then you remember that Lysol's recommended uses include the following:
Kills 99.9% of mold and mildew*
Kills 99.9% of bacteria on soft surfaces* as a spot treatment
Kills 99.9% of odor causing bacteria*
Kills 99.9% of viruses and bacteria*
Don't see anything there about cootie patrol, do you? [TDC via ABC]
G/O Media may get a commission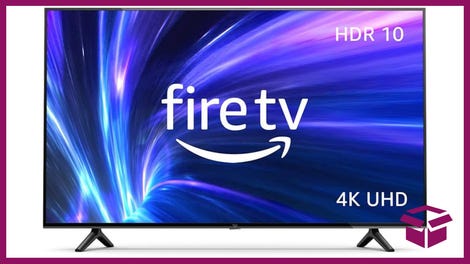 42% Off
Amazon Fire TV 50" 4K Smart TV