Simon Kinberg teases New Mutants' creepy tone. Charlie's Angels casts a To All the Boys I've Loved Before star. The next chapter of The Twilight Zone has officially begun. Plus, more set pictures from Joker, even more pictures from the return of Doctor Who, and a suitably spooky new clip from The Chilling Adventures of Sabrina. Spoilers get!

I Am Mother
Rose Byrne will lend her voice to an evil robot holding a teenage girl hostage underground in the upcoming sci-fi thriller, I Am Mother, co-starring Hilary Swank. [Bloody-Disgusting]
---
Charlie's Angels
THR reports Noah Centineo (To All the Boys I've Loved Before) is the latest to join the cast of Charlie's Angels in a currently undisclosed capacity.
G/O Media may get a commission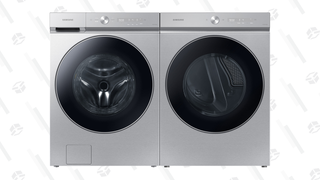 Get $500 back in credit
Last Chance: Samsung Bespoke AI Washer and Dryer Preorder
---
Annabelle 3

Madison Iseman (Jumanji: Welcome to the Jungle) has joined the cast of Annabelle 3 as Judy Warren's babysitter. According to THR, the currently unnamed character will "have to deal with terror as, in Night at the Museum fashion, the Artifacts Room comes alive thanks to Annabelle's instigation."
---
Indiana Jones 5
In a new interview with Coming Soon, producer Frank Marshall revealed the next Indiana Jones film's script will be the product of a group think tank.
I'm just here trying to get the writers room together. Well, I dunno if you'd call it a writers room, but a lot of people that we trust pitch ideas and things. Gathering info.
---
Deadpool 2 Re-Release
The BBC's Lizo Mzimba reports Fox's mystery Deadpool 2 re-release this December is titled The Deadpool Before Christmas.


---
New Mutants
Speaking with Collider, Simon Kinberg discussed the film's tone and its potential for an R-Rating.
As I was saying before in terms of subgenres or the genre, it is obviously teased as a horror film, and most horror films these days are R-rated, but it stars a very young cast, so we'll see. It really is what the movie wants to be. The studio is open to either rating… Traditionally, superhero movies are PG-13 other than Logan and the Deadpool movies, and generally, horror films are R-rated, so we'll see where this one falls. It is a very scary, edgy movie.
---
Joker
Set photos of Zazie Beetz eating donuts with the Joker have surfaced.
---
Mail Order Monster
When her father begins dating Charisma Carpenter, a little girl orders a monster from a comic book in the trailer for Mail Order Monster.
---
Jon Favreau's Star Wars
According to Making Star Wars, a new rumor indicates the show's first season will be eight episodes long, and have five directors. Dave Filoni—best known to Star Wars fans for his role in producing the animated series Clone Wars and Rebels—will direct the pilot with Rogue One cinematographer Greig Fraser behind the camera. The site also reports Werner Herzog may have his own role in the series, so, take this information with a few grains of salt—specially imported from Crait.
If that wasn't enough, a second report from the site indicates Wonder Woman 1984 and Game of Thrones star Pedro Pascal is currently in talks to play "a central lead."
---
Outcast
Sad news—Outcast has been canceled at Cinemax. [TV Line]
---
Ice Cream Man
A TV series based on the extremely depressing horror anthology comic book Ice Cream Man is now in development at Universal. As Deadline notes, the series' titular Ice Cream Man "frames the stories for viewers with darkly wry observations about human nature and the cruel ironies of fate. That narrator structure and the twist-ending tone put Ice Cream Man in the tradition of classic television franchises such as The Twilight Zone, Night Gallery, and Tales From the Crypt, the latter also an import from the comics world."
---
The Twilight Zone
Production has officially begun on the all-new Twilight Zone.


---
Lore
Bloody-Disgusting has breakdowns for all six episodes of Lore's second season.
Burke and Hare: In the Name of Science: Two shunned Irish immigrants in Scotland start off as grave robbers to sell the dead to doctors, but decide that creating their own inventory is much easier, and become the most prolific mass-murdering duo in history. Stars Emmet Byrne, Emmett J. Scanlan and Doug Bradley

Elizabeth Bathory: Mirror, Mirror: The aging Countess of Blood, running out of virginal peasants to drain of their youthful essence, brings in a bright-eyed noble to start a new cycle of torture and murder. Stars Maimie McCoy, Rosalind Eleazar and Ella Hunt

Hinterkaifeck: Ghosts in the Attic: In the German hinterlands, between world wars, a family goes to bed, not knowing that their killer has been living in the walls and attics of their home like a ghost, watching, waiting for his chance to strike, in one of the most famous unsolved mysteries of all time. Stars Jürgen Prochnow, Thomas Kretschmann and Susanne Wuest

Prague Clock: The Curse of the Orloj: As two clockmakers race against the curse of the Orloj, a curse that has already driven the city of Prague to madness and death with the Black Plague, these brothers will discover the price of trying to change history. Stars Steven Berkoff, Numan Acar and Elie Haddad

Mary Webster: The Witch of Hadley: A young woman, raised in a town controlled by a religious zealot, must rectify a fatal mistake before a ravenous mob hangs the Old Witch, Mary Webster, in this story set just 11 years before and 100 miles from Salem, Massachusetts. Stars Paula Malcomson, Hebe Beardsall and Paul Rhys

Jack Parsons: The Devil and the Divine: In 1922 only one person, Jack Parsons, believed that we could send a rocket into space and conjure a demon. By 1952 he had done both. But all he cared about was the Scarlet Woman he had both summoned, and lost, Marjorie Cameron. Stars Josh Bowman and Alicia Witt
---
Doctor Who
Doctor Who News has a new gallery of images from the season premiere, "The Woman Who Fell to Earth." Head over there to see the rest.
---
Riverdale
Pop Tate's Chock'lit Shoppe harbors a dark secret on the latest poster from Screen Rant.
---
The Purge
Spoiler TV has images from episode six of The Purge, "The Forgotten." More at the link.
---
The Chilling Adventures of Sabrina
Lucy Davis introduced a clip of Hilda admitting her pyromaniacal fantasies to Sabrina during an interview on KTLA-5's morning news show.
---
The Gifted
Marcos turns to Reeva for help in the trailer for next week's episode, "coMplications."
---
The Haunting of Hill House
Finally, director Mike Flanagan takes us behind-the-scenes of The Haunting of the Hill House in a new featurette.
---
Banner art by Jim Cooke.