Robert Downey Jr. hints he could be involved in Spider-Man: Homecoming. Lupita Nyong'o confirms her Star Wars return. That Highlander reboot is still happening. Ian Somerhalder confirms his Vampire Diaries exit. Plus American Gods casting, an action-packed Civil War clip, and a chrometastic Power Rangers logo. Spoilers!
Thor: Ragnarok
Following up on rumors earlier this week about the role Tessa Thompson will play in the movie, Latino Review claims that Thompson is indeed playing Brunnhilde, aka Valkyrie, the leader of Asgard's Valkyrior. As ever, take these rumors with a pinch of salt, but it's a choice that would make sense, given earlier reports.

---
The Dark Tower
Stephen King has confirmed that production on the film has begun.
G/O Media may get a commission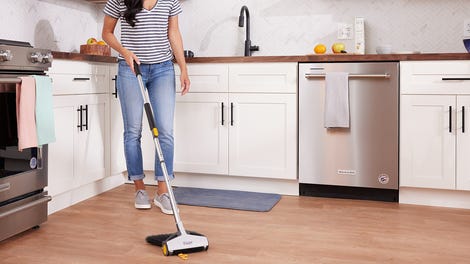 BOGO 50% Off
Flippr - BOGO 50% Off
---
Spider-Man: Homecoming
As part of his appearance on Jimmy Kimmel Live, Robert Downey Jr. says he'd be open to appearing the film—something he's been repeatedly rumored for, ever since it was announced.
---
Transformers 5
Young actress Isabela Moner is in talks to join the film in a major role. She would apparently play a young girl named Izabela who encounters Cade Yaeger (Mark Wahlberg)—a loner and orphan, whose only friend is a small transformer. [The Wrap]
---
Deadpool 2
To the surprise of absolutely no one, Fox has confirmed that a sequel is happening. Director Tim Miller and writers Rhett Reese and Paul Wernick will return—as will Ryan Reynolds, of course. [THR]
---
Star Wars Episode VIII
Speaking of things that are unsurprising! Lupita Nyong'o has confirmed her return for the film, after Rian Johnson posted pictures of Maz Kanata mocap filming to his tumblr account. [Comicbook.com]
---
Highlander
Director Cedric Nicolas-Troyan offers an update on the reboot:
As far as I know… I've been working on this movie for quite a while. I'm still involved in it, very much so. In fact, I just talked about it yesterday with Lionsgate. You know, there are going to be some surprises there, for sure. I'm going to say that it's very close to the original story, but there will be surprises. The characters you love in the first movie are back. There are definitely some changes, for sure.
[/Film]
---
Kingsman: The Golden Circle
Channing Tatum has confirmed he's joined the film—however, no details on his role just yet.
---
Captain America: Civil War
Bucky goes on a rampage in a new clip from the film.
---
The Conjuring 2

Here's a new poster. [Coming Soon]
---
Power Rangers
A new logo for the film has been released at Cinema Con.
---
American Gods
Crispin Glover and Jonathan Tucker have joined the series. Glover will play Mr. World, the leader of the New Gods who is "sometimes more challenged by his own subordinates than his enemies," while Tucker will play the "wiry and fast talking" advisor to Shadow, Low-Key Lyesmith. [TV Line]
---
Tales from the Crypt
A 10 episode run has been ordered by TNT. [TV Line]
---
The Vampire Diaries
Ian Somerhalder has retracted his recent statements that the show will end after its eighth season... by clarifying that he meant that he will leave the series after season eight. [TV Guide]
---
Preacher
Finally, head to the link to see a brief new promo for the show. [Coming Soon]
---
Additional reporting by Gordon Jackson and Charlie Jane Anders. Banner Art by Jim Cooke.

Image: Thor: The Dark World.