James Wan talks Aquaman rumors and the Mortal Kombat movie reboot. Get a look at Legends of Tomorrow's new Vixen. Arrow is done with the flashbacks after season five. Plus, David Anders on the set of Once Upon a Time, a look at Gotham's Mad Hatter, and just how many episodes of new Twin Peaks we'll be getting. Spoilers!
Han Solo Anthology
Late yesterday evening, the Wrap reported that the film was looking to include a young Lando Calrissian. However, there's already been an update to that rumor, courtesy of Birth Movies Death: not only have they added further veracity to the talk of Lando's role in the film, they claim that none other than Donald Glover is Lucasfilm's firm favorite for the role.
According to Birth Movies Death, no offer has been made yet, and there's uncertainty as to if Glover would actually take one—but just as Alden Ehrenreich was the first choice for the role of Han Solo, Glover is allegedly much the same for Lando.
---
Ant-Man & The Wasp
Paul Rudd offers ET a minor update on the film:
We've been coming up with the story, just turned in a treatment, but it's so preliminary. We'll see. We have an idea of what it might look like but it could change a lot from where we're at now.
G/O Media may get a commission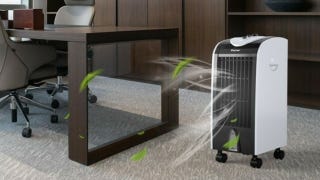 Save $10
Evaporative Portable Air Conditioner Cooler with Filter Knob
---
Mortal Kombat
Speaking of updates, here's James Wan speaking IGN about the video game adaptation:
It's still cooking away. With that particular project, that's a really cool property that I loved growing up as a kid. Besides the game, even the movies as well, I kind of enjoyed them for what they are. The key here is to try and do it right. I don't want to rush into it. So right now, we're just trying to take our time to make sure it's heading in the right direction. I think that's more important than trying to rush through it and pump up something that no one likes. I love the characters. I think they're such colorful characters.

It's such an amazing take on, basically, 'Enter the Dragon.' It's that fantasy version, the video game version, of 'Enter the Dragon.' And in doing so, they ended up creating such interesting characters and I think that is such a cool world to explore. This really mythical, bigger world that lives on another dimension on top of ours. I think that's really fun to play with and so we'll see.
---
Aquaman
Meanwhile, Wan sidestepped around the recent reports that Black Manta—the most obvious choice for the film's villain—would be in the movie:
I want to know where Wrap got that piece of news from! Come on, I can't talk about this.

I'm not saying anything. No comment is my comment.
[/Film]
---
Twin Peaks
Showtime's President of Programming, Gary Levine discusses how many episodes the revived series will actually return with:
It is a fluid process. David Lynch who is doing it all, he co-wrote with Mark [Frost], he directed every episode, he's editing every episode, scoring every episode. It's a process of seeing how it evolved. That organism continues to evolve. Until he's figured that out and shows it to us, we actually won't know.
David Nevins also spoke about the series and just how it will release:
I'm definitely open. Everything about Twin Peaks is going to be unconventional. Unconventional in the handling of it and how we put it out in the world and how we market it. I want to really embrace the unusualness of it. I think it is quite possible we're not going to do a traditional release pattern. I don't know exactly what that means yet. I've had a couple conversations with David but I want to embrace the unexpectedness of it. I could definitely see longer episodes or this question of how do we release it linearly and how do we release it for people who want to stream it. There may be some difference between the two. There's all sorts of possibilities.
[/Film]
---
Arrow
Dolph Lundgren cast as "Kovar" in the show's next set of flashbacks—now confirmed as the last time the show will do an extensive flashback story arc—according to Wendy Mericle:
We are going to bring him in and he's going to be this super big badass guy who works for the Russian government, and is not a friend of Oliver or the Bratva. It's part of Oliver's promise to Taiana at the end of Season 4 and it's going to be interesting because it's going to get complicated and very messed up very fast.
Kovar shares his name with Leonid Kovar, better known as DC's Red Star.
[EW]
---
Legends of Tomorrow
Lance Henriksen has been cast as Obsidian, another member of the Justice Society of America. [CBR]
Here's a poster of the new Vixen, played by Maisie Richardson-Sellers.
---
Agents of SHIELD
Parminder Nagra has joined the cast as "a powerful political figure who is outspoken in her distrust of Inhumans and the threat they pose to society."
---
Supergirl
Kevin Smith will direct an episode of the show's next season. [EW]
---
Gotham
Here's your first look at the Mad Hatter, as revealed by Entertainment Weekly.
---
Scream Queens
Here's a new promo for the show's second season.
---
Frequency
Likewise, here's another Fox promo for the new show.
---
Once Upon a Time
Finally, images of David Anders in costume as Doctor Frankenstein have hit the web. You can find more at the link. [Spoiler TV]
---
Additional reporting by Gordon Jackson. Banner art by Jim Cooke.