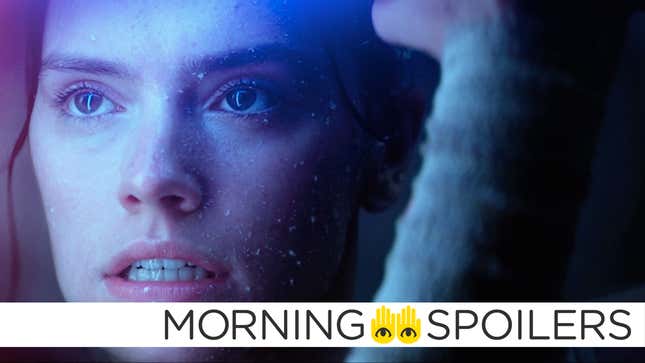 While another iconic character is apparently denied for Rogue One. Hannibal Buress reveals his Spider-Man: Homecoming role. Plus, new details on Gotham's return, new images of the Power Rangers movie suits, and new looks at Scream Queens season two and Sherlock season four. Spoilers Get!

Apple's Vision Pro Seems Powerful, But Who Is It For? | Future Tech

Star Wars: Episode VIII
More rumors are swirling that Frank Oz will reprise his role as Yoda in the film. Following reports in April that Oz has been spotted on set, a Redditor alleged to have spoken to puppetmasters at Star Wars Celebration Europe recently claims that they were told that much of the original team that worked on the Yoda puppet for Empire Strike Back and Return of the Jedi has been hired to work on a new Yoda puppet for Episode VIII.
This is still all hearsay—and Yoda was also heavily rumored to appear in The Force Awakens, only for it to be revealed that Oz had a line of dialogue in Rey's vision sequence and nothing more. So for now, take it with a pinch of salt.
Speaking of salt-pinches, Making Star Wars has a report claiming that the film will feature another flashback to the destruction of Luke's fledgling Jedi Order, witnessed by Rey, Luke, and Kylo Ren, showing an area strewn with the bodies of fallen padawans. They also have images of supposed props from location filming that are clearly lightsaber hilts, adding some veracity to the report, that you can see at the link above.
---
Spider-Man: Homecoming
Hannibal Buress has confirmed that his role in the movie is a gym teacher at Peter's school:
In Spider-Man, I play a gym teacher. I play one of the dumbass characters that don't realize he's Spider-Man. [He thinks] 'He's Peter Parker. Oh man, this guy's really athletic!'
---
Rogue One: A Star Wars Story
Ian McDiarmid has denied that he'll be appearing in the movie as Emperor Palpatine, telling fans at Amsterdam Comic-Con:
I don't feature in that myself, but I understand that Darth Vader may be making an appearance.
---
Power Rangers
New images of the Rangers in their suits have been displayed at the Brazil Licensing Expo:
---
Ouija: Origin of Evil
Here's a TV spot for the ouija board horror sequel.
---
Gotham
A new synopsis for the show's third season premiere has been released:
Gordon works in a monster-ridden Gotham as a bounty hunter and seeks to find answers about the Indian Hill escapees, and why their powers appear to be killing them. Meanwhile, Bruce's doppelganger roams the streets, and Barbara and Tabitha open a new nightclub called The Sirens in the all-new "Mad City: Better to Reign in Hell…" season premiere episode of GOTHAM.
---
Colony
Thora Birch has been replaced by Bethany Joy Lenz in the role of Morgan for season two, following scheduling conflicts causing Birch to depart the series. [Deadline]
---
Lucifer
Chris Payne Gilbert is joining the cast in the seventh episode of the new season.
---
Scream Queens
Here's a new sneak peek for the second season.
---
Arrow
Episode six of the next season is titled "So It Begins."
---
Sherlock
Finally, here's a new promo picture for the fourth season of the show, featuring Sherlock and John looking... well, like Sherlock and John. [Coming Soon]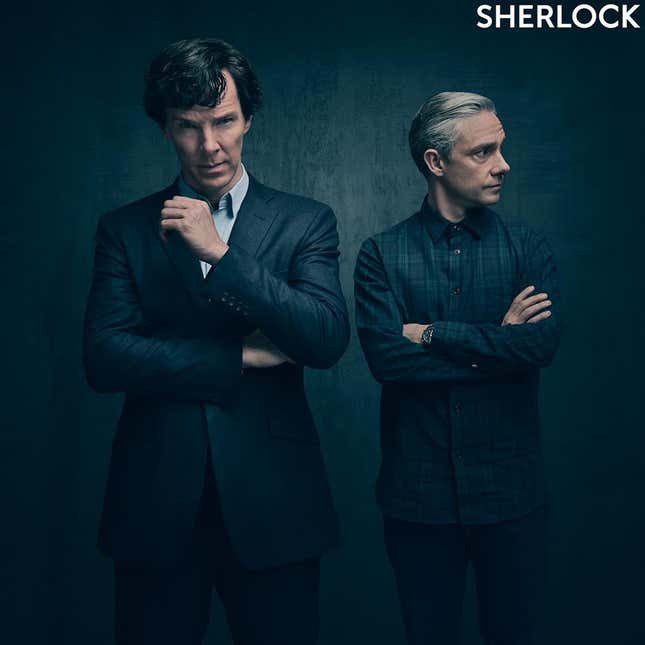 ---
Additional reporting by Gordon Jackson. Banner art by Jim Cooke.