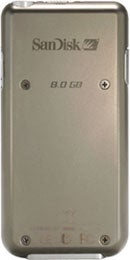 The SanDisk Sansa e280, a flash-based player with 8GB flash memory, is getting more official as a 360 degree demo was leaked and removed on the SanDisk site.
Anythingbutipod says there used to be a demo there, but as hard as we look, we can't find it. There's a photo of the back of the 8GB player here for you to look at, if you're the kind of guy who likes that sort of thing. The e280 is going to retail for $280, the same price the e270 launched at.
No official date has been set for the launch.
SanDisk Site (Nothing there now)
The SanDisk Sansa e280 8GB Flash Player is "Official" [Anything But iPod]