The Jumanji sequel could go up against Star Wars: Episode IX. Black Panther won't bring one comic book aspect of the Dora Milaje to the big screen. Even more mysteries around the next Cloverfield movie begin to swirl. Riverdale is planning a musical. Plus, new looks at Jessica Jones and The Flash. To me, my spoilers!

Avengers: Infinity War/Avengers 4
Anthony Russo revealed Carol Danvers "may" be making her debut in Infinity War on the latest episode of the Happy Sad Confused podcast.
We MAY be depicting Carol Danvers. It's interesting when you get to play with characters in this universe, because you are dealing with actors who have been playing parts for almost a decade. It's interesting to bring new energy into the mix, especially when you're doing this massive mosaic of a story. There will be massive surprises in these stories, we won't confirm or deny, but there's certainly going to be some curveballs thrown at the audience.
Later in the interview, Joe Russo confirmed the title of the fourth Avengers movie will not be revealed until after Infinity War is in theaters.
Part of the concept of the title is it's advancing the narrative. So we're gonna sit on that until we feel the time is right and people have absorbed the first movie.
G/O Media may get a commission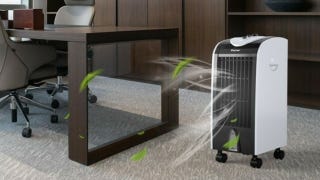 Save $10
Evaporative Portable Air Conditioner Cooler with Filter Knob
---
Captain Marvel
Speaking of Captain Marvel and her potential Avengers arrival, Brie Larson has been spotted on set in Atlanta. There are conflicting details of whether this is for either Avengers 4 or Captain Marvel's own solo film, which reportedly begins production in California this March.

---
Jumanji 2
Speaking with The Wall Street Journal, Sony Pictures chief Tom Rothman stated he hopes to have a sequel to Jumanji in theaters "around Christmas of 2019, when it will again face off against a new Star Wars."
---
Detective Pikachu
Universal Studios and Legendary Entertainment have announced Detective Pikachu is now filming. [Coming Soon]
---
The Cat in the Hat
Warner Bros. chairman Toby Emmerich is developing a new animated Cat in the Hat film with Susan Brandt, President of Dr. Suess Enterprises. [Coming Soon]
---
Aladdin
Disney and Guy Ritchie's live-action Aladdin has wrapped production, according to Mena Massoud (who's playing the title role) on Twitter.
---
Black Panther
Speaking with Screen Rant, producer Nate Moore discussed the decision not to have the Dora Milaje serve as T'Challa's polygamous sister wives as they have in some comic incarnations.
So there'll be a lot more as far as their role in the story? That was my next question about the Dora Milaje.

Nate Moore: Yeah. They're a big part of the movie. As you guys know Danai Gurira plays Okoye who, in our world, is the head of the Dora and a pivotal character in the movie. Exploring how they work, their role in Wakanda and their relationship with the King is a big part of the storytelling.

Is the betrothal aspect explored as well?

Nate Moore: It's not. You know, that was sort of part of the original Christopher Priest run where they were all betrothed which we felt wasn't necessary to tell the story of the Dora and in a way we all kind of rejected as being a little creepy. So we will not be exploring that.
Meanwhile, here's an extended version of the previously released car chase clip, featuring Shuri getting very excited about remotely driving the car T'Challa cruises around on top of.
---
Cloverfield 3/The God Particle
Another viral website from the ongoing ARG featuring a scrambled audio message has been decoded on Reddit. The film's rumored title, "Cloverfield Station" can clearly be heard.
---
Monstrum
Variety has the first image from the Korean monster movie, Monstrum, which follows "an exiled soldier, his curiously skilled daughter and a royal messenger, formed to defend against a man-eating creature which is ravaging the Chosun capital."
---
The Originals
Nadine Lewington will recur on the final season of The Originals as Greta Sienna, a "calculating and charismatic vampire" from Europe now living in New Orleans. [TV Line]
---
Riverdale
The CW has released cast bios in preparation for "Carrie: The Musical," Riverdale's upcoming musical episode. Notably, Betty Cooper's bio reveals she gets back together with Jughead sometime before the episode's April 18th airdate.
Betty Cooper (Sue Snell) usually spends her time as Riverdale's foremost teen journalist, but between news stories, she is thrilled to be a part of Carrie: The Musical, performing alongside her Mother, Alice Cooper. Congratulations to her long-time best friend, director Kevin Keller, for realizing his vision, and much love to her boyfriend, Jughead Jones. #bugheadforever
[TV Guide]
---
The Chilling Adventures of Sabrina
Archie Comics has revealed the pilot episode of their forthcoming Sabrina, the Teenage Witch spinoff is titled "October Country" on Twitter. Hail Satan!
---
Supernatural
The Scooby-Doo crossover episode is titled, "ScoobyNatural," according to producer Jim Michaels on Twitter.
---
Marvel's Spider-Man
Contrary to previous cancelation rumors, Marvel's Spider-Man will return to Disney XD alongside both Guardians of the Galaxy: Mission Breakout and Marvel's Avengers: Black Panther's Quest for new episodes in 2o18. [Coming Soon]
---
Jessica Jones
Jessica illustrates the practicality of keychain flashlights in a new photo from Coming Soon.
---
Legends of Tomorrow
Constantine boards the Waverider in images from "Daddy Darhkest," Legends of Tomorrow's winter premiere airing February 12th. More available at TV Line.
---
The Flash
Derek Mears debuts as The All-New Atom's serial killer/poet, Dwarfstar (Not Atom Special #2's Dr. Shrivel!) in photos from next week's episode, "Honey, I Shrunk Team Flash." Head to the link to see more. [Superhero Hype]
---
The X-Files
Finally, Mulder & Scully investigate a shark-headed monster aboard an abandoned yacht in the trailer for next week's episode, "Ghouli" — an episode which somehow also ties into Scully's missing son, William.
---
Banner art by Jim Cooke. Captain Marvel #1 Cover Art by Kris Anka.