The He-Man movie has found new directors. Joe Mangianello discusses Deathstroke's movie future. Amazon is re-making the excellent UK series Utopia. Peter Dinklage's role in Avengers: Infinity War may have been revealed. Plus, more Jurassic World: Fallen Kingdom footage. To me, my spoilers!
X-Men: Dark Phoenix
A writer claiming to be at a speaking engagement with "some high-level Fox production crew members" says that Fox believes that Dark Phoenix will be the final X-movie in the company's current take on mutant continuity—and that following the completion of the Fox-Disney merger estimated to be finished sometime in Summer of 2019, Marvel Studios is planning to unleash its swathe of character acquisitions from the deal (the X-Men, the Fantastic Four, and Deadpool) as part of its post-Avengers 4 "Phase 4" movies.
Given that this brushes up with previous comments that, should the deal go through, Marvel would be fine keeping a character like Deadpool like his current cinematic portrayal in a separate "R-Rated" branch of movies, it's perhaps worth taking these rumors with a heaping dose of skepticism for now. [Comics Genre via Bleeding Cool]
---
Jungle Cruise
Black Mirror and Breaking Bad star Jesse Plemons will join Edgar Ramirez and Jack Whitehall as the third and final villain of Disney's Jungle Cruise. No further details on his character are currently available. [Variety]
G/O Media may get a commission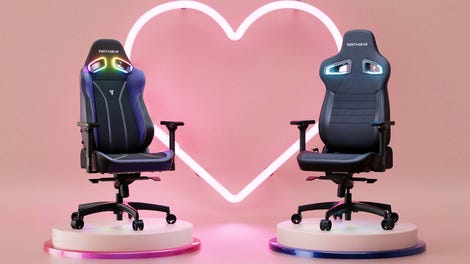 Up to $150 off
Vertagear Gaming Chairs
---
Goosebumps: Slappy Halloween
Peyton Wich (Troy from Stranger Things) has joined the cast of the Goosebumps sequel in a currently undisclosed capacity. [Bloody-Disgusting]
---
Masters of the Universe
Variety reports Aaron Nee and Adam Nee, the directorial duo behind the 2006 comedy The Last Romantic and 2015's Band of Robbers have been chosen to direct the He-Man and the Masters of the Universe movie.
---
Halloween
Michael Myer's infamous mask show forty years of weathering on the first poster for David Gordon Green's retroactive-reboot-sequel of Halloween.
---
Guillermo del Toro
On the heels of his deal to create, produce and direct live-action genre films for Fox Searchlight Pictures, Variety reports Guillermo del Toro has now signed an exclusive deal with Dreamworks Animation to write, produce and direct animated family films. In a press release, del Toro stated:
Animation is an art form that has influenced my work greatly since childhood. To me, it's the perfect medium to bring to life any and all ideas, no matter how outlandish or wild. I am eager to work with [DWA President] Chris [deFaria] and the talented artists at DreamWorks – some of the most talented people in the business – to make these images a reality. I have worked with DreamWorks for about a decade and the horizon just keeps getting wider.
---
Deathstroke
Appearing as a guest on Chris Hardwick's ID10T podcast, Joe Mangianello discussed playing Deathstroke in Justice League and the possibility of a solo film from director Gareth Evans.
When I met with Ben Affleck about Batman, the meeting we were having was for Deathstroke. This is a real opportunity to figure out who this guy is on the inside. Like what he's battling with…

…From the inside, this is a person who is struggling with all types of things. I think it's really interesting to tell that kind of a story and tell the truth emotionally of a story like that when you're talking about a man who lost an eye, was betrayed, lost a son. These different types of aspects.

Then you couple that with real world military training. Then I started training at like a Ninjutsu dojo and started learning sword fighting. Started learning and understanding where those techniques come from. All of a sudden this thing starts writing itself. What I love doing is in an instance like that I'm able to, at the ground level, I'm able to go back and pitch all of my work. So I'm pitching them: "This is where I think he comes from. This is where I think he's going. This is the military background. These are some articles that I pulled for you. I also interviewed these people over here."

The Ninjustu school, there are scrolls that are written that have these ancient techniques that are not shared with students that are locked away because somebody is going to go into a bar and rip someone's head off using one of these techniques. What are those techniques? Where are they? Could there theoretically be somebody that would go around and learn these insanely offensive techniques and become this incredible killer? But I'm rooting it in the world. I'm rooting it in something honest so it feels real…

Somewhere along that way I know that it was announced where the studio – there was talks with Gareth Evans and talks about an origin movie. I'm not giving news. I spent six months prior to all of those phone calls writing a backstory that was turned into sixteen pages, which got turned into a treatment, which then led to my Skype call with Gareth.
---
Ant-Man & The Wasp
Entertainment Weekly has two new images from Ant-Man & The Wasp.
In an interview with the magazine, Evangeline Lily revealed The Wasp spends much of the film hell-bent on getting her mother out of the Quantum Realm.
Scott entered the Quantum Realm in the first film and came back, which is something they thought was impossible. The question has arisen, 'Can Janet come back?' So the entire film, my character is hell-bent on finding a way to get into the Quantum Realm and bring her back.
Later in the article, director Peyton Reed discusses The Ghost's phasing abilities.
The Ghost character could be male, female, anything, so it just seemed more interesting to us [to cast a woman]. Ghost's primary power is the ability to 'phase,' which allows Ghost to move through solid matter. She has all sorts of strange versions of that phasing power — it proves quite difficult for Ant-Man and Wasp to deal with.
---
Avengers: Infinity War
Captain America, Falcon and Black Widow fight the Black Order in a new clip aired on Good Morning America, which appears to confirm Peter Dinklage in the role of Corvus Glaive.


---
Deadpool 2
Fandango has an exclusive poster from Rob Liefeld homaging the character's first appearance in The New Mutants #98.


---
Solo: A Star Wars Story
Coming Soon has the latest international poster.
---
Incredibles 2
In the latest TV spot, Frozone's physically repulsed by Jack-Jack's transmutations.
---
Jurassic World: Fallen Kingdom
The best and latest international trailer for Jurassic World: Fallen Kingdom actually discusses the film's plot. Q: How do you top the sad piano rendition of the Jurassic Park theme? A: With a sad music box rendition.


---
Utopia
Amazon has greenlit a new series from Gone Girl writer Gillian Flynn, based on Dennis Kelly's fantastic British series, Utopia. The story concerns a group of teenagers hunted by a shadowy organization once they discover a deadly global conspiracy detailed in the pages of a graphic novel. [Coming Soon]
---
Arrow
Diaz goes after Felicity Smoak in the synopsis for May 10th's episode, "The Ties That Bind."
Diaz (guest star Kirk Acevedo) targets Team Arrow and their loved ones. Oliver (Stephen Amell) struggles with Felicity (Emily Bett Rickards) putting herself in danger when she gets the chance to stop Diaz for good. Tara Miele directed the episode written by Ben Sokolowski & Oscar Balderrama (#622). Original airdate 5/10/2018.
---
The Flash
Harry gets kicked out of the Council of Wells in the synopsis for May 8th's episode, "Harry and the Harrisons."
With DeVoe's Enlightenment device nearly complete, in order to disable it The Flash (Grant Gustin) and his team must put their faith in an unlikely ally – Amunet Black (guest star Kattee Sackhoff). Meanwhile, Harry (Tom Cavanagh) hits an all-time low when the "Council of Wells" kicks him out but then Cisco (Carlos Valdes) introduces him to the "Council of Harrisons." [Spoiler TV]
Elsewhere, TV Line has images from next week's episode, "Fury Rogue," featuring Citizen Cold, Black Siren and Fallout. More at the link.
---
Supergirl
In the synopsis for "Trinity", Kara enlists the help of Jimmy Olsen's superhero alter-ego, Guardian, when she's forced to take on all three Worldkiller's at once.
SUPERGIRL TAKES ON ALL THREE WORLDKILLERS – Still reeling after learning about Lena's (Katie McGrath) secret, Supergirl (Melissa Benoist) asks Guardian (Mehcad Brooks) for a favor that could alter his relationship with Lena forever. Meanwhile, with all three Worldkillers united, Supergirl and the team brace for an epic battle. Caitlin Parrish & Erica Weiss directed the episode with story by Jessica Queller and teleplay by Caitlin Parrish & Derek Simon (#317). Original airdate 5/7/2018.
---
Riverdale
Betty stares down the Black Hood in the synopsis for May 9th's episode, "The Killing of a Sacred Deer."
When an incident at the Sheriff's station triggers an all-out war between the North and the Southside, Archie (KJ Apa) and Jughead (Cole Sprouse) find themselves in the fight of their lives. Meanwhile Veronica (Camila Mendes) makes a devastating discovery about Hiram (Mark Consuelos), just as someone from his past arrives in Riverdale looking for revenge. Finally, Betty (Lili Reinhart) comes face to face with the Black Hood.
---
Gotham
The GCPD is pushed to the edge in the synopsis for "One Bad Day."
As Gotham falls into complete anarchy, a team of unlikely heroes step up to save it. Bullock takes the lead at the GCPD and Bruce's psychological limits are tested as those close to him are put in danger in the all-new "A Dark Knight: One Bad Day" episode of GOTHAM airing Thursday, May 10 (8:00-9:00 PM ET/PT) on FOX. (GTH-421) (TV-14 D, L, V)
---
James Cameron's Story of Science Fiction
Finally, Stephen Spielberg discusses Stanley Kubrick with James Cameron in a clip from the April 30 premiere.
---
Banner art by Jim Cooke.