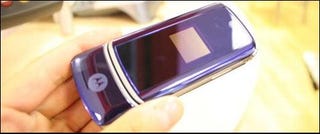 We've already given you a fair share of some KRZR K1 porn, but the folks at Mobile Burn have put Moto's seductive temptress through the ringer. The catwalk-worthy phone got praised for her glossy curves and excellent sound qualilty. Also noteworthy is the phone's battery life, which MB quotes as lasting 8 days on standby and 3 days with heavy use. The quadband phone also supports A2DP Bluetooth and can be set up to receive POP3 e-mail.
Ultimately, the KRZR K1 fell victim to a boring personality, relying on the same drab interface as her slutty sister that everyone's had their hands on for years. It's always the attractive ones.
An informant in the mobile phone industry tells us that the KRZR's fine shell, and vapid feature set make it a phone only bought up by superficial ladies. We believe it.
High Gloss, High Fashion [via Mobile Burn]