This week on Cult Movie Worship, we follow a half naked amnesiac through an underground world full of science experiments gone wrong and powered by tree roots in Eden's Log, meet a new type of man and meet Nessie's relative before she devours a group of unlucky fishermen. Who could want more to bring your weekend to a happy ending?Eden Log: Dystopian paradise Eden Log wants to offer you a passport, but before you accept, be aware that that may mean waking up naked and covered in mud in the bottom of a cave. At least, that's exactly what happens to main character Tolbiac, who awakens without any memories or knowledge as to how he got to this strange place. He's then informed by "digital phantoms" that he is in a city that runs on energy produced from the roots of a giant tree, and that he has to journey through the bottom of this world chased by mutants - created from the Eden Log laboratories - and phantoms. This French film, directed by Franck Vestiel, has been making the festival rounds and was recently at the Toronto Film Festival.
Humains (Humans):
When a band of researchers travel to the Swiss Alps hoping to find out more about the evolution of man, what they encounter is an entirely new species of human-like creature... and the new "man" is pissed. Like all good thrillers, the scientific journey goes terribly wrong and it's human versus new man. My money is on the ape people.
G/O Media may get a commission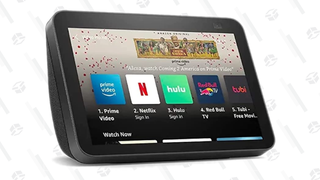 Monster Movie: A group of buddies head out on their annual trip and encounter a terrible Nessie-like monster, recording the whole experience on their shaky cam like the good post-Cloverfield and Blair Witch characters that they are. Okay, the monster is pretty plastic looking, but aren't all good B monster movies supposed to be like that? Plus points to the creators for rounding up their friends for all the side characters. You can preorder your DVD at Tempe; it hits stores this September 15.
[TIFF, Quiet Earth, Tempe DVD]