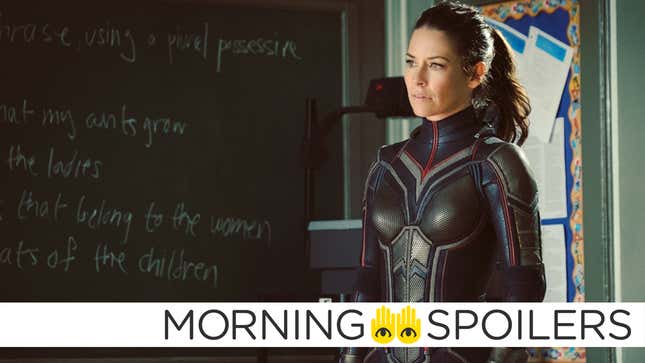 Andy Serkis discusses Carrie Fisher and his work on The Last Jedi. Michelle Yeoh reveals her Star Trek: Discovery character's link to Spock's dad. Trollhunters recruits some Game of Thrones and Star Wars stars for new villains. Plus, tons of new pictures from the return of Supernatural, Arrow, and more. Huzzah for spoilers!




Ant-Man & The Wasp
Just Jared has set pics of Wasp in full costume, as well as our first look at Walton Goggins as the villainous Sonny Burch. Head on over the link to see more.
---
Star Wars: The Last Jedi
In conversation with The List, Andy Serkis revealed he had not filmed any scenes with Carrie Fisher before her passing.
I had no scenes with Carrie but I did get to know her a little bit. She was an incredible human being with a wonderful personality and she's sadly, sadly missed and everyone who came into contact with her was really touched by her great energy and great sense of humor. She is a wonderful person and I did have a great time working with the cast and Adam Driver and Domhnall Gleeson, we've had some really great times on it.
---
Jumanji: Welcome to the Jungle

Here's a new poster for the film. [Coming Soon]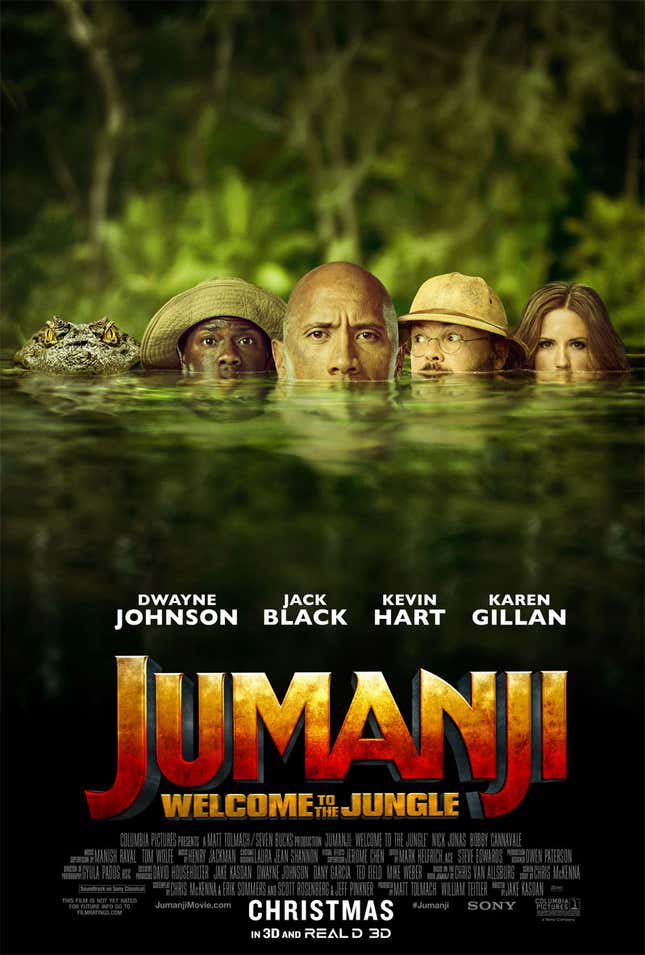 ---
2307: Winter's Dream
We also have a trailer for a new indie sci-fi film about a race of genetically-engineered humanoids created to withstand and thrive in the ice age of 2307, which is "300 years after man declared God dead," apparently. Speculate on what the hell happened in 2007 below!
---
The X-Files
Gillian Anderson revealed on Twitter that actor Brian Huskey is guest-starring this season. Deadline reports his character is named Reggie—and given the location of the image, presumably a fellow member of the FBI.


---
Star Trek: Discovery
Speaking with CBS, Michelle Yeoh discusses Captain Georgiou's relationship with Sarek and Burnham.
She [Georgiou] is strict but fun. She has a dry sense of humor. She is able to retain humanity in who she is, even though she's seen so much bloodshed. And I think that is one of the reasons why Sarek, the Vulcan ambassador, has chosen Captain Georgiou and has given her the guardianship of Michael Burnham.
---
Supergirl
Kara has decides to throw herself into Supergirl permanently after losing Mon-El in the synopsis for the season three premiere, "Girl of Steel."
Kara (Melissa Benoist) deals with the loss of Mon-El (Chris Wood) by focusing all her energy on being Supergirl and the mysterious new threat against National City. Alex (Chyler Leigh) confesses a secret to Maggie (guest star Floriana Lima) about their impending nuptials. A citizen of National City has a mysterious connection to Kara, and Lena (Katie McGrath) makes a bold move.
---
Trollhunters
Mark Hamill, Lena Headey and David Bradley have joined the voice cast of Guillermo del Toro's animated Trollhunters series. Though details are scarce, Hamill will voice the evil brother of a currently undisclosed member of the team, Headey plays a sorceress "who must be stopped at all costs," while Bradley will portray another character with unspecified magical powers. [Coming Soon]
---
Supernatural
There's a new sheriff in Hell in the latest trailer for season 13.
Meanwhile, Sam and Dean raise Lucifer's son in the synopsis for the season premiere, "Lost & Found."

Season 13 begins exactly where we left off, with Sam (Jared Padalecki) and Dean (Jensen Ackles) left to pick up the pieces after the loss of their mother, the demise of Crowley (Mark Sheppard) and the heartbreaking death of Castiel (Misha Collins). The birth of Jack (Alexander Calvert) leaves the Winchester brothers with differing opinions on how to deal with a Nephilim. After being dragged into the breach, Mary (Samantha Smith) must learn to survive Lucifer (Mark Pellegrino) and an apocalyptic world.
TV Line also has a gallery of photos from the premiere. Head over there for more.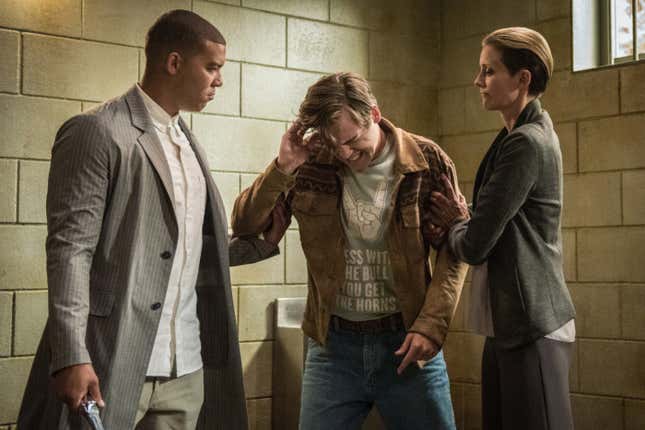 ---
Arrow
TV Line also has a gallery from "Fallout", the season six premiere of Arrow. Canary vs. Canary! Sort of! More at the link.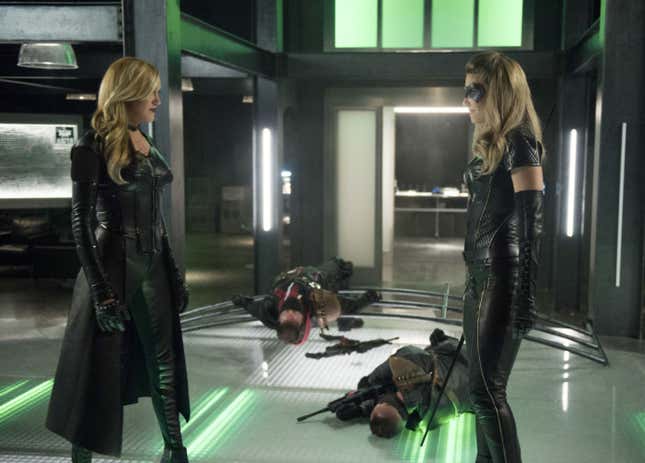 ---
Riverdale
The fallout from the first season's finale continues in the synopsis for the season 2 premiere, ominously titled "A Kiss Before Dying":
THE ANGEL OF DEATH — As Fred's (Luke Perry) life hangs in the balance following the shooting at Pop's diner, Archie (KJ Apa) struggles with the emotional aftermath of what he witnessed. Meanwhile, as Veronica (Camila Mendes) steps out of her comfort zone to support Archie, she learns that her father Hiram (Mark Consuelos) has arrived to Riverdale earlier than expected.

Elsewhere, at Pop's diner, Pop Tate (guest star Alvin Sanders) recounts the chilling details of the shooting, which leaves Jughead (Cole Sprouse) and Betty (Lili Reinhart) questioning the gunman's true motives. Lastly, after running into Cheryl (Madelaine Petsch) at the hospital, Betty and Kevin (Casey Cott) are surprised to learn about the fire at Thornhill.
And here's some new pictures from the episode, too—head to the link to see more. [CBR]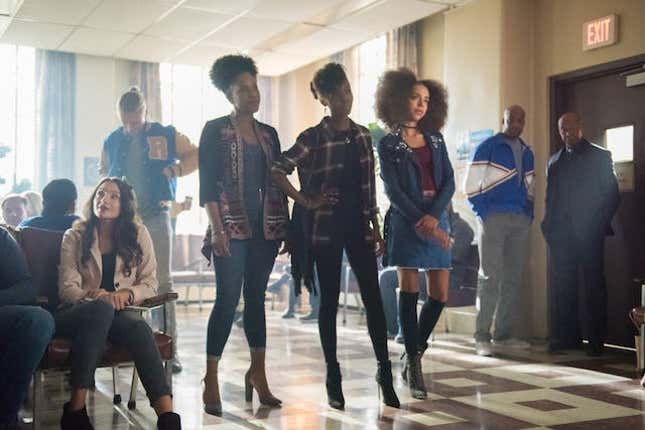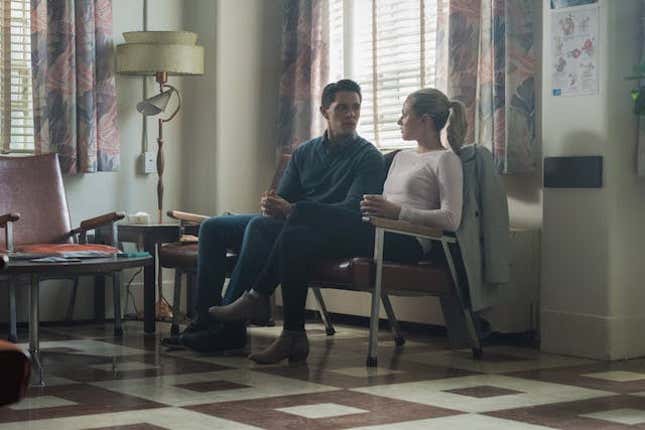 ---
Ghosted
Finally, here's a sneak peek at the series premiere of Ghosted, in which Leroy and Max's mysterious pasts are revealed as they're recruited into the equally mysterious Bureau Underground.
---
Banner art by Jim Cooke.