We got an early look at Wednesday's Cowboys & Aliens trailer. Daniel Craig's alien-fighting cowboy puts James Bond to shame; Harrison Ford has never been nastier; and this really is both a serious western and serious alien invasion movie.
Last week, we were one of a handful of sites invited to the edit bay for Cowboys & Aliens, where we saw the teaser trailer as well as rough, unfinished cuts of the first two reels of the movie, totaling about forty minutes of the movie. We can't say too much about that just yet, but we'll have more to say about what we saw — as well as our conversation with director Jon Favreau — a little later.
For now, here's some of what you can expect from the trailer, which hits the web this Wednesday. The filmmakers have long stressed that this movie isn't a parody or pastiche, and everything we saw confirmed that. Based on what we saw, the trailer accurately captures the movie's serious — but, importantly, never too serious — tone, and it offers tantalizing hints of how the movie will handle both its Western and alien invasion elements. There are definitely images in the trailer that a western movies buff will be able to pick up on as homages to classics of the genre.
But what really excited us — and took us by surprise — was all the pure action on display in the trailer. Daniel Craig's work as James Bond has featured some of the most wonderfully brutal fight scenes in recent memory, and he might actually outdo his super spy alter ego in Cowboys & Aliens. He fights early and often, using any weapons available to him, and he aims to kill, whether he's licensed to or not.
The trailer also hints at how the other main characters fit in. Colonel Dolarhyde is a rare villainous role for Harrison Ford, and the trailer gives us a first look at some unexpected nastiness. The trailer also suggests that Olivia Wilde's Ella isn't all she appears to be. This is something Jon Favreau in part credits to the unique qualities Wilde brings to her acting, which he first noticed when his nine-year-old boy developed an inexplicable fixation with Year One.
G/O Media may get a commission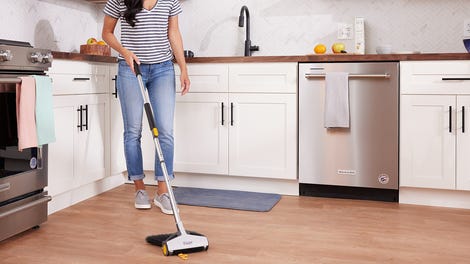 BOGO 50% Off
Flippr - BOGO 50% Off
Much of the project has been shrouded in secrecy - indeed, the new image up top is only our second real hint at what the film looks like. That's going to change this Wednesday when the trailer premieres over at Yahoo. For now, we'll just have to keep making do with the movie's impressive pedigree. Director Jon Favreau is joined by the Star Trek writing team of Roberto Orci, Alex Kurtzmann, and Damon Lindelof, as well as producers Steven Spielberg, Brian Grazer, and Ron Howard.
Favreau showed with the Iron Man films his ability to assemble an amazing cast, particularly for a genre movie, but Cowboys & Aliens really takes that to a whole new level. Beyond Craig, Ford, and Wilde, there are supporting turns by Sam Rockwell, Paul Dano, Adam Beach, Keith Carradine, Walton Goggins, and the Kurgan/Lex Luthor himself, Clancy Brown. Everything we saw suggests the cast members have been given material that's worthy of their talents.
Here's the earlier photo of Daniel Craig and his mysterious alien weapon, along with the official description of the movie:
1873. Arizona Territory. A stranger (Craig) with no memory of his past stumbles into the hard desert town of Absolution. The only hint to his history is a mysterious shackle that encircles one wrist. What he discovers is that the people of Absolution don't welcome strangers, and nobody makes a move on its streets unless ordered to do so by the iron-fisted Colonel Dolarhyde (Ford). It's a town that lives in fear.

But Absolution is about to experience fear it can scarcely comprehend as the desolate city is attacked by marauders from the sky. Screaming down with breathtaking velocity and blinding lights to abduct the helpless one by one, these monsters challenge everything the residents have ever known.

Now, the stranger they rejected is their only hope for salvation. As this gunslinger slowly starts to remember who he is and where he's been, he realizes he holds a secret that could give the town a fighting chance against the alien force. With the help of the elusive traveler Ella (Olivia Wilde), he pulls together a posse comprised of former opponents-townsfolk, Dolarhyde and his boys, outlaws and Apache warriors-all in danger of annihilation. United against a common enemy, they will prepare for an epic showdown for survival.
[Top image from Yahoo at their Cowboys & Aliens Experience]