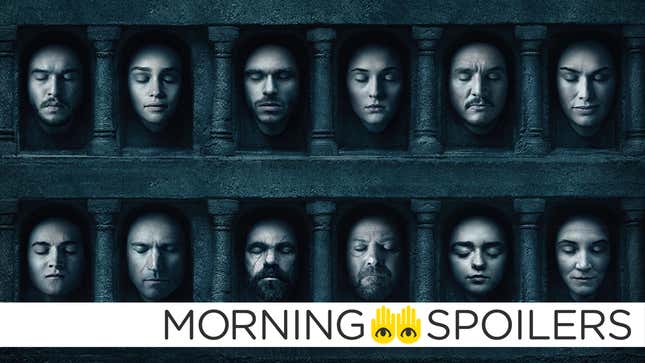 Get a look at Ichabod's new partner in Sleepy Hollow. The Godzilla sequel has found its writers. The cast and crew of Black Mirror's third season tease what's to come on the show. Plus, everything coming up in the CW/DC TV universe, and Lynda Carter makes her Presidential debut in a new Supergirl clip. Spoilers Now!

Early Man
Tom Hiddleston has joined the cast of Aardman's prehistoric animated movie.


---
Jurassic World 2
A new casting call for a young girl named Lucy has hit the web:
She is a young girl around 9 years of age. The girl playing "Lucy" must be at least 9 years of age by February 2017, but cannot be over 10 years old. She must be a sensitive and clever actress capable of handling long and complex scenes. Lucy must be able to handle a range of emotions from tender moments with her father, to anxiety, bravery, and shock.
---
Godzilla 2
Krampus writers Michael Dougherty and Zach Shields have been tapped to write the screenplay. [Variety]


---
Doctor Strange
The Ancient One blows Stephen Strange's mind in a new clip.
---
Game of Thrones
Watchers on the Wall has a new report featuring images from the set in the Basque Country in Spain, featuring Kit Harington, Liam Cunningham, and Nathalie Emmanuel—all but confirming that Jon Snow will ride south this season to meet up with Daenerys Targaryen. Check out a few more images at the link.
---
Black Mirror
Jodie Foster will direct an episode in the fourth season, starring Rosemarie Dewitt. No details have been released yet on what its story will entail.[/Film]
Here's a new featurette about the third season featuring the various casts and crew discussing the bleakness of the series.
---
Sleepy Hollow
TV Line has the first picture of Ichabod and his new partner, Diana, in action.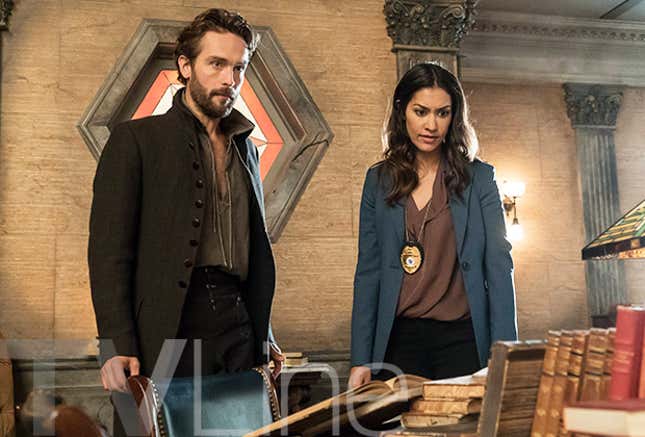 ---
Class
Here's an extended synopsis for the show's fourth episode, "Co-Owner of a Lonely Heart."
April starts to feel effects of sharing her heart with Corakinus, and his attempts to sever the attachment only make it stronger. When April's estranged father makes a startling appearance she confronts him with Shadow Kin force, manifesting traits of the Shadow Kin leader. Frightened by this extraordinary new-found power, April seeks comfort in Ram, and vows to reclaim her heart as her own.

Meanwhile, something strange is happening to the others – London is slowly being infested with unusual, sinister flower petals.
---
Legends of Tomorrow
The CW has released a new batch of episode synopses for its DC shows. Starting with Legends of Tomorrow's "Compromised":
When the Legends trace a timequake to President Reagan's White House, they are shocked to discover their old enemy Damien Dahrk is now a senior advisor to Reagan. As the team works to uncover what Dahrk has up his devious sleeve, Sara struggles with the choice of getting revenge or helping with the team's larger mission. Thinking that the JSA members could be of help, Amaya and Nate break into the JSA and are surprised by what they find. Meanwhile, Stein tries to prevent his younger self from creating an even bigger time aberration.
---
Arrow
Oliver goes on the hunt for Prometheus in the synopsis for "So It Begins."
When Prometheus ups his killing spree, Oliver searches for connections between the victims. Felicity and Curtis discover the victims have a mysterious link to Oliver's past and this new secret could upend his new team. Meanwhile, Thea has a heart-to-heart with Lance and Felicity considers telling Malone (guest star Tyler Ritter) the truth about her work.
---
Supergirl
And lastly, Supergirl fights a new Cadmus-backed gang in "Crossfire."
Supergirl must beat a ruthless new gang who has been armed with ruthless new alien technology. When Cadmus sends a video to the DEO, the team realizes Cadmus is the one staffing the criminals for a secret mission. Meanwhile, Kara gets Mon-El a job as an intern at CatCo, James makes an important decision, and Lena invites Kara to attend one of her fundraisers.
Finally, say hail to the chief in the first clip from Lynda Carter's appearance as President Marsdin in "Welcome to Earth."
---
Additional reporting by Gordon Jackson. Banner art by Jim Cooke.