Simon Pegg isn't so sure about the idea of Quentin Tarantino's Star Trek movie actually happening. Doctor Strange screenwriter C. Robert Cargill shares some ideas for a potential sequel. Legends of Tomorrow wants to do a Trump story. Plus, tons of new Avengers: Infinity War posters, none of which feature Hawkeye. Spoilers, assemble!

Red Sonja

Millennium Films has hired Ashley Edward Miller (screenwriter of the forthcoming Big Trouble in Little China remake) to write a new film adaptation of Red Sonja. [Deadline]
---
Quentin Tarantino's Star Trek
Much like Quentin Tarantino's Phantasm, or Quentin Tarantino's Friday the 13th, Simon Pegg is skeptical Quentin Tarantino's Star Trek will ever happen.
I don't think he's written an R-rated Star Trek script. I think what happened is he went to J.J. [Abrams] with an idea that he has had for a while – I remember he told us about it a long time ago. I think he told me and Edgar [Wright], about it a long time ago. He just put it to J.J. and J.J. is considering putting it into a writing room. We got an email just saying 'Guess who came in the office the other day!' So, I don't know much about it, other than the fact that it is sort of in the mix. So, we will see.

I don't think Quentin is going to direct it.
---
Doctor Strange 2
On the same tack, Doctor Strange screenwriter C. Robert Cargill isn't sure if a sequel is going forward, but has an idea for it— one involving a team-up between Nightmare and Baron Mordo.
Me and Scott have not laid the groundwork for it but what I can say is that I have a feeling that whatever Nightmare is involved with, Baron Mordo, being somebody who considers himself the defender of natural law will have something to do with it.

For those of you who have ever read the comics, you know that Baron Mordo has a very particular arc, and that's something we discussed with Chiwetel while working on the first movie. And part of the reason Chiwetel wanted to play Mordo was because he has a definitive ending as a character and it's such a fascinating ending. And I do know that whether we're attached or not, that Marvel plans on working towards that ending and fully realizing Mordo as more than just a cardboard cutout villain, but actually taking him to kind of Loki levels of awesomeness. That's the goal with him.
G/O Media may get a commission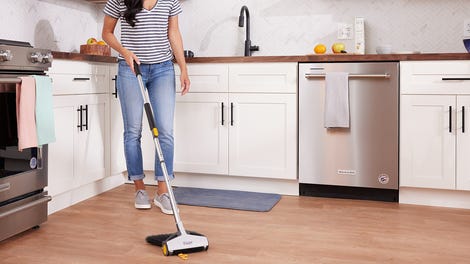 BOGO 50% Off
Flippr - BOGO 50% Off
---
The Batman
The Wrap reports Matt Reeves' The Batman will not concern the death of Jason Todd. When asked this very question, Reeves monosyllabically replied, "false."
---
Chaos Walking
THR reports Chaos Walking is undergoing "major" reshoots, which, due to Daisy Ridley and Tom Holland's busy filming schedules, may push back its March 1st, 2019 release date.
---
Avengers: Infinity War
Coming Soon posted Marvel's *twenty-two* new character posters for Infinity War—and still no Hawkeye! Click through to see the rest.
---
Rampage
There's also forty high-res images of the monsters from Rampage available too. More at the link! [Coming Soon]
---
It: Chapter 2
Director Andy Muschetti teased Chapter 2 begins filming soon on Instagram.


---
Johnny English Strikes Again
Here's a quick teaser for the third film in Rowan Atkinson's goofy spy-fi series with an always intriguing supporting cast. The full trailer arrives later today.


---
The Chilling Adventures of Sabrina
Meanwhile, Sabrina and Harvey hold hands in a new set photo from Roberto Aguirre-Sacasa.
---
Riverdale
Carrie: The Musical gets the late 90's slasher revival poster treatment.
---
The Chilling Adventures of Sabrina/Riverdale
Meanwhile, speaking of both Archie shows, Riverdale executive producer Jon Goldwater confirmed to TV Line there are currently no plans for a Sabrina/Riverdale crossover.
Right now, we're not thinking about that. They're two separate entities for right now.
---
American Horror Story
THR reports Joan Collins has officially joined the cast of American Horror Story's eighth season. The outlet also states Ryan Murphy is "interested" in securing Anjelica Huston.
I'm still working on it. And I don't want to do anything unless I'm 100 percent sure.
---
Legends of Tomorrow
When asked if we could expect to see Donald Trump in a future episode, co-showrunner Phil Klemmer replied:
Um… I think you just guaranteed it. I'd love to see a mid-'80s Trump. It'd be a blast.
[TV Line]
---
Lucifer
Lucifer solves the murder of a ballerina in the synopsis for April 23rd's episode, "Anything Pierce Can Do, I Can Do Better."
When a prima ballerina is brutally murdered, Lucifer helps Chloe solve the case and attempts to keep her focus away from Pierce. Amenadiel begs Charlotte to help him with an important plan, and Maze remains devoted to a task from which Pierce asked her to back away. Then, Chloe confronts Lucifer about his meddling in her life, but as he's about to make a huge confession, he finds out something that changes everything.
---
Superntarual
Dean finds a map leading to Solomon's treasure in a clip from tonight's episode, "The Thing."
---
Fear the Walking Dead
Fear the Walking Dead has a new teaser and behind-the-scenes featurette.


---
iZombie
Liv goes Victorian in images from episode 8 of the season, "Chivalry is Dead." Head over to Spoiler TV for the rest.
---
Ash vs the Evil Dead
Finally, Ruby hatches a brand new Bruce Campbell in the promo for next week's episode, "Twist and Shout."
---
Banner art by Jim Cooke.