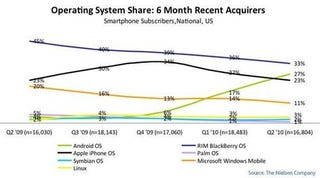 The folks at Nielsen have crunched some numbers and noticed that over the past six months new smartphone subscribers were more prone to choosing an Android-based device than an iPhone. But that's not all that shocking though, is it?
According to Nielsen:
While the iPhone has been the headline grabber over the last few years in the smartphone market, Google's Android OS has shown the most significant expansion in market share among current subscribers. Android's rise is even more noticeable among new smartphone subscribers in the last six months where Android has nosed past Apple's iOS in the last quarter to grab a 27% share of those recent smartphone subscribers.
What needs to be kept in mind while looking at these numbers is that there are only four generations of the iPhone on the market—with one single carrier in the US—while there are plenty more devices which run the Android OS available on just about every US-based carrier.
While sorting out the new smartphone subscriber numbers, Nielsen also took a look at the loyalty of current smartphone subscribers. It turns out that BlackBerry users are the least loyal out of the bunch lately, but even that isn't overly shocking considering RIM's lackluster new products.
What I'm looking forward to seeing is charts like this about a year from now, once Windows Phone 7 Series devices have been on the market for a little while. Hopefully there'll be some surprises by then. [Nielsen]