Nikon's new AW1 is the first waterproof interchangeable-lens camera we're aware of, and we have to admit that even if it seems a tad niche, it's refreshing to see Nikon dive into something new. This camera will definitely be a lot of fun, but more importantly, it's a smart design direction for the company's line of mirrorless shooters.
The AW1 is waterproof down to 49-feet deep without any protective housing. While the camera technically works with any Nikon 1 series lens, it's only waterproof when you're using one of two new lenses: The AW 11-27.5mm f/3.5-5.6 and the AW 10mm f/2.8. The camera will sell in a kit with the 11-27.5 lens for $800, or in a two-lens kit with both optics sets for $1000. Considering the waterproof housing Nikon offers for its J1 and J2 1-series cameras costs more that $500 on its own, the price of the total package seems pretty reasonable.
Additionally, the AW1 is shockproof so that it'll survive a drop of up to 6.6-feet without breaking. And in a nice touch, the pop-up flash is waterproof and works underwater.
G/O Media may get a commission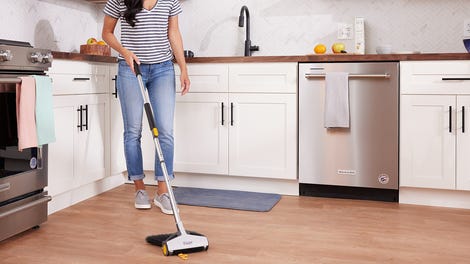 BOGO 50% Off
Flippr - BOGO 50% Off
Outside the drink, the Nikon 1 AW1 is basically identical to the relatively inexpensive Nikon 1 J3 Nikon announced back in January, except that it's not quite as compact. The AW1 uses the same 14.2-megapixel, one-inch image sensor found on the J3. This chip is smaller than the APS-C and micro four thirds format sensors on competing mirrorless cameras from Sony, Olympus, and others, putting a theoretical constraint on image quality potential. But there are benefits to the smaller format as well. First of all, keeping the imager's size down, lets Nikon build a more compact camera. It also also cuts back on the amount of data the AW1 has to crunch, enabling higher-speed continuous drive modes. Hurray for spray and pray. Nikon leverages the higher frame rate potential for features like super-slow-motion video, burst still shooting, and a n00b-friendly feature called Slow View, which, you guessed it, slows down the scene on the camera's LCD to make getting the perfect shot in high-speed situations easier.
Rugged point-and-shoot cameras and action cameras are very popular these days, especially amongst an ilk of enthusiasts who don't necessarily want to drop a ton of cash on a fancy waterproof box for their gadget. Compared to its competitors, Nikon's mirrorless line leans towards amateurs who are more-or-less the exact same group of people who might be interested in a waterproof shooter. Sounds like a promising pitch—we'll see if it hits.
The Nikon 1 AW1 and waterproof lenses will be available in October. [Nikon]