In just a couple of short months, Nintendo's first console since 2012, Switch, will be here. Nintendo made the console's existence known last October, but until tonight was completely mum on any and all details. Now we know a lot more about the company's shape-shifting console. So here are the facts.

Design
The Nintendo Switch looks like a whole new breed of console, but fans of the Nvidia Shield will find a little familiar ground. Like the Shield, the Switch is a chunky tablet that plays games. Also like the Shield, it can be connected to a television so those games can be played on a bigger and prettier screen.
G/O Media may get a commission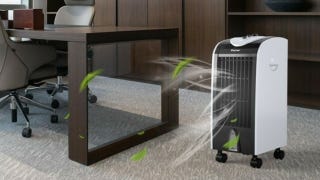 Save $10
Evaporative Portable Air Conditioner Cooler with Filter Knob
But the Switch uses a special dock to send signals to the TV. Drop the system onto the dock and instantly go to playing games on the big screen—no obnoxious pairing or wireless connectivity requirements. More importantly, the Switch has what could potentially be a better controller. The Shield came with a big, fat, separate controller that you connected to the tablet via Bluetooth. The Switch has that option too, and calls it the "Switch Pro."

But the Switch's Joy-Con controller looks like the fun one, and as it closely resembles the Switch logo, it's safe to say Nintendo is hoping we like it as much as its logo designers do.
The Joy-Con controller (available in multiple colors) is made up of two small palmable controllers, each with a joystick and 4-button layout. When playing on the tablet you can connect the controllers to each side, effectively turning the Switch into something like a gargantuan Sony PSP. But the controllers can be disconnected and used separately, which might be useful for games that require motion controllers like with the old Wii, or for when you want to have some quick two-player action.

When the Switch is docked into the TV, the controllers latch together around a giant battery back. That should give you more playtime, but the controller plus battery pack configuration also looks huge. Like original Xbox One controller huge. So that might, just maybe, be a downside for the tiny handed people among us.

It does look like Nintendo wants you to use the Joy-Con controllers in both hands. Nintendo's introduced depth-sensing sensors so the controller knows where it is in relation your body, and a new style of force feedback that Nintendo claims can perfectly mimic the clink of ice in a glass.

These sensors also allow you to play games with other people that don't require you to look at the screen. Instead you face your opponent, and as Nintendo's hardware designer said, "Look them in the eyes." Nintendo's first example of the tech was launch title 1-2-Switch which lets you do sword and pistol duels in your living room.
Specs
Specs continue to be frustratingly scarce. We still don't know what kind of resolution the tablet has or what it will playback on the TV. We don't even know how fast the wi-fi is.
But here's what we do know:
The Switch features a capacitive touch panel.
It charges via USB-C.
Battery life will depend on the game, with Nintendo saying it could last anywhere from 2.5 hours to 6 hours.
Wi-fi is, naturally, built in, and the system will support linking up to 8 Switches together for old fashioned wireless multiplayer gaming.
The system runs on a custom processor from Nvidia that's rumored to be based on the architecture in the Shield tablet and console.
Games
Because the Switch has some really incredible tech in the Joy-Con controllers, a number of the launch titles are focused on the new gimmick. That includes 1-2-Switch, which was developed in-house by Nintendo's hardware team to show off the capabilities of the controller and is a collection of quick games, and Arms, a fighting game that lets your onscreen avatar punch opponents every time you punch the air in real time.
Splatoon 2, the sequel to a popular Wii U title, is also making an appearance on the Switch, but won't be available until later this year. Same with the next Mario game, which is due in the fall of 2017. The little Italian plumber will be appearing Super Mario Odyssey, an open world game that appears to be, at least partially, set in a city full of normal sized people. If there is something none of us ever needed to see, it was Mario in the real world again.
Rounding out the first party games are Xenoblade Chronicles 2 and Fire Emblem Warriors. Neither of which appear to have official launch dates.
Oh, and Zelda: Breath of the Wild, which will launch with the console on March 3.
For third party support, Square Enix is planning to make three different Dragon Quest games, Atlus and Sega have both promised games, and Bethesda is porting the nearly six-year-old Skyrim. There's also a sequel to the excellent (if 10 years old) No More Heroes. No More Heroes was one of the better, and certainly more stylish, games to drop on the original Wii.

And EA is turning the Switch into a real console contender with the announcement of a new FIFA game for the Switch.
Unfortunately most of these games don't yet have release dates beyond "sometime in 2017," which makes the official number of launch titles pretty dang tiny.
Release Date and Price
The Nintendo Switch will be available in all major territories March 3, 2017 and retail for $300 here in the US. Also, for the first time ever, Nintendo's console will be completely region-free, which means you'll be able to play Japan-only games on day one in the US.
The Switch will be available in two configs. Both will be priced the same, but one will have gray Joy-Con controllers and the other will have one neon red and one neon blue Joy-Con controller.
Nintendo will be having a second event tomorrow here in New York, and Gizmodo will be there, trying out Zelda, Skyrim, and maybe even Mario.