Michael Gracy offers an update on the live-action Naruto movie. Another Stephen King classic could be heading to TV. Stephen Amell thinks it's inevitable that Black Lightning will cross over with the other CW/DC shows. Plus, new Captain Marvel set pictures and footage from what's to come on Gotham and The Walking Dead. Spoilers, away!

X-Men: Dark Phoenix

X-salt shakers at the ready, because on the latest episode of Popcorn Talk, host Jeff Snieder reports Jessica Chastain—who's character has only previously been described as an "otherworldly shapeshifter"—could be playing a gender-swapped version of longtime X-villain Mr. Sinister.
We still don't know who Jessica Chastain is playing [in X-Men: Dark Phoenix], do we? I heard a rumor this week. What if—and forget the pronouns here—what if Jessica Chastain was playing Mr. Sinister? That's the rumor. I don't know what that means. I don't know who Mr. Sinister really is, but that's a possibility. It's a possibility.
In competing Mr. Sinister movie rumor news, a separate article detailing the troubled production history of New Mutants from The Tracking Board suggests Antonio Banderas would instead be playing the character, replacing a previously planned Jon Hamm:
Meanwhile, remember the Essex Corporation that was teased at the end of X-Men: Apocalypse? Well not only was New Mutants going to feature that mysterious company, but The Tracking Board has learned that Jon Hamm was originally going to appear as Mr. Sinister in a tag at the end of New Mutants, and Boone filmed material that led up to that reveal, only for Fox to change their minds after shooting had been completed. Now it'll be Antonio Banderas playing an unspecified villain (one who isn't expected to be Mr. Sinister) in the New Mutants tag.
Maybe the real Mr. Sinister was simply the friends we made along the way.
---
Naruto
The Greatest Showman director Michael Gracy gave Collider an update on his live-action adaptation of Naruto.
[F]or me, as it stands, we're still working on the script. Because until that script is at a level that I'm excited about, I have no interest in destroying an amazing franchise, as has happened before. But I think the great thing is that everyone involved, from Lionsgate to the producers, are all of the same mind. Everyone knows how precious this property is and to me it's incredibly exciting, and I love the work that I've gotten to do on it to date. At this stage, no one is going to go into production until we've got a script that excites everyone. So whether it's my next one or not, I don't know. We'll have to wait and see.
G/O Media may get a commission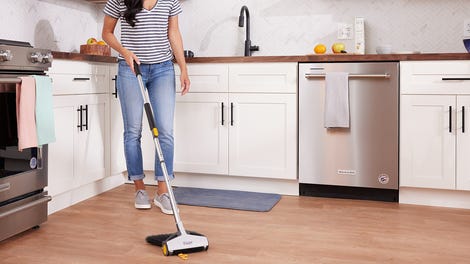 BOGO 50% Off
Flippr - BOGO 50% Off
---
Captain Marvel
Just Jared has a couple dozen set photos of Brie Larson doing rope stunts.
---
Avengers: Infinity War
Coming Soon has the latest international poster, which, like the previous posters, is a heady amalgam of the oodles of heroes that will be smooshed together for the movie.
---
Deadpool 2
Deadpool is the goose that lays golden eggs for Sony in another poster [Coming Soon]
---
The Predator
Shane Black posted a set photo to Twitter, perhaps inviting you to play "Spot the cloaked alien murder warrior."


---
Lu Over the Wall
Meanwhile, here's a dubbed trailer for a new animated film about mermaids from Devilman Crybaby director, Masaaki Yuasa.
---
The Stand
The Tracking Board reports that, after years of movie rumors, CBS is now developing Stephen King's The Stand as a ten-hour miniseries with New Mutants director Josh Boone. Long may the era of Stephen King adaptations reign.
---
Black Lightning/Arrow
During a panel at Awesome Con in Washington D.C. over the weekend, Stephen Amell stated a crossover between Black Lightning and Arrow was all but inevitable.
Everyone pretends like we're not going to eventually cross over with Black Lightning but we're probably gonna cross over with Black Lightning because that's just the way that the world works. I met Cress properly, I think, for the first time yesterday. I think maybe we had met incidentally at upfronts or something like that and I was a big fan of his from 90210 when he kind of dated Donna — it's a true story.

I think that anything you can do to expand the universe and to build out what we've built on our show would be great. So, I'm glad that show's doing well, I hope that it has a very successful run, and I would love to be a small part of it in some way shape, or form.
---
Arrow
The wicked Laurel of Earth-2 meets with The Quadrant, a consortium of mafia families in the synopsis for April 19's episode, "The Dragon."
Looking to expand his empire, Diaz (guest star Kirk Acevedo) and Laurel (Katie Cassidy) meet with The Quadrant, a coalition of mafia families who run national organized crime. Meanwhile, after Oliver's (Stephen Amell) recent decision, Felicity (Emily Bett Rickards) and Curtis (Echo Kellum) double their efforts on building Helix Dynamics.
---
The Flash
Meanwhile, The Elongated Man questions his ethics after meeting The Thinker in the synopsis for April 17's, "Lose Yourself."
When Barry (Grant Gustin) and Team Flash find a way to enter The Thinker's lair, Ralph (guest star Hartley Sawyer) considers crossing a dangerous line to defeat DeVoe. Meanwhile, Joe (Jesse L. Martin) is concerned by Harry's (Tom Cavanagh) recent behavior.
---
iZombie
Liv eats the brains of a bachelor playboy in the synopsis for April 16th's spectacularly titled episode "Don't Hate the Player, Hate the Brain."
After consuming the brain of a bachelor playboy, Liv (Rose McIver) heads to a club to meet up with Clive (Malcolm) and Ravi (Rahul Kohli). Meanwhile, Major (Robert Buckley) is assigned an enormous task. Lastly, Clive (Malcolm Goodwin) is still struggling with the arrangement he's made with Bozzio (guest star Jessica Harmon).
---
Legends of Tomorrow
Jonah Hex returns in images from the season finale of Legends of Tomorrow, "The Good, The Bad & The Cuddly." Head to the link to see more. [Coming Soon]
---
Supergirl
Laurie Metcalf debuts as Mrs. Toyman in images from April 16th's return episode, "Schott Through the Heart." You know what to do, click the link to see more. [Coming Soon]


---
Siren
Ryn crashes a pool party in photos from next week's episode, "Interview With a Mermaid." Head over to Spoiler TV for more.
---
Gotham
Jerome, The Mad Hatter, The Scarecrow, The Riddler, Firefly, The Penguin and Mr. Freeze wreak havoc in the promo for this week's episode, "Mandatory Brunch Meeting."
---
The Walking Dead
Finally, Eugene weighs in on the bullet shortage in a clip from next week's episode of The Walking Dead.
---
Banner art by Jim Cooke.