A trio of Toshibas, the newest Palm smartphones, and an FM transmitter that won't make you want to tear your brain out. Start saving your tax return for what's now available.

Toshiba Satellite E205-S1904
Toshiba's new Satellite has launched. Our previous interactions with the Satellite series has left us decidedly underwhelmed. Mainly citing battery life and a wonky trackpad button as sticking points holding this laptop back from being truly great. The most exciting feature on the new model is the inclusion of Intel Wireless Display technology and a Netgear Push2TV adapter, allowing easy video streaming to your entertainment center. A simple way to watch Hulu in your living room is always a welcomed feature—especially on a laptop. Best Buy has these for the decently reasonable price of $899.99. For that price you get an Intel Core i5-430M CPU, 4GB of RAM, and 500GB of storage—along with the Netgear adapter. You can peruse it here.
G/O Media may get a commission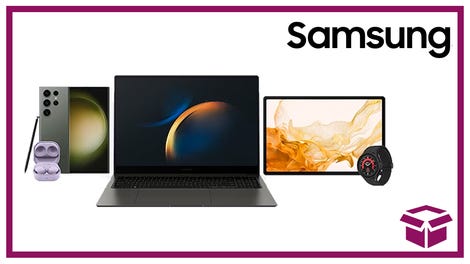 24 hour deals
Discover Samsung - Daily Deal

Palm Pre Plus and Pixi Plus
These newest Palm offerings have finally landed on Verizon Wireless' webstore. If you are a Sprint customer worried that you're getting the shaft on these babies don't worry. Aside from the RAM being doubled and a marginally improved keyboard the entire experience is more or less the same. Granted, these guys can run up to 50 apps at once, but that seems a tad excessive. Perhaps the most tantalizing facet of these little gems is their ability to become mobile hot spots, essentially showing where smartphones should be headed in the next few months. Add that to their soon-to-be-able ability to shoot and cut videos and you've got a pretty decent little device in your pocket. Buying it online also nets you a $100 discount. Get it here.

Toshiba Tecra A11 and Qosmio X500
In addition to the Satellite, Toshiba has also started shipping the Tecra A11 and the Ferrari-esque 18.4"-behemoth Qosmio X500. The 15.6" Tecra A11 features an integrated number pad—for tax season I assume—and the standard duo of new NVIDIA and Intel hardware in it's guts. It'll set you back about $879 and probably not raise too many eyebrows. Tecra's larger and more flamboyant relative boasts a bullish 2010 Intel Core i7-720QM quad-core processor and a GeForce GTS 360M. It can sport up to 8GB of RAM and a Blu-ray drive. This spicy specimen will set you back $1,549. You can discuss the irony of Blu-ray on a Toshiba or the fact that both of these are marketed as 'business laptops' in the comments. Get either one here.

Belkin TuneCast Auto Live iPhone FM transmitter
We're not really on-board with FM transmitters as a whole, but at least this Belkin adapter makes transmitting to your radio via an iPhone a tad less cumbersome. What differentiates this from other FM transmitters is the inclusion of an iPhone app for direct control over the frequency. We're surprised it's taken this long to integrate a functional app into an FM transmitter, but it's probably just a subtle statement on how annoying FM transmitters are as opposed to other connections. Reminisce the FM band here.