Valentine's Day may just be a consumerist Hallmark holiday—but that doesn't mean you can't have a little fun this evening. So instead of jewelry or flowers, why not get your loved one something a little more... animated? NSFW, because obviously.
---
Duet Vibrator
This is the Crave Duet, a dual-headed vibrator that charges via USB, and has a whole 16GB of storage in the attached flash drive (for porn, because it's a vibrator-shaped USB drive so of course it's for porn). It's a wee bit pricey at $300, but to be fair, it is gold - and we all know girls love gold, almost as much as they love black siliconised vibratey thingy. $300
---
Club Vibe 2.OH
G/O Media may get a commission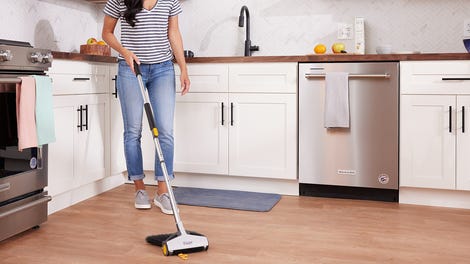 BOGO 50% Off
Flippr - BOGO 50% Off
The 2.OH (why oh why do sex toys all have such terrible names?) is one of those two-part vibrators. The, ahem, business end goes where you'd expect, and then you get a remote control with a built-in mike, which literally makes you move with the beat. Or, if there's no music, you (or your partner) can use the manual override to make things happen. $75
---
Tenga 3D Polygon
Contrary to popular belief, sex toys aren't just for women and they don't all have to look like massive, garishly-coloured cocks. The Tenga 3D is, put simply, a 'Male Masturbation Sleeve' - or a Fleshlight, basically. Only this one looks like some kind of Origami sculpture, rather than a silicone vagina, and that's a bit more socially acceptable when someone stumbles on it hidden in the bedside drawer. $45
---
Vivi
The Vivi is a good ole' remote-control vibrator, but that remote control harnesses all the mighty sexual power of the internet to control your device from afar. Designed for long-distance couples with a minor kinky streak, the guy (or girl, not judging) in control has manual options, and a microphone to let you rock along to some banging 'tunes. $200
---
Mio Ring
Some sex toys are exactly what they say on the tin - the Mio Ring doesn't need much imagination. Once you have it 'installed' in the right place, the buttons let you fiddle with the level of 'stimulation'. Oh, and it's got a magnetic induction charger a la MacBook (someone else for you to sue, Apple), meaning it's totally waterproof, so you can get as kinky as you like.
---
Play Shy
Sometimes, simple things are best. Although the Shy vibrators aren't internet-connected or anything like that, they are sensitive to temperature, so you can pop them on ice before, erm, use. Plus, there's no cables or wires - and to be honest, that's a good thing. Sex toys that look too much like medical implements can, I'm reliably informed, be a bit off-putting. $100
---
FiFi Waterproof Rechargeable Vibrator
This one doesn't mess around (and no, it's not the same thing as a prison "fifi"). It's a rabbit-style vibrator (see the ears?) with three motors. Three! One large motor for the shaft and two small ones for the "ears," which operate independently. Soft, firm silicone, inductive/magnetic charging, and totally water-proof. It ain't discreet, in fact it kinda screams dildo, but hey, it's a dildo. It's for dildoing. Get over it. $140
Top image by NAS Creatives/Shutterstock
---
Part of this post was created by our newest offspring Gizmodo UK, which gobbles up the news in a different timezone. Check 'em out.