The last time we wrote about the Nordstrom Tower, it was due to become one of the tallest buildings of the development boom in NYC's most insufferable neighborhood, Midtown East. But new leaked drawings show that its developers are actually planning the tallest residential building in the world.
NY YIMBY has the leaked drawings of the most recent design, by supertall experts Adrian Smith and Gordon Gill, and they show how the tower's developers plan to clinch the title. The building's actual facade will rise up to 1,479 feet, which would already make it the tallest residential building in the world. But they haven't stopped there. They've also added a 296-foot spire to the top, pushing the total height up to 1,775 feet.
Now, that number might ring a bell: It's just one foot shorter than the height of One World Trade center, which stands a patriotic (I guess?) 1,776 feet. If Nordstrom's developers made its spire just .33 percent taller, they could take the title of the tallest building in the US. But, perhaps out of a gentlemanly concern for WTC, they've held themselves back.
Should spires even count towards total height? There's a pretty good argument that they shouldn't. The Council for Tall Buildings and the Urban Habitat published a fascinating report on the spire boom last year, showing how overall inhabitable height hasn't actually changed all that much over the past decade compared to spire height. In fact, the CTBUH even has a name for it: Vanity Spire.
G/O Media may get a commission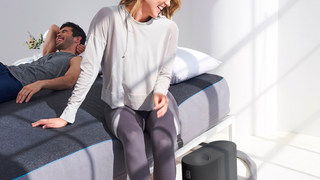 Eight Sleep Pod Cover
But even without its vanity spire, Nordstrom Tower will be the tallest residential building on Earth—assuming these leaked plans are shepherded through to completion by 2018 as planned. It'll also have the tallest roof in the country. Of course, whether or not any regular New Yorkers will ever get to see the inside of this architectural wonder is another issue entirely. [NY YIMBY]
Lead image: Rendering of the building based on the plans by Otie O'Daniel for NY YIMBY.