On Friday, the New York Police Department, the largest police department in the US with about 34,000 officers, released its body camera policies. The NYPD held extensive public comments and met with several civil rights groups, but the policies are largely a disaster and undermine the goals of the body camera technology—accountability and transparency.
The NYPD pilot program of 1,000 body cameras is set to start this spring. Hours after the policy's release, the New York Civil Liberties Union voiced their concerns with the policy, saying it "is not sufficiently targeted at ensuring police accountability because it gives police too much control over the footage that's collected."
There's a number of gaps in both transparency and accountability with the new policies. First, there's no simple process for the public to request footage, nor any assurances that requests will be answered quickly. Officers across the country have taken steps to either restrict or outright ban releasing footage to the public. The NYPD instructs that the public file Freedom of Information Law requests, admitting that it's a "slow and cumbersome" process and that "the release analysis can be more complicated when there is a third-party requester." The NYPD isn't holding itself accountable for releasing footage in a timely manner.
Second, the proposed policy doesn't detail the disciplinary actions for officers that don't comply with recording policies. Officers are required to record most "investigative encounters" and meaningful interactions with suspects and the general public (exceptions are made for victims). In the past, officers have claimed that cameras have "fallen off" or serendipitously powered down before fatal shootings. There's no clear protocol for dealing with officers who fail to record their own use of force.
Additionally, officers are able to review body camera footage before filing an official report, even if there's lethal use of force. This doesn't just provide the opportunity for officers to tailor their reports to the footage, it makes it really easy. Previously, video footage that contradicted a police report has helped catch officers in a lie—lying that a fatally shot man had grabbed their Taser or that another fatally shot man attacked an officer with a knife. Now, as policy, cameras will no longer function as an "objective" third party to incidents that can potentially unearth falsely made arrests or unnecessary use of force. Instead, cameras will work with the viewpoint of the officer, and any revealing discrepancies would be deliberately avoided.
G/O Media may get a commission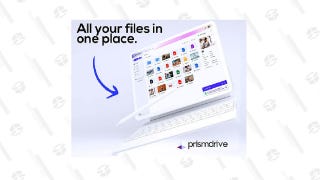 Save 97%
Prism Drive Secure Cloud Storage: Lifetime Subscription
Finally, there's no mention of artificial intelligence. The public has expressed much concern about body cameras being upgraded with face-recognition technologies. While the policy says that the NYPD "does not plan" on using "biometric technologies," it doesn't specifically ban them.
Though the policy is finalized, it only relates to the year-long pilot program, and will be amended should the NYPD decide for either an extended pilot program in 2018 or a full roll-out for all 34,000 officers. In any case, it's clear that both the policy and the camera itself is there to aid the police first and foremost, and therefore to police the community, not—as the activists who encouraged the technology hoped—to police the officers themselves.