At the beating heart of Amazon's unstoppable ecommerce expansion is a very basic promise: jobs.

When a Fulfillment Center opens, the expectation is that anywhere from 1,000 to 2,200 positions will become available overnight, each providing 40 hours of work per week at a minimum. In reality, the labor hours Amazon needs to power its brutally efficient supply chain appear to be far fewer. To reduce overhead but continue to sop up performance-based incentives from the local governments it operates in, Amazon has become increasingly reliant on a work scheduling scheme that often coerces workers into leaving their shifts early or turns them away at the door without notice.
I spoke to 13 of the company's current and former warehouse workers based in nearly as many states, all of whom were granted anonymity for fear of retaliation. According to their testimonies, the sign that Amazon's expanding empire may not have the labor needs to support the employment numbers it dangles in front of local politicians is an innocuous sounding acronym: VTO.

In its most benign form, Voluntary Time Off is exactly what it sounds like, a chance for Amazon's warehouse workers to cut out of their shift early, penalty-free, when the volume of remaining work is less than the bodies available to do it. The warehouse saves on unnecessary payroll costs; the employee gets an unpaid reprieve without eating into their precious allowance of time off (assuming they're one of the classes of warehouse workers that receives any.) "Associates" as they're called can sign up for text alerts, emails, or both, and when a VTO opportunity comes through they can decide whether or not to snap up one of the quickly-filling slots. The decision to take or not take VTO, Amazon repeatedly stressed to Gizmodo, is at the discretion of individual workers.

"Every retail distribution center operator would love to be able to just have workers when they need them and not have them when they don't," Mark Meinster, the executive director of Warehouse Workers for Justice, told me. "There are various schemes to try to do that." For that purpose, the best arrow in Amazon's quiver is VTO.
It seems a fairly straightforward system, but its purpose remains hazy. "During November, as we hire tens of thousands of seasonal employees we have the opportunity to offer voluntary time-off (VTO) as a benefit to associates to take some time off before the holiday volume kicks in," an Amazon spokesperson told Gizmodo last December. In an email forwarded to Gizmodo, a site leader told one of his associates that VTO isn't a respite but a responsibility that falls on middle mile—meaning Sortation Centers, which are staffed largely by part-timers—as the main variability point in the supply chain. For this story, Amazon described VTO simply as a means to "provide additional flexibility."
The company has good reason to avoid a comprehensive definition, because the voluntary nature of VTO is, according to many associates, an open question.
"There's actually voluntary time off, and there's not-voluntary time off," one delivery center worker put it. Even truly voluntary VTO is something of an inside joke within Amazon's ranks. But many of the workers I spoke to described strong-arm tactics of one kind or another being used to pressure them into leaving early without pay, supposedly of their own volition.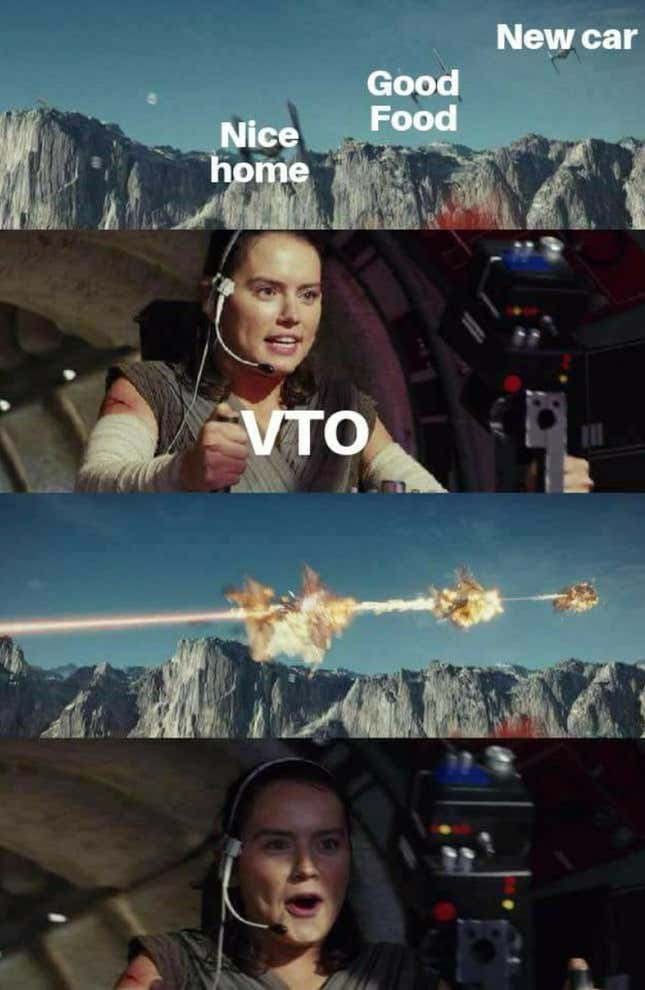 In addition to automated alerts, several associates claim managers hassle them in person when a VTO opportunity comes through. Standing up to a superior can be fraught, even in work less precarious than Amazon—especially when alerts to take VTO can reportedly occur up to 20 times in one shift. The pressure to leave can be even higher in certain jobs like picking, where associates walk miles up and down these facilities with a scanner gun in hand grabbing items for orders. The gun itself, a current and former picker reported, will flash VTO opportunities while they work. "When you're picking you'll get this message over your screen—VTO! VTO!—or they'll come yelling in the mods when you're picking—VTO! Anybody VTO?—constantly," an Indiana-based associate told me, "And after awhile you get tired of hearing it."

When nagging fails, managers reported ramp up the pressure, citing a lack of available work, or threatening undesirable alternatives. "I've had situations where they've offered VTO and it's like 'No, I'll stay' and they're like 'Well, we don't really have enough work in. We only really have about two hours or so of work,'" a packer in the greater Chicago area said. "If you tell them that you want to stay, they'll sit there and they'll tell you 'well, there's really nothing for you to do here,'" one stower—a role where inbound inventory is cataloged and stored inside the warehouse—in New Jersey echoed.
Of course, one of the qualities Amazon is known for is the pressure it puts on workers to "make rate," or perform their task at a sustained and often punishing speed. Several associates reported being reprimanded or seeing colleagues let go for hitting 99-percent of their goal. This scheme may be further weaponized against associates who opt not to take VTO. According to one worker, "an AM [Area Manager] actually told one of my former associates 'Do you want to go home? Because the picks are about to get really bad,'" meaning the items on their "pick path" would be spread farther apart in the warehouse, and therefore more difficult to grab in the designated time. Amazon's Fulfillment Centers, the largest and most complex facilities in the company's supply chain, can occupy a million or more square feet, and handle everything from inbound inventory, and storage, to packing and shipping items back out. "It's all connected. It's like a giant circulatory system in the body," an associate in Florida mused, "or the digestive system is more accurate since it goes in one end and comes out the other." Fulfillment Centers are so big that a recent fire in a Virginia facility proved difficult for local firefighters to get their hoses far enough into the building. "My rate was 140 and all of a sudden it was 89 because I couldn't walk fast enough to make my rate because the gun was sending me all around," a picker with over three years experience said, "It doesn't take a rocket scientist to figure out that they're throwing you around in the hopes that you're going to finally just give up."
In other cases, workers are simply moved to jobs they aren't trained to do, but are nonetheless held to the same rates as those who may have been performing that work for years. "They hired me for stowing and my rates were always good. That was never a problem. But last week, even for two days, they put me over to outbound so I was picking," said a former associated, "I was going slow." A current associate in Kentucky reported seeing a friend written up for poor performance after being moved to a job he wasn't trained in. (Barring extraordinary circumstances, three such write-ups result in termination.) Noting the lack of training to a manger, he was allegedly told "Well, you had the option to take VTO." Amazon gives associates the option to be "cross trained" to other forms of warehouse work, but it's unclear how many sign up as mastery of multiple roles does not appear to lead to an increase in pay.
To be fair, these methods of depriving workers of hours can still be described as "voluntary," if heavily disincentivized. Why Amazon goes through this rigmarole with some employees remains a mystery, given that others describe being told outright, not asked, to sign up for VTO.

"Oftentimes when we have low volume and we finish our shift early they tell us to sign up for voluntary time off, even though it's not voluntary," a delivery center worker said. In more extreme cases, associates reported being sent home right as they arrived for work, with no opportunity for recourse. "There's been times when we show up [...] they just say 'there's no work, go home,'" said an associate who recently quit, frustrated by the lack of work and advancement. "Not even an hour into my shift—half an hour into my shift—they'll come to me, and be like 'oh, there's VTO, you can go home,'" a current associate claimed, "And it's like, I just got here. My coffee hasn't even had a chance to kick in yet."
A document detailing Amazon's U.S. working hours policy provided by a current worker includes a clause about show-up pay (sometimes called reporting time pay)—an increasingly common type of legislation stipulating partial pay for unforeseen loss of working hours. It reads: "two-hours of 'show-up pay' is paid when hourly associates are required to work but are involuntarily sent home for lack of work or another similar reason when less than two-hours is worked." Two associates who reported being told to take VTO within two hours of their shift's start claimed to have never received such take-home pay. It's unclear if the appearance of volunteerism in this instance is being used to justify Amazon withholding wages. According to Amazon, VTO is not a substitute for dismissal.
"Work schedules for hourly associates may vary from site to site and week by week," a recent version of Amazon's Owners Manual and Guide to Employment—wherein Jeff Bezos writes to new hires that his company "marries hard-charging intensity with major-league fun"—states. "This flexibility is critical to Amazon's success as a company." Beyond its essentiality, it appears the need to VTO a certain quantity of staff is baked right into the company's business model. Several workers reported superiors attempting to give out VTO using language like "I need four more"—something these workers indicated was representative of a quota managers are required to hit, though Amazon categorically denies this is the case.
The same wage and hour document also includes a detail corroborated by nearly all the sources I spoke to: Amazon associates are responsible for "checking the accuracy and completeness of their own time records." (Amazon claims the company is ultimately responsible for accuracy of pay.) This is particularly relevant here in that many of these workers, as well as frequent posts on Amazon-centric online communities, claim VTO can often be incorrectly marked as an absence.
Full-time Amazon warehouse workers accrue three types of time off: paid time-off (PTO), vacation, and unpaid time-off (UPT)—in itself strange, since unpaid time in most jobs is solely a function of family or medical leave. "When I talk about this to my partner or other people, I sound like I'm in a cult or something because I'm using so many abbreviations," a full-timer in Florida said. "It's so weird that we have three different kinds of time off as well as VTO." While PTO and vacation require notice and approval and are doled out in small increments each pay period, UPT is given out as a lump sum of 20 hours each quarter—equivalent to about two days off for full-time workers—and can only be deducted in whole hours. Whether by negligence or by design, it seems VTO is frequently marked as UPT, and a negative balance of UPT is grounds for termination, according to a temp-to-employee conversion packet provided to Gizmodo. "Sometimes they don't code it properly and they accidentally take it as UPT instead, and then you could go into the negatives because of their mistakes," the same Floridian said. Then it's up to workers to spot the error and correct it, which can require several trips to a site's human resources team. One associate claimed these sorts of errors occurred for her "at least once or twice a week."
Ecommerce supposedly operates on extraordinarily thin margins, and muscling out a number of workers during sudden, unexpected downturns to maintain a financial health might at least be financially understandable. However, of the 13 workers, more than half described VTO as a frequent or even daily occurrence. Two even reported receiving emails offering a week or more of VTO. One such email, forwarded to Gizmodo, dangled a carrot in the form of a $100 gift card for associates who opted to take 3 to 5 weeks of unpaid time; the stick being that the facility expected "daily VTO" anyway. The email was sent in late November, during what Amazonians refer to as "peak season."

In past years, veteran associates reported, peak season—beginning some time in October and continuing through the winter holidays—is supposed to be crunch time. Amazon famously staffs up countless temps to assist its already robust workforce, and full-timers can expect to receive regular mandatory overtime to meet the demands of shoppers. This year, workers at some facilities were surprised to find VTO being called during what was supposed to be the busiest time of year. "People would be taking two-hour bus rides to work only to be told to go home [during peak]," a part-timer operating in Amazon's home state of Washington said, "people would be in tears because they'd been sent home two days in a row."
"Last year [during peak] there was no VTO at all," a packer claimed. "We're still busy, but I think with a couple new facilities that have opened up within the past year in our area, the allocation is a little more evenly distributed." Compared to his first peak in 2011, a Tennessee-based associate claimed the volume of packages has dropped off substantially. Not only has the number of Amazon facilities doubled in the state since 2011, but many more have opened in nearby Georgia, North Carolina, and Kentucky. Things appeared to be grim in New Jersey as well, where one associate noted that peak brought plenty of VTO and little work. Her hypothesis: "the numbers were down because they opened up so many plants and so many warehouses, and the warehouses are so close to each other that we're not getting the trucks that we were before."
VTO does more than reduce basic payroll overhead. It's also indirectly tied to yet another acronym called variable compensation pay (VCP)—the source of employee bonuses. VCP is comprised of two components, the first of which is correlated to the facility's overall productivity. How those calculations are made was unclear to every worker I spoke to. In any case, it's not a metric any individual has much of control over, nor did any worker report their facilities hitting productivity on any regular basis. The other component is attendance, which is halved with one use of UPT, and negated entirely after two. Improperly marked VTO can unfairly limit or remove these bonuses, and involuntary but correctly marked VTO still reduces them, since VCP is a percentage of earned pay. Fewer working hours means a lower bonus. According to a former associative, "there was not a week where there was 40 hours like they advertised."

The amounts associates reported receiving in VCP were underwhelming. One claimed his highest monthly payout was $48. Another averaged around $60. The only reason these paltry bonuses are relevant at all is that Amazon itself uses them to arrive at the over $15 per hour figure it estimates as its average Fulfillment Center worker's pay. "Hourly pay rates are competitive and we offer great benefits – we encourage anyone to compare our pay and benefits to other retailers," Amazon told Gizmodo in a statement for this piece. Glassdoor lists average warehouse pay for Amazon at $12.33, less at, Home Depot ($12.96), Costco ($13.43), and Target ($14.57). Even stacked against Walmart, its main competition and a business with its own set of unsavory practices, Amazon still comes up twenty cents short on hourly pay.
It's little wonder then that the foremost complaint among the people I spoke to was pay. Already low hourly wages, frequent VTO, minimal bonuses, lack of cost of living adjustments, and capped pay increases were a source of diminished quality of life. "I maxed out what I can earn as my pay grade three years after I was hired into Amazon," an associate who has been with the company nearly seven years said. He claims that repeated attempts to apply for a higher-paid managerial position have been met with excuses or ignored outright. One picker in Kentucky—the densest state in terms of Amazon facilities compared to population—claimed he wears out a pair of sneakers every month from the amount of walking the job demands. "Take that away from $12.50 an hour and you'll see how quickly it adds up to not much money," he joked. The irony of working in the former Zappos warehouse which still primarily stores and ships shoes wasn't lost on him.
An associate in Indiana went so far as to guess that recent reports of Amazon workers' reliance on food stamps in many states was a direct result of excessive VTO.
The obvious line of questioning when faced with similar testimony of multiple associates operating in separate facilities is what Amazon accomplishes with VTO that couldn't be achieved by simply reducing its staff. There's no question excess staff can of course help warehouses absorb upticks in volume, though how many surprises there could be for a company like Amazon with access to troves of individualized customer data spanning over two decades is dubious.

However, the recent focus on Amazon's Battle Royale-style search for a second headquarters has brought its reliance on state and local incentives into renewed focus. Although the particulars of deals the company strikes with the cities it agrees to operate in are often kept from the public eye and redacted in Freedom of Information Requests, local reporting over the years indicates that at least in some cases, a stipulation of the considerable funds, tax breaks, and other incentives the company squeezes out are predicated on the number of jobs it creates.
Take the Fulfillment Center in North Randall, Ohio, where the $7.8 million tax credit that state offered was performance-based, or the semi-conditional agreement for $1.7 million in incentives for a Fulfillment Center in Oklahoma City, or the potential for a five-year real estate tax abatement for a San Marcos, Texas Distribution Center. All had some sort of perk for Amazon based on how many workers it hired and retained. The possibility of intentional overstaffing at increasingly mechanized warehouses isn't lost on rank-and-file workers, and it's not much of a stretch to imagine Amazon's efforts to keep more associates on payroll than needed works strongly in its favor—especially if they can also push those same workers out the door at any time.
How many of these workers may be below Amazon's or even the federal government's definition of full-time employment is unknown to likely everyone but Jeff Bezos himself. Though as he recently told his own shareholders "we are a large corporation, we deserve to be inspected." It may be time for local governments to check up on their investments.
Do you work for Amazon and have information you'd like to share? Email a tip here or send documents to our Secure Drop server anonymously. We'd love to hear from you about warehousing, or any other aspect of the company.