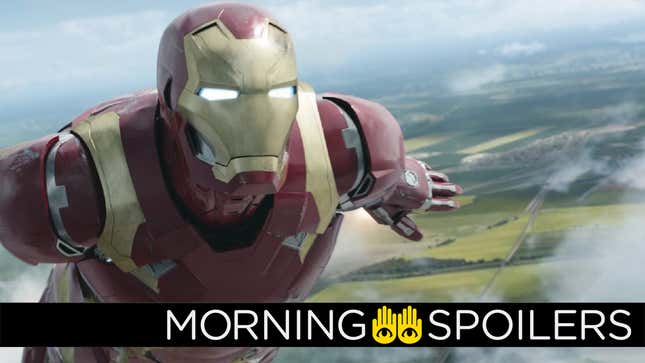 The new Hellboy film will be rated R. The next season of iZombie has a peculiar political inspiration. The Supernatural spinoff has found another cast member. A Star Trek legend will go behind the camera for Discovery. Plus, new pictures from the set of Deadpool 2, and more Game of Thrones featurettes. Spoilers Get!


Avengers: Infinity War
The latest update to the Iron Man armor—or at least, the top half of it—has been spotted on set, filming for a scene with Doctor Strange, Wong, Iron Man, and Bruce Banner. Just Jared has plenty of pictures of the very sleek suit, but here's a few more:
Meanwhile Comic Book reports that Aunt May will not be making an appearance in the movie. But, in related news, Kevin Feige told Fandango Spider-Man will have about as much screen time in Infinity War as he did in Captain America: Civil War, and some Homecoming characters beyond May could appear in the film.
I think it might feel bigger a little bit because of Homecoming and because of what people know from it, but it's about on par with [Civil War]. When asked if other Spider-Man: Homecoming members might show up, Feige demurred but said it was a possibility. There's a pretty big crew already in those movies, but you might keep an eye out.
---
Hellboy: Rise of the Blood Queen
Appearing on the Post Mortem podcast, Neil Marshall revealed his new Hellboy will be rated-R.
We've been granted permission to do it R-rated, which for me is just like taking the cuffs off. It's like, okay, so now we can just make the movie we want to make. Nobody's going to stop us. So, that's the main [difference]. And I'm sure, obviously, the success of things like Deadpool and Logan have not hurt that cause. But, also, when you go back the original material, it is kind of bloody, so I'm going to embrace that.
Marshall also stated the film will mostly use practical FX.
It's definitely going to be as practical as we can possibly make it. I love to do stuff in camera whenever I possibly can, and use CG as the amazing tool that it is, to enhance or expand upon the world, but not to use it to replace reality, when you can do it [for] real.
---

Karl Gajdusek Untitled Sci-Fi Spec
Fox has acquired the film rights to an untitled sci-fi spec script from Karl Gajdusek (Stranger Things, Oblivion). No details on the story, currently, but it's being described as a "character-based sci-fi drama in the vein of Inception and Edge of Tomorrow." Deadline reports the script was sold under the title Courage, but it won't use that name in production.
---
Captain Britain
Speaking to Hey U Guys, Kevin Feige says the character—Britain's answer to Captain America—has been "discussed".
We have discussed it. There are a lot of actors that come in and ask about that part, so we'll have to see.



---
Spider-Man: Homecoming
Michael Keaton recently appeared on The Late Show with Stephen Colbert, and a new clip of the Vulture fighting Spidey can be seen at the eight minute mark of the video below.
Plus, Peter takes up scrapbooking—do teenagers still do this in 2017?—in the new IMAX poster.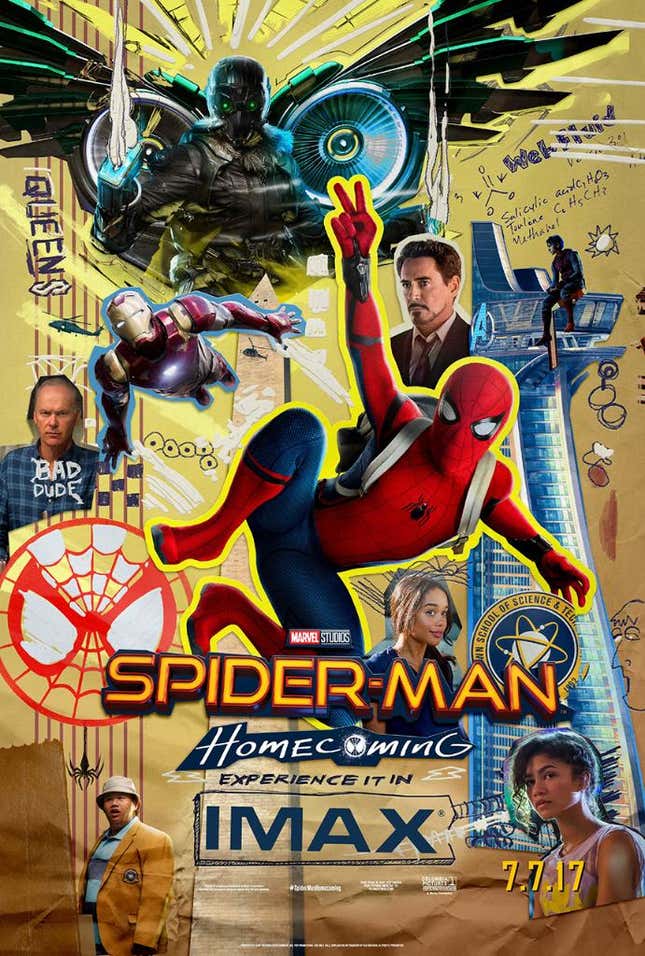 ---
Deadpool 2
More set photos illustrate just how much casual wear Deadpool will be sporting in the new film.
---
Deathnote
Adam Wingard shared the first poster on Twitter.
---
The Nun
The second Conjuring spinoff has wrapped filming.









---
Jumanji: Welcome to the Jungle
The first trailer arrives tomorrow, so here's a very tiny teaser that shows nothing at all to celebrate.
---
Sea Oak
Jane Levy has joined the cast of Amazon's half-hour dramedy zombie series, Sea Oak, about a woman who wills herself back to un-life after a home invasion to get vengeance for the life she never lived. There are currently no details on her character. [Bloody-Disgusting]
---
The Wayward Sisters
Briana Buckmaster has joined the cast of the Supernatural spinoff, according to a since-deleted facebook post. [Spoiler TV]
---
Vampirina
James Van Der Beek and Lauren Graham have boarded Disney Junior's upcoming animated adaptation of the Vampirina Ballerina books as Boris and Oxana Hauntley, the vampire parents of their daughter, Vampirina.
---
Star Trek: Discovery
Entertainment Weekly reports that Jonathan Frakes will return to direct an episode of the show's first season, his first time behind the camera on Star Trek since Insurrection.
---
Young Justice
Nolan North revealed that five episodes of the new season have already been recorded during a recent panel at Awesome Com.



---
Game of Thrones
Here's a featurette on the show's music with composer Ramin Djwadi.
---
Zoo
Billy Burke spoke to TV Line about the new season, which he refers to in the interview as "the wackiest show on television".
[The Hybrids have] taken over part of the planet. All these years, Jackson has been holding them off in what they call "hybrid territory," which is on the west side of a wall that's been built down the middle of the United States. You'll see throughout the season how the villain that put me in the tank ties in to what Jackson's been doing for the past 10 years, what Abe and Dariela have been doing, and the on on the other side of it, Jamie has been off on her own in New York.
---
iZombie
Finally, Rob Thomas told TV Guide season four is a metaphor for the Israeli-Palestinian conflict.
There's going to be a political divide between the two of them going into Season 4. We keep using these analogies in which this new version of Seattle is like Israel, the humans are Palestinians, and that Major is lining up sort of in the [Israeli Prime Minister Benjamin] Netanyahu camp, and Liv can't quite deal with it.



---
Banner art by Jim Cooke.