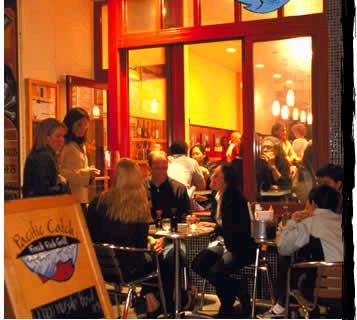 I'm about to bring iPhone obsession to a whole new level with this post.
After watching the iPhone Calamari ad, I found myself starving for seafood. I couldn't help but notice after the 10th viewing that the featured restaurant, Pacific Catch, is one I've been to before. Parking sucks balls in the neighborhood, and the food took forever, but it the food wasn't bad.
I had OK fish Tacos, which pale to the ones I had in San Diego after All Things D. But the sweet potato fries were remarkable. I want some now.
Here are the Yelp reviews, and here's a map.
Who at Pacific Catch has a friend at Apple? And how much do you want to bet there are a few iPhone hungry Apple fanboys eating there tonight?
Pacific Catch [via iPhone ads]