After researching what pandas do all day, I was struck by how panda-like we are when we use the Internet.
Roaming a massive world wide web of forests, most of our time is spent searching for delicious bamboo and consuming it. 40 times a day we'll poop something out — an email, a text message, a status update, maybe even a blog post — and then go back to searching-and-consuming.
For a decade, Google has trained us to optimize our pandic selves:
The kind of application that Google knows how to make well are the kind that embody a panda's "eats, shoots, and leaves" model of Internet behavior. Pandas spend every waking hour foraging — aka searching — and consuming. The most successful Google applications serve such a utilitarian mandate, too: they encourage users to search for something, consume, and move onto the next thing. Get in, do your business, get out. Do a Google search, slurp down information, move on. Pull up Google maps or Gmail or Google news, do something, leave. Where Google does not excel is in making applications that are by their nature for lingering and luxuriating — the so-called social applications.
What's the main difference between successful Google applications (search, maps, news, email) and a successful social applications? With Google applications we return to the app to do something specific and then go on to something else, whereas great social applications are designed to lure us back and make us never want to leave.
Consider this example: Google Answers focused on answers and failed; Yahoo! Answers focused on social and succeeded. The primary purpose of a social application is connecting with others, seeing what they're up to, and maybe even having some small, fun interactions that though not utilitarian are entertaining and help us connect with our own humanity. Google apps are for working and getting things done; social apps are for interacting and having fun.
G/O Media may get a commission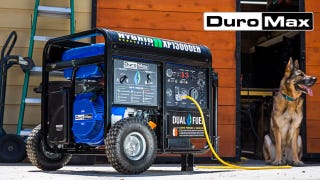 Black Friday Sale
DuroMax Generator Sale
Put another way, Google designing social apps is like Microsoft designing iPod packaging.
Now, consider the Four Horsemen of Hotness in 2010: Facebook, Quora, Foursquare, and Twitter. Think deeply about why none of these four could have been developed inside Google.
Facebook is a lobster trap and your friends are the bait. On social networks we are all lobsters, and lobsters just wanna have fun. Every time a friend shares a status, a link, a like, a comment, or a photo, Facebook has more bait to lure me back. Facebook is literally filled with master baiters: Whenever I return to Facebook I am barraged with information about many friends, to encourage me to stick around and click around. Every time I react with a like or comment, or put a piece of content in, I'm serving as Facebook bait myself. Facebook keeps our friends as hostages, so although we can check out of Hotel Facebook any time we like, we can never leave. So we linger. And we lurk. And we luxuriate. The illogical extreme of content-as-bait are the Facebook games where the content is virtual bullshit. Social apps are lobster traps; Google apps do not bait users with their friends.
Quora is restaurant that serves huge quantities of bacn and toast. Quora is a dozen people running dozens of experiments in how to optimally use bacn to get people to return to Quora, and how to use toast to keep them there. Bacn is email you want but not right now, and Quora has 40 flavors of it that you can order. Quora's main use of Bacn is to sizzle with something delicious (a new answer to a question you follow, a new Facebook friend has been caught in the Quora lobster trap, etc.) to entice you to come back to Quora. Then, once you're there, the toast starts popping. Quora shifts the content to things you care about and hides things you don't care about in real-time, and subtly pops up notifications while you're playing, to entice you to keep sticking around and clicking around. Some toast is so subtle it doesn't even look like a pop-up notification — it just looks like a link embedded in the page with some breadcrumbs that appear in real-time to take you to some place on Quora it knows you'll find irresistible. For every user's action, bacn's and toast's fly out to others in search of reactions. (Aside: if I were Twitter, I would be worried. Real-time user interfaces are more addictive than pseudo-real-time interfaces; what if Quora took all of its technology and decided to use it to build a better Twitter?). Social apps are action-reaction interaction loops; Google apps are designed just for action.
Foursquare exists in a dozen dimensions. That statement is ridiculous on its surface; after all, even String Theory has only 11 dimensions. (Technically, it's 10 dimensions, because they start numbering at zero.) Whatever higher-than-the-highest reality Foursquare thinks it's building, one thing is clear: this company is more about chemistry than physics. Foursquare has studied the works of David A. Kessler, who studied hyper-palatable foods that had various combinations of salts, fats, and sugars that stimulate the diner's brain to crave more, rather than satisfy their hunger. The more a person uses Foursquare, the more a person wants to use Foursquare: the points are salts, the badges are fats, and sweet sweet mayorships are sugars that we fight over like we're Sneetches. Ok, so Foursquare's leadership thinks they're only 10% of the way there — I guess they have 11 other combinations of salts, fats, and sugars to perfect so that all we do all day, every day, is check into Foursquare. Social apps offer a steady diet of junk food to keep us addicted; Google apps offer mostly bamboo.
Twitter is a giant blue ball machine. Even the New York Times says not enough people understand what the heck Twitter is, for them to be willing to use the word tweet in polite company. But that doesn't stop lots of people from using Twitter. Perhaps they are enamored by a word that sounds ornithological in nature. I tried to explain it to my brother like this: tweets are little blue balls, and they get bounced around by a giant machine so others can enjoy them. Those people can react by copying the balls (retweets), swinging at the balls (at-replies), or beaning the originator in the head (direct messages). There are also lots of whales on Twitter—celebrity whales to attract us, and fail whales to repel us. As opposed to Facebook, which hates whales because whales distract the lobsters from the traps. At this point, my brother gives me a blank stare and says he's going back to Facebook. Which goes to show that a social app doesn't need lobster traps, bacn and toast, or 12 dimensions to be successful; it just needs balls. Social apps are whimsical and fun; Google apps are whittled and functional.
So why can't Google build social apps? Because Google's core values ("be useful", "do good by users") reject the very notion of lobster traps, bacn and toast, a dozen dimensions of junk food, and giant blue ball machines. Understanding those concepts is not easy. It takes lots of practice, and lots of patience, and lots of learning.
2010's leadership of Facebook, Foursquare, and Twitter struggled for YEARS learning from FriendFeed, Dodgeball, and Odeo, respectively. The main mythical man month mega mantra—"build one to throw away"—isn't just a clever way to gracefully fail on the first iteration; it's the way we learn. I believe those collective experiences have given them the humility to know that most things don't work; the confidence to know that simplicity is more important than features; and the stamina to see their visions through the good, the bad, and the ugly that accompany startups.
Does Google have the patience to launch social apps that aren't widely used so they can learn from them? Not Lively.
Does Google have the ability to launch social apps that aren't utilitarian? Repeat after me: "A Buzz is a high-frequency Wave." And neither pandas nor lobsters know what those are, other than wacky experiments gone awry.
Has Google's culture-of-facts ever learned from Orkut? Good question for the triumvirate. A humbler panda than me once tweeted:
So, to summarize: Google is responsible for Orkut, Wave, and Buzz. Ex-Googlers are responsible for Facebook, Foursquare, and Twitter. Discuss.
Ok, I'll discuss. I have three main points:
1. Google cannot hire a Head of Social because no individual can change Google's DNA of building applications for pandas, not lobsters. Googlers who wanted to develop great social applications had to leave Google to do so.
2. Google cannot buy Twitter or LinkedIn or Quora (or all three!) because Google's culture has no respect for successful social applications. YouTube's office is still far from the Google campus to avoid the toxic attitude described by a former Orkut employee, "[Google has] an environment that viewed social networking as a frivolous form of entertainment rather than a real utility, and I'm pretty sure this viewpoint was shared all the way up the chain of command to the founders."
3. Google cannot focus group its way to successful social applications. Henry Ford opined, "If I had asked people what they wanted, they would have said faster horses."
And three reasons why Google should be concerned:
1. Facebook serves 3 billion LIKE buttons a day, serves one-sixth of all U.S. ads, has more traffic than Google or the next 99 sites combined, has 100 million mobile users and five times as many web users, and when it launches a Facebook search engine, it will be the second biggest search engine in the world right out of the gate.
2. Twitter's search engine is bigger than Bing and Yahoo combined. Not only is Twitter doing 800 million searches a day, but apparently they're the fastest growing search engine in the U.S.
3. Bing actually seems to have a better relationship with Facebook and Twitter, and in addition, Bing has gone out of its way to partner with Amazon as well as Apple and its soon-to-be-100-million iPhone OS devices.
So... Now would be a good time for a bold move from Google. YouTube is the only social application Google has ever bought that was and remains #1 in its category. What can we learn from that?
1. Google FAILED going head-to-head against YouTube. Buying YouTube in retrospect was a great idea, and keeping YouTube separate from Google HQ was a great idea.
2. Google FAILED in acquiring and integrating other social products. Blogger, Picasa, JotSpot, Dodgeball, Jaiku. None are their category leaders now. Some are dead. Why?
3. Google FAILED to create Google Contacts that are easy to edit and integrated with Facebook and Twitter. Why then should we believe Google can do something simple, entertaining, and interesting with Google Profiles?
Google is filled with adrenaline now that Facebook and Twitter are juggernauts in social advertising and searching. Google is ready to fight, but social applications are about loving not fighting. Google is from Mars, and social applications are from Venus. Anyone know someone who can build a rocket ship so Google can ride to the world of social applications?
My advice for Google's Trinity is to put on your thinking caps about social apps. Think really carefully about what you need, and why. Look to the glorious words of jwz:
"Social software" is about making it easy for people to do other things that make them happy: meeting, communicating, and hooking up.
And for all us lobsters, I just have one thing to say: "Yeah, you're all gonna be okay."
Adam Rifkin is an entrepreneur who wanders the bamboo forests of Silicon Valley, having adventures and helping startups get off the ground. This story originally appeared at Posterous, and has been republished with the author's permission.