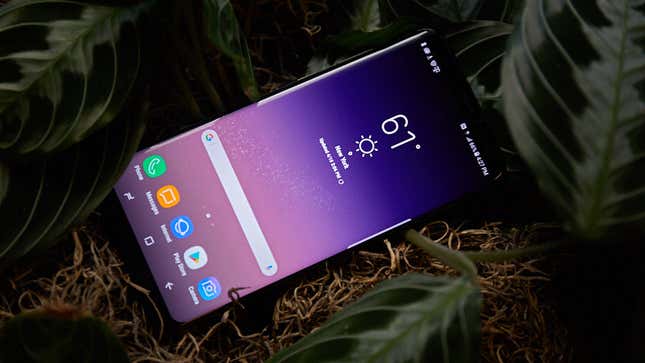 The Samsung Galaxy S8 is one of the prettiest phones you can buy right now, but it launched as a somewhat incomplete product. Bixby, the phone's new digital assistant, doesn't yet have one if its key features—voice recognition. This shortcoming wouldn't be so obvious if only Samsung hadn't included a new button on the side of the phone meant to launch Bixby. Thanks to some creative geekery, however, the seemingly useless button now has a purpose.
The Boogeyman's Sophie Thatcher Reveals What Draws Her to Dark Characters | io9 Interview
Crafty new owners of the Galaxy S8 are reprogramming the Bixby button to launch various apps, including rival digital assistant software like Google Now. There are several ways to do this, but the easiest by far is by using apps like Bixby Button Remapper, BixRemap, Goodbye Bixby, and Bixby Remap—all of which are available for free download in the Google Play Store.
The apps essentially let you reprogram the Bixby button so that it can perform almost any task you'd like. That means that you can have it launch other apps, like the camera or flashlight—or you can do something as useful as reprogramming it to launch Google Now (not to be confused with Google Assistant, which is only available on certain phones).
The programmer behind the Bixby Button Remapper told Gizmodo in an email that the app stemmed from a simple need. "I initially made the app because, well, I saw a need that wasn't being met yet," the programmer, who goes by Phascinate, explained. "Manufacturers do such a great job on the hardware of phones these days, but sometimes make some very odd decisions when it comes to software."
Contacted for comment Samsung provided the following statement:
With its intelligent interface and contextual awareness, Bixby will make your phone more helpful by assisting in completing tasks, telling you what you're looking at, learning your routine and remembering what you need to do. The Bixby button is dedicated to activating these features, starting with Bixby Home at launch and expanding to Bixby Voice later this Spring.
There you have it!
True to their hacker origins, the apps aren't exactly pretty. They're mostly ham-fisted experiments from developers that wanted to make use of the extra button on the Galaxy S8. The description of the Bixby Button Remapper app, for example, says that it doesn't actually monitor button presses on the phone. Instead, "it detects when the Hello Bixby app is on screen and instantly kills it and triggers whatever action you set within the app." The BixRemap app is equally as rudimentary, with the creator describing it as "[an app] designed in 20 minutes."
There has been great deal of interest in reprogramming the Bixby button since day one. Popular gadget reviewer Marques Brownlee (aka MKBHD) issued an unofficial challenge to Android fans on launch day to anyone who was able to hack the Bixby button to launch the rival assistant product Google Assistant. The ability became possible in less than a week after his challenge through the All in One Gestures app, but Samsung reportedly eventually disabled the ability.
But quite frankly, who can blame Galaxy S8 owners for wanting to get more utility from the extra button on their phones? It's completely reasonable to be frustrated by Samsung selling a phone for a minumum of $750 that isn't even a finished product. Don't forget: This is supposed to be one of the best smartphones on the planet. It's easy to understand why people are so mad about this useless button.