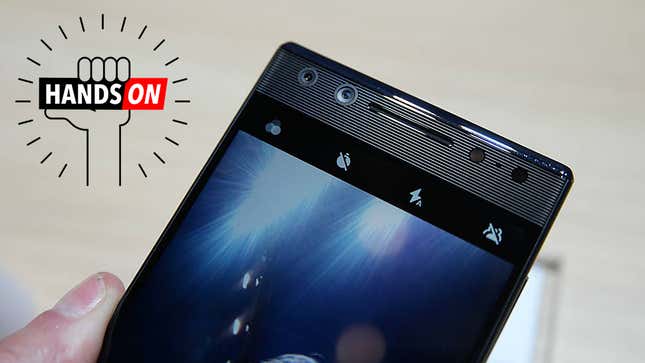 Look, it's hard to give a shit about budget phones. They often sport uninspired designs, lack any sort of innovative features, and frequently cut corners to hit those low, low prices. And with previous phone names like Pixi, Pop and Idol, Alcatel's previous phones seemed more concerned with the latest saccharine teen singing sensation than actual tech.

Meet Microsoft's New Surface Laptops
So to fix that, Alcatel has revamped its entire lineup of low-cost phones, and they actually look quite nice. I just wish Alcatel's chief design officer spent way less time at its MWC presentation here in Barcelona talking about the company's new "simganic" design, a super forced combination of simple and organic. I get that you want your devices to sound fancy, but shitty portmanteaus are not really helping.
It's really a shame too, because these phones, despite being so cheap, are really good looking. Instead of the stacked sandwich design you get on many smartphones, Alcatel is going for a curvier, unibody style chassis that feels better than you'd expect, particularly on the two more expensive lines.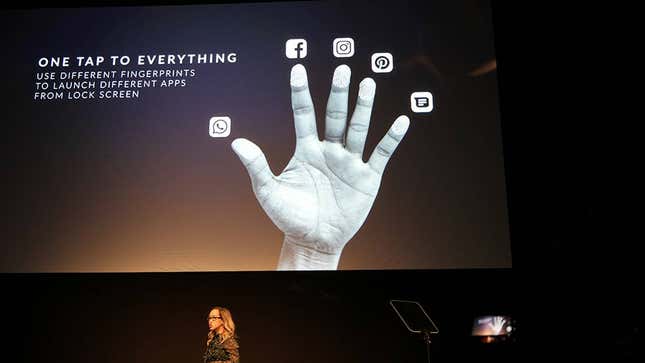 Going forward, Alcatel is dividing its phone lineup into three clearly defined segments in a very BMW-like manner with its new 1, 3 and 5 Series phones. And, despite prices that will range from under 100 to 230 euros (that's about $122 to $280), Alcatel is making sure even cheap phones aren't getting left behind spec wise.
Alcatel claims that by leveraging the manufacturing expertise from parent company and big time TV maker TCL, all new Alcatel phones can sport extra-wide screen displays. This is in addition to neat fingerprints readers that can be used to open up specific apps based on which digit you press against the sensor, and face unlock tech. (Though it doesn't appear to be anywhere close to as sophisticated as what you'd get on an iPhone X.)

Holding down the super budget category is the 1 Series, which Alcatel claims is the first sub 100 euro phone from a major brand with an 18:9 display. Inside, the 1 Series will be powered by the latest version Android Oreo Go Edition, which is a stripped down version of Google's ubiquitous mobile OS that's designed to run well on conservative specs and in places with limited mobile connectivity.

Meanwhile, in the middle of the range, the 3 Series will offer an upgraded body for between 150 and 190 euros. There are three different versions of the 3 Series, the 3, 3X, and 3V. These versions will differ primarily based on screen size and resolution, with the 179 and 189 Alcatel 3X and 3V also coming with dual rear cameras.

Finally, holding down top of the line is the new 5 Series, which will cost 230 euros. It's party trick is that instead of having two camera in back, it gets two selfie cams up front. One camera is a standard 13-MP selfie shooter, while the other is a 5-MP angle job that can automatically turn on its the phone detects three or more faces in the shot. Alcatel also claims the new 5 Series has the smallest bezels its ever put on a phone, which ensures the phone feels trendy, and as such, I think its the most interesting one of the bunch.

One last feature that will be coming to all of Alcatels new phones is the company's Social Mode photo editing apps which let you do stuff like review previously shot photos on one half of the screen while the other half functions as a viewfinder. Social Mode also includes photo booth and instant collage features if you want to go for something creative. We've seen similar features before on phones like the LG G6, but it's nice to see Alcatel bring stuff like this down to a more affordable level.

With the prices of flagship phones recently straying into ludicrous levels, affordable smartphones are now more important than ever, and if the day comes where everyone is dropping $1000 on a new phone, then we've all lost. So kudos to Alcatel for trying to make cheap stuff look and feel better than it should, and making sure all three lines still have a headphone jack. Drop the silly "simganic" speak and these phones could be real winners for their prices.

We're still waiting on official US price and availability. Many of phones are available today in Europe, or in the case of the Alcatel 3 and 3x later this spring. So we wouldn't be surprised if they make their way stateside shortly after that.