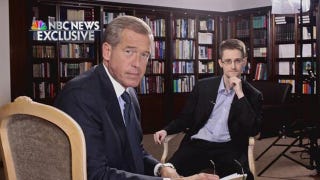 NBC's Brian Williams has just landed an exclusive interview with Edward Snowden in Russia. That's great—the NSA, let's talk about it. But there is another pressing question to consider first: Why are Williams and Snowden looking at us like that?
Before we get down to serious business—the interview itself will air as a primetime special on May 28 at 10pm EST—let's open up Photoshop and consider the Williams-Snowden buddy movie possibilities. Or enemy possibilities. Or whatever possibilities you can think of.
Here's the deal: You have until the end of the day this coming Tuesday, May 27, to post your entries in the comments. We'll announce the winners on Wednesday. To get your brain juices flowing, here's some magic the internet has already brewed up.