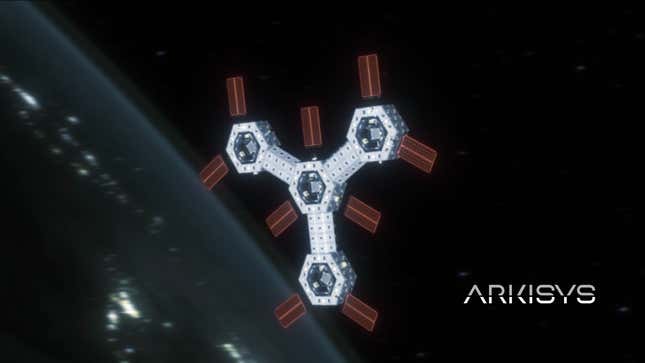 In an effort to reshape the growing satellite market, a group of private companies led by Arkisys is preparing to test a system that would enable the construction of spacecraft directly in orbit.
Astronomers Could Soon Get Warnings When SpaceX Satellites Threaten Their View
SpaceWERX, the innovation arm of the U.S. Space Force, awarded a $1.6 million contract to Arkisys and its partners to demonstrate the assembly of a stand-alone, three-axis stabilized satellite using a robotic arm on an orbital port, the company announced on Monday. The companies are slated to begin the integration of the system this coming summer, with plans to demonstrate the technology on Earth in 2024.
"This is a critical, required step to demonstrate, de-risk, and confirm assembly in a 1G environment prior to performing assembly on-orbit in low Earth orbit," Dan Lopez, chief business officer at Arkisys, told Gizmodo in an email.
The other companies involved are Qediq Inc, NovaWurks, Motive Space Systems, iBoss, and the Texas A&M Engineering Experiment Station (TEES), the latter being a state research agency.
Arkisys's Port Module is a hexagonal shaped long-duration space platform that the company is hoping to launch in 2024. Working in low Earth orbit, the Port Module would allow for the construction of new satellites or the modification of units already in orbit. Think of it like a seaport, but in space.
The plan is for Arkisys to use modular technology developed by its partner Novawurks. Called Slegos, or space legos, these box-shaped building blocks can be assembled to form an operational satellite. A robotic arm provided by another commercial partner, Motiv Space Systems, will perform the assembly work, moving and adjusting the Slegos to form a new spacecraft.
"The demo will show a method of assembling a novel spacecraft utilizing a robotic arm, mini spacecraft elements called Slegos, hardware interfaces, and key Arkisys technology required to tactically execute assembly operations on-orbit," Lopez said.
Assembling satellites on Earth is already complicated enough, doing so in space adds a whole other layer of complexity. But if successful, the orbital satellite factory would open up a whole new realm for private and public ventures racing to get their satellites to space.
For more spaceflight in your life, follow us on Twitter and bookmark Gizmodo's dedicated Spaceflight page.