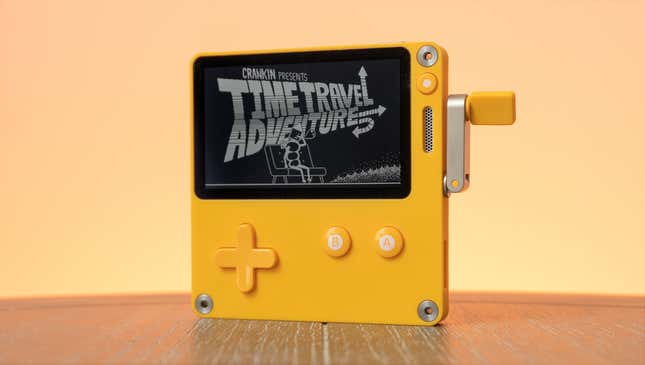 Panic made a handful of announcements today for its almost-too-quirky-for-its-own-good Playdate handheld. Depending on your needs, they may either entice you to finally grab one, or have you just sticking with your smartphone for casual gaming. The Playdate is getting a price increase, but also its own on-device/on-the-web app store where users can more easily find games from third-party developers.
The Playdate Is Unique, Charming and Full of Potential
Almost a year ago, the Playdate arrived, boasting a bundled collection of 24 games wirelessly delivered on a weekly basis to the handheld. Its big hardware feature was its pop-out crank on the side (courtesy of Teenage Engineering, which contributed to its design) that allowed many of its games to be played in unique ways. It brought something fun and new to gaming the same way Nintendo does every few years, even if the Playdate's monochromatic screen, which lacks any lighting, can be as hard to see as the screen on the original GBA.
Let's get the bad news out of the way first. Starting on April 7th, the $179 Playdate is no longer going to be the $179 Playdate. It's going to be the $199 Playdate, after a $20 price increase. On its website, Panic says that "our manufacturing partner recently gave us the news that the cost of building a Playdate is going up. And given our already tight margins, we're at a point when we need to adjust Playdate's price." It's not a huge price jump by any means, but in this economy, $20 is the price of a shiny new paper clip, so it could be a deterrent to those who haven't grabbed a Playdate yet. If you've been thinking about buying, you've got a month to still get one for $179.
The good news is that Panic also announced the launch of Catalog alongside the price increase. Catalog is an online games store for the handheld that's accessible through the device, as well as through Panic's website. The Playdate hasn't been limited to the 24 games bundled with the system, as users can easily side-load third-party content and even emulators for classic systems like the Nintendo Game Boy. But Catalog, which will be a collection that Panic curates and is launching with 16 mostly new titles (two of which are free) should make it easier for all users to find and access new games for the handheld—even those who don't know what side-load means.
The Playdate Is Unique, Charming and Full of Potential
The Playdate Is Unique, Charming and Full of Potential