Uh oh, someone woke up on the wrong side of the spaceship. Hull Zero Three, the latest offering from multiple Hugo and Nebula award winner Greg Bear, follows the dangerous journey of Teacher, a crewman aboard an interstellar vessel gone catastrophically haywire.
Teacher wasn't supposed to regain consciousness until the galaxy-hopping ship arrived at its faraway destination. Unfortunately, he—along with a small crew of very disoriented early risers—has woken well ahead of schedule. The ship has been irreparably damaged and overrun with monsters, so it's Teacher's mission to navigate through the labyrinthine, hazardous starship and discover what went so terribly wrong.
Praise for Hull Zero Three is already arriving at light speed:
"Not for those who prefer their space opera simple-minded, this beautifully written tale where nothing is as it seems will please readers with a well-developed sense of wonder." —- Publishers Weekly (Starred Review)

"Greg Bear's voice is a resonant, clear chord of quality binding some of the best SF of the 20th Century to the short list of science-savvy, sophisticated, top-notch speculative fiction of the 21st. More than a grace note, Hull Zero Three is a compelling allegro in the growing symphony of Greg Bear's finest work." —- Dan Simmons

"Hull Zero Three is a lean, mean, supercharged sense-of-wonder engine." —- Alastair Reynolds

"Hull Zero Three is a grand adventure of scientific discovery in the tradition of "Orphans of the Sky" and "Rendezvous with Rama" — by turns chilling and touching, it poses challenging questions about what it means to be human." —- Charlie Stross
Check out an excerpt of Hull Zero Three below. Or for the full text, head to your local Starbucks. Yep, that's right—coffee, muffins and space monsters! From now through December 7 you can read the entire book on the new Starbucks Digital Network. Just pop in, log on and look for Hull Zero Three in the Bookish Reading Club.
G/O Media may get a commission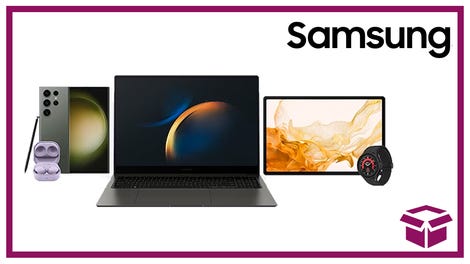 24 hour deals
Discover Samsung - Daily Deal
Hull Zero Three is now available in stores everywhere.