The internet is no stranger to long-distance religious rites, and Skype in particular has been a haven to those looking for a blessing from out-of-state (or across the globe, at that). Still, online spirituality does have its limits, which is unfortunate for Evangelical Christian Reverend Bob Larson. Because according to the religious powers that be, his Skype-based exorcism practice is just another, run-of-the-mill internet scam.
Larson, a reverend at the Spiritual Freedom Church in Scottsdale, Arizona, took to Anderson Cooper 360 to discuss his online de-demonizing business that offers you the chance to "receive ministry, get your life on track, and experience healing and deliverance at YOUR CONVENIENCE." And don't worry about getting passed off to some second-rate internet demon-slayer, Larson does all the ministering personally.
But as Reverend Isaac Kramer, director of the International Catholic Association of Exorcists, told Vocativ:
They just can't be done [online]. If a person is fully possessed, the demon inside of them will not let them sit in front of the computer screen to be exorcised. Chances are, they're going to throw the computer screen across the room and destroy everything.
G/O Media may get a commission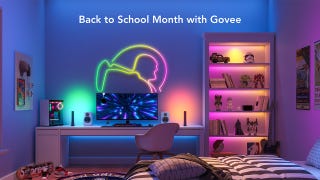 Back to School
Back to School Month with Govee Sale
Official exorcisms are a very personal task, with rituals such as holy water and crucifix display that require a priest to be physically present. But it's also for this reason that at-home exorcisms can become pretty costly—especially, as Vocativ notes, with 57 percent of Americans believing in the devil and the demand for exorcisms steadily on the rise. So it's understandable that potential demon-vessels would be intrigued by a cheaper, more convenient way of expelling what ails them.
Still, as far as officially trained exorcists are concerned, the devil just isn't going to be swayed with a Google Hangout. And we don't even want to imagine what he would do on Snapchat. [BobLarson.org via Vocative]