There's a new time lord in town! He's the eldest brother of Archer & Armstrong's hedonistic hero and the surly title character of Eternal Warrior, and he's also the star of Valiant's newest comic relaunch. We're thrilled to be able to let you read the entirety of the first issue of Ivar, Timewalker #1 right here!
Part one is below, while parts two and three will follow on Wednesday and Friday — and if you just can't wait to read the rest, the first issue hits comic stands on the 21st. But stay tuned after the preview, as we talk to writer Fred Van Lente (who's also been helming Valiant's phenomenal Archer & Armstrong since its modern resurrection) about what's in store for the eldest Addi-Panna brother and his unwilling companion — as well as what happens when a time-traveler doesn't even try to protect the timestream.
G/O Media may get a commission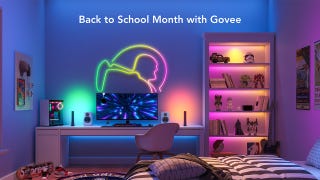 Back to School
Back to School Month with Govee Sale
Between Incredible Hercules, Power Man and Iron Fist, Action Philosophers and Archer & Armstrong, Fred Van Lente has written some of the most consistently entertaining stories in comics. We spoke with Van Lente about taking on another Anni-Padda brother, and what sets Ivar apart from our time-travelers.
io9: Was it always Valiant's plan to bring relaunch Timewalker eventually?
Fred Van Lente: He was definitely one of the characters David Aja redesigned during the initial relaunch that I saw along with Archer, Armstrong, and all your other favorites.
What sets the new Ivar apart from the original '90s Timewalker?
Van Lente:I see Ivar as a cross between Reed Richards and John Constantine — he's equal parts super-genius gadgeteer and son-of-a-bitch. He's got a lot more sex appeal than the '90s version, since [artist] Clayton [Henry] wisely chose to ditch the ponytail and duster, the most '90-ish of comics outfits.
How is Ivar different from his two brothers, Armstong and the Eternal Warrior?
Van Lente: Ivar is the eldest of the Anni-Padda clan; whereas Aram [Armstrong] is good natured and strong and Gilad [Eternal Warrior] is cunning and fierce, Ivar has a genius-level intelligence matched with a considerable amount of ruthlessness, which makes him a formidable foe.
Is Ivar just trying to protect the Timestream, like a Timecop?
Van Lente: Ivar has a dark and checkered past (and since this is a time traveler we're talking about here, I do mean past, like thousands of years back to the city-state of Ur, I mean) which he seeks to atone for by eternally walking through time, battle threats to the continuum.
When #1 opens, he rescues Neela Sethi, a brilliant young physicist from 2015, who he says is going to be assassinated for inventing a particularly dangerous form of time travel. He needs her help to defeat her pursuers from Oblivi-1, a sentient city from the end of time that seeks to wipe out all of history.
On the other hand, Ivar lies. A lot. There's something else going on here, and when Neela — and the reader — find out what it is, their minds. Will. Be. Blown. That is a promise.
In the first issue, Ivar is clearly not worried about time paradoxes and the like. Is this your personal policy for the comic, or is this going to bite Ivar on the ass?
Van Lente: Can't tell: Spoilers! You've hit upon a major theme of the first arc, and the series in general. Stay tuned.
The first issue seems packed with homages to other time travel stories. Are you trying to riff on these things like Terminator and Doctor Who, deconstruct the genre, revel in the tropes, or what? (I should probably point out that the title of the second issue made me laugh out loud.)
Van Lente: Ha! Great! Yeah, there's just so much time travel stuff out there it is hard not to riff on it, and so I just decided to take the piss out of as much of it as I could.
I also was heavily influenced by the work of Stephen Hawking, who's written way more on this subject than you might expect from a scientist of his caliber. His essay "Space and Time Warps" is the biggest single influence on this book, more so than any work of fiction.
Remember, continue onto part 2 of our preview of Ivar, Timewalker #1, and come back for part 3 on Friday!