Mark Millar and John Romita Jr. asked a simple question in their 2008 comic book (and 2010 movie) Kick-Ass: Why don't fanboys actually suit up and try their hand at being superheroes?
As it turns out, a bunch of fanboys are in fact suiting up. Hundreds of them. Face front, true believer.
Cosplay is nothing new. Its variant, Real Life Superheroes, are somewhat next-level. Check out TheRLSH.net, a message board where aspiring supes - costumed adventurers who describe themselves as doing "humanitarian work" or otherwise generically helping those in distress - can discuss tradecraft, assemble into makeshift Avengers, and escalate misunderstandings into internet brawls ahead of the inevitable team-up. Seriously: on this thread, for instance, a crimefighter called the Dark Ghost rallied his fellow champions of the innocent to find a seven-month old baby kidnapped in Tennessee. Amazonia, the Minuteman, Gadgetastic and the Sparrow pledged support. (As it turned out, the vigilante community didn't need to get involved, as law enforcement found young Drake Boyd's abductor in Florida.)
Now: obviously these dudes don't have superpowers. But come on: neither does Batman. So like Batman, what they lack in meta-human ability, they make up for in weaponry.
Take, for instance, a Brooklyn-based team called the New York Initiative, profiled this week in New York Press. The four members of the Initiative - a reference to Tony Stark's post-Civil War/pre-Secret Invasion efforts to put a superhero squad in each of the 50 states? - act like bodybuilders with a purpose. And then they pack (non-lethal) heat.
G/O Media may get a commission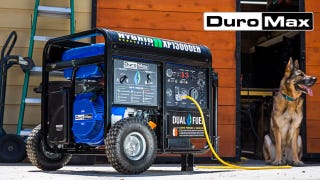 Black Friday Sale
DuroMax Generator Sale
Initiative member Z brandishes "giant ax handles bound with duck tape" and a cane that doubles as a club. He's also got - in reserve - a legally-dubious arsenal that includes ninja throwing stars and what author Tea Krulos describes as "stun knuckles (that make a loud zapping sound), throwing knives and spiky hand guards that look like something Genghis Khan would brawl in." A battle ax appears to be merely for display. The team's gadget whiz, who goes by the unfortunate name Victim, is testing out some polycarbonate squares for durability against knives. Because being a hero means you're going to get stabbed.
Factoring out the body armor, it appears to be a fairly cost-effective approach to adventuring. Take Z's stun knuckles. Zapping someone with 950,000 volts in the course of a single punch should run you around $50.
Minus, that is, whatever legal costs you incur after your supervillain sues you. Chances are your local municipality doesn't look kindly on vigilantism, and less so on vigilantism armed with zappers. What's more, courts haven't been so keen on police use of non-lethal weapons like Tasers, and you're sure not an officer of the law.
Speaking of the cops: according to Krulos's piece, when the New York Initiative asks the cops if they can set up a patrol by downtown Brooklyn's Fulton Mall, a member of New York's Finest tells them, "Naw, fuhgetabout that. You'll get shot. The guys in this neighborhood, they'll shoot you and no one will tell us who did it. There's a strong 'no snitching' rule out here." We know that in the comics as Honor Among Thieves. So be careful out there, champions of right: come strapped and stay on the right side of the law.
Wired.com has been expanding the hive mind with technology, science and geek culture news since 1995.