A Kickass star might face off against Godzilla. The Falcon actor Anthony Mackie talks up Captain America: The Winter Soldier. ABC could someday have its own Star Wars TV show. Plus photos for Catching Fire, The Host, and Jack the Giant Slayer!
It's spoilers all the way down!
Top image from Captain America.
Captain America: The Winter Soldier
The Hurt Locker's Anthony Mackie discusses how he will look as the Falcon, as well as what he's seen of the script:
"I have read a script, and it's really good. It's fun. The Russo brothers have been really good about keeping me informed of their visions and ideas for what they want the movie to be. It seems like it's going to work on all accords, so I'm just excited about it... I have, [Falcon's look is] pretty awesome. I look like a bad mother-what. It's pretty cool."
---
Iron Man 3
G/O Media may get a commission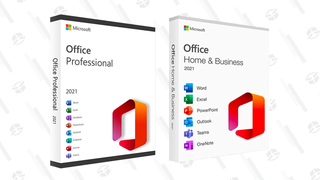 89% off
Microsoft Office Professional 2021 Lifetime License
Here's a new promo photo. [Film Thrasher]
---
The Amazing Spider-Man 2
Gwen Stacy actress Emma Stone confirms that filming in imminent for the sequel:
"We start in a couple of weeks. It's really soon. It'll be fun."
---
The Wolverine
Here's the latest promo photo. [Film Thrasher]
---
Catching Fire
Here are some more promo photos from the Hunger Games sequel, including our first look at the great Philip Seymour Hoffman as Plutarch Heavensbee. [EW]
---
Robopocalypse
Contrary to yesterday's report that Steven Spielberg's robot epic has been postponed indefinitely, the director now says that he's simply pausing preparation on the movie — which features a script by Cabin in the Woods and Cloverfield's Drew Goddard and is slated to star Thor's Chris Hemsworth and The Dark Knight Rises actress Anne Hathaway — rather than abandoning the project entirely:
"We found that the film was costing a lot of money and I found a better way to tell the story more economically but also much more personally. I found the personal way into Robopocalypse, and so I just told everybody to go find other jobs, I'm starting on a new script and we'll have this movie back on its feet soon... I'm working on it as we speak."
[EW]
---
Godzilla
Kick-Ass and Anna Karenina star Aaron Taylor-Johnson has reportedly been offered the lead non-monster role in Monsters director Gareth Edwards's Godzilla movie. While there's reportedly mutual interest on both sides, his participation depends on ousted Walking Dead showrunner Frank Darabont completing his rewrite of the script. [/Film]
---
The Host
Here's a bunch of promo photos from Gattaca director Andrew Niccol's adaptation of Stephenie Meyer's non-Twilight book, starring Hanna's Saoirse Ronan. [Collider]
---
Jack the Giant Slayer
Here are some character posters from X-Men director Bryan Singer's upcoming gritty fairy tale, starring Nicholas Hoult, Ewan McGregor, Bill Nighy, Ian McShane, and Stanley Tucci. [Collider]
---
Y the Last Man
Now that Portal fan film director Dan Trachtenberg has officially landed the job of adapting Brian K. Vaughn's revered comic series, here's a nearly decade-old podcast in which Trachtenberg discusses the series in-depth. Its usefulness as a barometer for what he plans to do with the property is probably minimal, but it's a good indicator of how much he cares about the material. [/Film]

---
Powers
FX president John Landgraf promises that the network hasn't given up on an adaptation of Brian Michael Bendis and Michael Oeming's beloved comic series — and indeed, Sons of Anarchy had a similarly lengthy development process before they finally decided they had got it right — and so he explains the big next step for the project:
No, [it's] still alive. We've been through so many incarnations. After we made the pilot, we actually developed three more [episode] scripts. So then we had a pilot plus three scripts, and we decided between the pilot and the scripts that it wasn't quite the series that we needed it to be. When I say we, by the way, Brian Bendis is involved in every phase of this conversation and discussion. But one of the scripts was written by this guy named Charlie Huston, and he was a novelist. Both I and Brian and others thought, "Wow, there is actually something in the tone of this." So Charlie was approached, I think by Brian, and said, "Look, would you be interested in taking on Powers?" And Charlie said, "Well, I've never actually adapted anything before in my life. I have only written novels and stuff of my own, but Powers is my favorite graphic novel, and yes!"

So what ended up happening was we reconstituted the whole thing around Charlie as the creator, with Brian. Charlie went up to Seattle, and they sat down and they talked, and read through all the books, and they came back with a new vision, basically. Essentially, a new pilot to begin with, which is a new, different story than the pilot that we shot. So that pilot is officially gone and dead, and the actors are all gone, but we're developing a whole new pilot from scratch.
Landgraf then confirms that he should be making a final decision on whether to produce a new pilot in the next few months. To that end, he reveals what he's looking for from an eventual Powers show:
What it's always come down to for me is I know the underlying material is absolutely great. I know Brian has a vision, and Michael [Avon Oeming], but I feel like there have been so many great adaptations of graphic novels done that we have to add something. I would argue that what [Robert] Kirkman and his collaborators have done at Walking Dead has brought something to the table that didn't exist before and that movies weren't doing. I feel like we have to bring something to the table that doesn't exist. Television adaptations of graphic novels, for the most part, have been the pretty good food you'll take when really good food isn't available, you know what I mean? For me, I'm not going to take second fiddle to Marvel or anybody. I'm not going to be able to make a $200 million negative, and I think that Marvel has done a great job at what they do, and they've created a template that really works, so I'm not going to imitate that. I want to make something else with Brian and Charlie and others that's just as good but different, and trades on the particular strengths that television has in terms of what it can do. And if we can get Powers to that level, I'll make another pilot, and I'll put it on the air. But I'm not going to put anything less than an absolutely great version of Powers on the air. That's like remaking a great film into a good film, and I don't want to do that.
There's more at the link, including an update on potentially working with Guillermo del Toro on a TV adaptation of The Strain. [IGN]
---
Star Wars TV Series
The gotmrt talk of a 50-episode TV series seems a little passe now that Disney is busy prepping a new trilogy, but it must be said that the studio's acquisition of LucasFilm does give any such series a natural home on ABC. Here's what network president Paul Lee has to say about the general possibility of putting on a Star Wars TV show:
We'd love to do something with Lucasfilm, we're not sure what yet. We haven't even sat down with them. We're going to look at [the live-action series], we're going to look at all of them, and see what's right. We weren't able to discuss this with them until [the acquisition] closed and it just closed. It's definitely going to be part of the conversation... It's going to be very much up to the Lucasfilm brands how they want to play it," he said. "We got to a point here with Marvel, a very special point, where we're in the Marvel universe, and very relevantly so, but we're not doing The Avengers. But S.H.I.E.L.D. is part of The Avengers. So maybe something oblique is the way to [approach the Star Wars universe] rather than going straight head-on at it."
[EW]
---
Revolution
The fifteenth episode of the season, which I believe is provisionally due to air sometime around July 2031, is reportedly called "Home." [SpoilerTV]
According to creator Eric Kripke, the second half of the season will feature lots more of Colm Feore as Randall and Mark Pellegrino as Jeremy Baker, and it will also introduce ER's Leland Orser as John Sanborn, who is reportedly "an old scientist colleague of Rachel's." [TV Line]
Elsewhere, Kripke talks a little more about what role Randall has to play:
"Randall starts to play a very large part in the mythology in the second half. They're in this mysterious location, and we'll learn what [it] is. We'll learn what Randall wants, what he's doing and indeed how dangerous he is and how it'll affect our heroes."
[TV Guide]
---
Once Upon a Time
With Grindhouse's Rose McGowan already announced to be playing a young version of Regina's mother Cora, the show is also now reportedly casting a 20-year-old version of Regina's father and a forty-odd version of her father's father. [TV Line]
Speaking of flashbacks, showrunner Edward Kitsis promises some upcoming ones will go to unexpected places:
"We're going to show you some things in our world that you didn't even think were an option. [They'll] center on our characters, but in surprising ways."
[TV Guide]
---
Arrow
Here are some set photos from the roof of the Vancouver Art Gallery, which provide our first look at Battlestar Galactica and Eureka alum James Callis's guest spot on the show. It was announced last month that Callis would appear as The Dodger, an international jewel thief. [YVR Shoots]
---
American Horror Story: Asylum
Here's a preview for next Wednesday's penultimate episode, "Continuum."

---
Being Human (UK)
Phil Davis — whose past roles including Lucius Petrus Dextrus in Doctor Who's "The Fires of Pompeii", the murderous cabdriver in the first episode of Sherlock, and a BAFTA-nominated turn in Vera Drake — will be the main villain in season five as Captain Hatch. Here's how Davis and series creator Toby Whithouse describe his role on the show:
Davis: It's like slipping into a pair of shoes," explains Davis. "Sometimes they fit immediately, and sometimes you have to wiggle your toes a bit. But this was pretty easy to get the hang of. It was irresistible, because it's so well-written. He's very clever and very funny. He kills people with a smile on his face – or persuades them to kill themselves. I want the audience to enjoy his evil and be scared of him at the same time. I want them to be laughing and then stopping dead... I'm one of those rare actors who comes out of make-up looking far worse than when he went in! They blacken my teeth, paint veins on my forehead and put earwax dripping out of my ears – it's a pretty disgusting sight. He's described as 'a little angry fist of a man' to start with, but as he gets more powerful, he becomes more relaxed and urbane."

Whithouse: It's a brilliant performance, imbued with such presence and danger, and that effortless evil that Phil does so well. I wrote it, but I'm genuinely chilled by some of the stuff he does. And he's not afraid of making himself look ghastly. Hatch goes through a transformation as we get towards the end, but up until that point Phil was happy to make himself look utterly rancid!
And here's Whithouse's hint for the sixth episode of the season:
This one has cameos from two guests from last year… no, Mitchell isn't coming back, because he's dead. And so are George and Nina! We're not only told what Captain Hatch's plan is but we see it played out, in some of the biggest setpieces we've ever done. And the end will leave you guessing. There will be much discussion about the end…
[SFX]
And here's a photo of season five stars Michael Socha, Kate Bracken, and Damien Molony. [Cultbox]
---
Defiance
Here's another promo for Syfy's upcoming post-apocalyptic, alien-filled Western show.

Tony Curran, who among other things was just wonderful as Vincent Van Gogh on Doctor Who, describes his character Datak:
Me and [Datak's wife] Stahma, their planet has been destroyed. They have come to Earth, looking for a new home. And there is a war that begins between the humans and aliens. [Datak is] from a very low caste. He's from the pages of a Dickens novel. You might say he'd been scraped out of the gutter. On the ship coming to Earth, he ends up meeting Stahma, and she's a higher caste than Datak. She's somewhat aristocracy, you might say. And he's a bit of a silver tongued devil, and he ends up charming her to the point that they actually get married."
There's more about the series from other cast and crew at the link. [TV Equals]
---
Haven
Costar Eric Balfour discusses the possibility of Duke and Audrey getting together, or lack thereof:
"You know, I think there's an amazing thing about human nature where we want what we can't have and when we get it, we sometimes don't want it anymore and I think that's true with audiences as well," he said. "I know there are people who root for Audrey and Duke to be together, and Audrey and Nathan to be together and there are people who even root for Duke and Nathan to be together... you know, one of the beautiful things about a show like this is the longer we can figure out interesting and intelligent ways to bring the characters together and pull them apart and bring them together–I know that's something I'm always fascinated by... it's pretty true to human nature in our own lives, anyway. We're constantly doing that in real life."
---
Young Justice
Here are two sneak peeks for this Saturday's episode, "Cornered." [Comic Book Resources]

---
Green Lantern: The Animated Series
Here's a pair of preview clips for tomorrow morning's episode, "Blue Hope." [Comic Book Resources]

---
Additional reporting by Amanda Yesilbas and Charlie Jane Anders.