Check out a trio of sneak peeks for tonight's Fringe. Guillermo del Toro releases a Pacific Rim propaganda poster. Bryan Fuller's gritty Munsters reboot meets an ignominious fate. Plus tons of hints for what lies ahead on Revolution and Arrow!
It's spoilers all the way down!
Top image from Pacific Rim.
Pacific Rim
Here's an in-universe propaganda poster, designed as a recruitment poster for the movie's corps of monster-fighting giant robots. The poster is the work of the movie's concept artist Raúl Monge, who previously worked with director Guillermo del Toro on Pan's Labyrinth and Hellboy 2. Here's how del Toro explains the poster:
"Raúl is one of my top concept designers. The idea with this particular piece was to emulate an old WWII propaganda poster/flyer that went along with the world we were creating. It symbolizes rationing — voluntary work force, no guts, no glory kind of heroism."
G/O Media may get a commission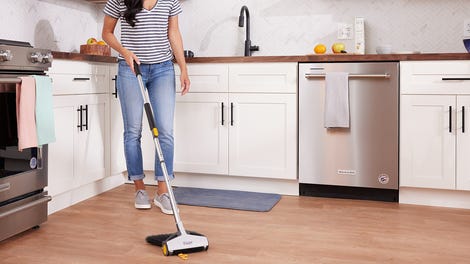 BOGO 50% Off
Flippr - BOGO 50% Off
[Nerdist]
---
Prometheus 2
Director Ridley Scott offers these hints for the sequel, which certainly ties in with the movie's suggestion that Shaw and David are headed to the Engineers' home planet:
I hadn't done sci-fi for so long and I enjoyed doing it. Plus, when it comes to the Alien world, no one else had addressed the origin question and I thought that was interesting to tackle. Prometheus evolved into a whole other universe. You've got a person [Noomi Rapace's Elizabeth Shaw] with a head in a bag [ Michael Fassbender's David] that functions and has an IQ of 350. It can explain to her how to put the head back on the body and she's gonna think about that long and hard because, once the head is back on his body, he's dangerous.

So that's the sequel?
[Laughs] I wish it was that easy. They're going off to paradise but it could be the most savage, horrible place. Who are the Engineers?
[Metro]
---
Blade Runner Sequel
Ridley Scott also briefly confirms that he is indeed still working on the sequel to Blade Runner, specifically whether the movie will bring back its original star — who, just so you know, is definitely a replicant now:
It's not a rumour – it's happening. With Harrison Ford? I don't know yet. Is he too old? Well, he was a Nexus-6 so we don't know how long he can live [laughs]. And that's all I'm going to say at this stage.
[Metro]
---
Hansel & Gretel: Witch Hunters
Because some movies are apparently just too beautiful to share with the world, Paramount has again delayed this fairy tale action movie starring The Avengers's Jeremy Renner and Quantum of Solace's Gemma Arterton as the title twins. This time, Paramount has only delayed the movie a couple weeks from January 11 to January 25, 2013, as opposed to the original ten-month delay. But give these things time... [Coming Soon]
---
Rise of the Guardians
Here's the latest TV spot for the upcoming Dreamworks movie about mythical beings from childhood.

---
Fringe
Here's a trio of sneak peeks for tonight's episode and the third of the season, "The Recordist."

---
Revolution
Creator and showrunner Eric Kripke suggests the secret behind the blackout will be revealed by the end of this season:
You should look for clues everywhere," Kripke teases. "There was a phenomenon that we have up our sleeves as to what caused the blackout. What you see in that globe shot [of the blackout creeping across the Earth] is an accurate representation of what we're working on. Currently, in the writers room, we're talking dangerously about revealing that secret before the end of the first season. The longer you drag out an answer the more pressure there is that it's the greatest answer given in the history of man. Frankly, I'm not that smart. I'd rather answer a question and open a door to a bigger room. Even if we do answer the question of what caused the blackout it leads directly to a bigger and scarier mystery."
He also discusses Maria Howell's mysterious character Grace, who appears to still wield some form of electricity:
"She's right in the dead center of where the mythology is. I think the next time we see her is episode 7. We see who Randall is, this person who kidnapped her in episode 2. We start to expand it because she is under duress with Randall. She's in a dangerous position right now and we start to tease that out. What's happening with their storyline begins to play a huge, huge part in the main storyline of the show."
There's a bunch more at the link. [Zap2It]
---
Once Upon a Time
Here's a couple sneak peeks for Sunday's third episode, "Lady of the Lake."

---
Mockingbird Lane
Proving some ideas just can't be salvaged, no matter how much Bryan Fuller you throw at them, NBC is officially giving up on its gritty reboot of The Munsters. The pilot, which stars Arrested Development and Better Off Ted's Portia de Rossi as Lily, renowned British comedian Eddie Izzard as Grandpa, and, I dunno, let's say Sliders star Jerry O'Connell as Herman, will be burned off as part of a special night of Halloween-themed programming on Friday, October 26 in the 8-9 PM time slot that until recently would have been occupied by Community. Goodness, that's a lot of incompetence crammed into one sentence, even by NBC standards. [Shock Till You Drop]
---
Supernatural
Here's a promo for next Wednesday's episode, "Heartache."

---
American Horror Story: Asylum
Here are some promo photos of the cast for the show's second season, which begins next Thursday. [SpoilerTV]
---
Arrow
Here's a promo for next Wednesday's episode, "Honor Thy Father."

Costar Katie Cassidy discusses her character, Dinah Laurel Lance:
Laurel, in the corporate world and as a lawyer, is so good at what she does. She makes stuff happen, in the business world. At some point, if and when the Black Canary happens, it's just awesome for a woman to get to kick some ass and fight, and just be as tough and bad-ass as Green Arrow, or whoever. I think it's cool, and I think it's fun. I cannot wait to do some fight training. It's going to be awesome!
She also discusses her character's relationship with Oliver Queen, alias the mysterious Arrow:
here's a lot of emotions going on. There's a lot of confusion and a lot of anger. She's not sure. She's trying to function and not let it affect her work, at this point, but she also loves this person and there's a super strong connection between them. She's trying to close him off, although she also tries to see the good in everyone. She sees his potential. They have all this history. She wants him to be a certain way, and he's disappointing her and hurting her. I have no idea what's going to happen between the two of them, but I think we're going to see a lot of the history in that relationship.
There's still more at the link. [Collider]
Star Stephen Amell says Oliver's revenge book won't dominate the show:
"Names have been crossed off in Act I, names have been crossed off at the end of an episode, and names have been considered and not crossed off. And there have been episodes where the book hasn't even been opened. I like that we're not married to one idea because that makes it more interesting."
And upcoming guest star Jessica de Gouw discusses her character, DC Comics character the Huntress:
"She's a force of nature. And not only the Huntress - Helena is pretty sassy in her own right. He's got a lot to learn from her and then likewise."
Again, there's more at the link. [EW]
---
The Vampire Diaries
Here's a promo for next Thursday's episode and second of the season, "Memorial."

And here are some promo photos for the fourth episode, "The Five", which airs November 1. [SpoilerTV]
---
Beauty and the Beast
Here's a promo for next Thursday's episode, "Proceed with Caution."

---
Teen Wolf
The show will somehow have to struggle on without lacrosse co-captain Jackson Whittemore, as Colton Haynes has reportedly left the show under somewhat confusing circumstances. While MTV has officially denied the reports, Haynes himself has tweeted that he is leaving the show. [US Magazine]
---
Additional reporting by Rob H. Dawson and Charlie Jane Anders.