"Holy shit." It's not what usually comes to mind when I touch a new phone. But Samsung's Infuse 4G is spectacular. Ridiculously good 4.5-inch screen. 1.2GHz processor. 4G on AT&T. Why, exactly, wasn't this the new Nexus phone?
I pick it up. Whoa. This is quality. The first Samsung phone in ages that doesn't feel cheap—it's a radically better tactile experience than any Galaxy phone, even the Nexus S. The plastic is dense and matte, the back textured. The phone itself a nearly perfectly sculpted, sufficiently thin slab (AT&T's thinnest), the expanse of the 4.5-inch screen making it seem somehow thinner. It's what a high-end phone should feel like.
Let's consider the specs: 1.2GHz processor. The fastest Android phone yet. The screen is comically, hyperbolically named, like the umpteenth version of Street Figher II—Super AMOLED Plus—except that it lives up to the name, in that it's noticeably better than Samsung's current Super AMOLED displays (which are already great), since it packs more subpixels into each pixel. The screen definitely pops more. It's also one of AT&T's first 4G phones. (This may sound confusing, but it's 4G in the same sense as T-Mobile's 4G, since it runs on AT&T's HSPA+ network, not its LTE network.)
Any downsides? Well, I'm mildly concerned about the battery life on this beast. And it's running Samsung's TouchWiz UI on top of an as-of-yet unknown Android variant. A clean build of Android 2.3 would be killer, effectively making it the real Nexus. That said, it might wind up being one in a sense anyway: This is the new blueprint for building an Android phone.
G/O Media may get a commission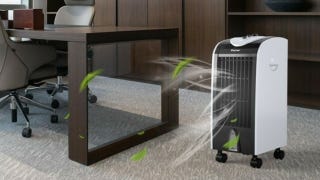 Save $10
Evaporative Portable Air Conditioner Cooler with Filter Knob