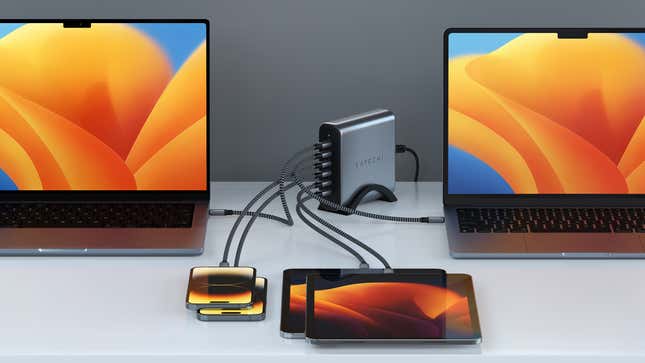 USB was originally supposed to be the one-cable-to-rule-them-all solution for charging and connecting devices, but then it got fractured into mini and micro variants and things got messy again. USB-C is the USB mulligan we've all been waiting for, and now that everything from laptops to smartphones uses the same cable, we can take advantage of unified charging solutions like Satechi's new 200W 6-Port PD GaN Charger that will rid your desk of wall warts.
Is This the End of Apple's Lightning Cable?
You're probably already using some kind of multi-port USB-C charging solution to keep your smartphone, smartwatch, and other smaller gadgets charged, but there's a good chance it doesn't deliver enough juice for a laptop as well, so somewhere around your desk is another wall wart crowding an outlet or a power strip.
Wall warts aren't going extinct any time soon, but you can at least make your desk a little neater with Satechi's new USB-C multi-charger that takes advantage of Gallium Nitride technology to charge six devices over USB-C at the same time. Two of the ports are USB-C PD 3.1 and can deliver 140W to a device like a laptop, while the other four ports are USB-C PD 3.0 with the charger intelligently dividing up the rest of the 200W of available power to other connected devices while a laptop is connected.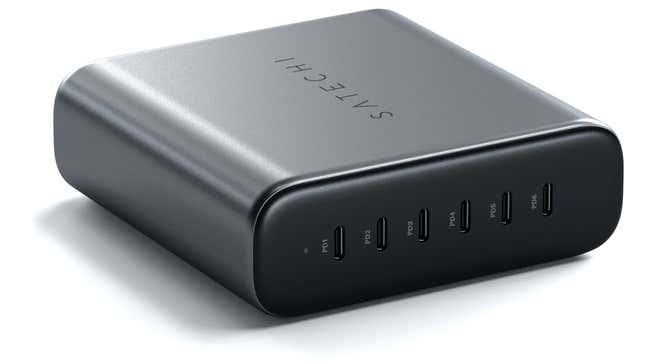 At $150 when available sometime in the second quarter of 2023, the Satechi 200W 6-Port PD GaN Charger certainly isn't cheap. But Apple's own 140W charging brick for the MacBook Pro is $100 and only offers a single USB-C port, while Anker's 150W GaNPrime 747 Charger is $110 for three USB-C ports, but maxes out at 100W of power delivery per device. For $40 more, Satechi's solution can accommodate twice as many devices, while also maxing out a MacBook Pro's thirst for power.