Located in Siberia, Norilsk is the world's northernmost city with a population of more than 100,000, and it's not just one of the coldest cities of the world—it's also one of the filthiest. Nickel ore smelting has transformed the landscape into one of the ten most polluted places on Earth.
The average monthly temperatures in Norilsk range from -16.6°F (-27°C) to 57.2°F (14°C), but it once hit -63.6°F (-53.1°C).
The city is covered with snow for about 270 days a year, and the inhabitants must deal with snowstorms one day out of every three.
G/O Media may get a commission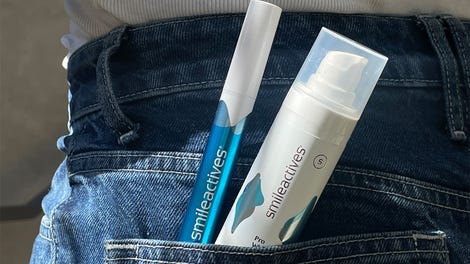 58% off
Whitening Powerhouse Pen & Gel Duo
During the summer, the sun does not set for more than six weeks, and the polar night lasts for six weeks, too.
The first houses were built in the early 1920s, but the official date of founding is 1935, when the city became the center of the Norillag (Norilsk Corrective Labor Camp), which housed 1,200 inmates who built a mining-metallurgic complex and started to mine nickel and copper.
The population of the camp peaked in 1951 at 72,500, most of them political prisoners. After the camp closed on August 22, 1956, some continued to live there for the rest of their lives.
The the largest nickel-copper-paladium deposits of the world are found here, with more than 1.8 billion tons of resources, but there are significant coal, cobalt, platinum and palladium mines, too.
The Bus Station
The Polar Drama Theater
(via Nordroden)
The Norilsk Arena, a Sports, Shopping and Entertainment Complex
Lenin Avenue from Above
More Photos of the City from Above
Tourist Camps
Dudinka, the Northernmost International Seaport in Russia, and the Only One Annually Flooded
Abandoned Blocks Near Alykel Airport, the Only Functioning Airfield Near the City
A Statue of Lenin on a Square, 2002
(Photo by Oleg Nikishin/Getty Images)
Norilsk is the second largest city (176,000 inhabitants) located in the continuous permafrost zone after Yakutsk (pop. 269,000).
(via English Russia)
There are about 100,000 hectares of burnt-out land around Norilsk
(via English Russia)
Buses travel in convoys, so if one of them breaks down, passengers can be evacuated instantly.
(via English Russia)
Polar Morning
(via Nordroden)
-50.8ºF (-46 ºC) on Lenin's Avenue
(via Nordroden)
The Northernmost Muslim Prayer House in the World, Belonging to the Local Tatar Community
(via Nordroden)
A Belfry, Part of the Norilsk Calvary, a Memorial Complex for the People Who Died in the Labor Camp Between 1935 and 1956
(via Nordroden)
At the Mines
(via Nordroden)
On the Streets
(via Nordroden, j-4, Wikimedia Commons, Vladimir Maltsev and Traveling Your Dream)
On the Buses of Norilsk
(via English Russia)
__
The photos are from Gelio, except when noted otherwise.