Lt. Col. Christine Mau, 33rd Operations Group deputy commander, just completed a training flight as the US's first female F-35 pilot. Here are photos of her in an F-35A, a fifth-generation single-seat fighter.
Mau, who previously flew F-15E Strike Eagles, made history as the first female F-35 pilot in the program, when after 14 virtual training missions she finally took off on her own from Eglin Air Force Base on May 5, 2015. This is what she said after her first flight:
It felt great to get airborne. The jet flies like a dream, and seeing the systems interact is impressive. Flying with the Helmet Mounted Display takes some adjusting, but it's an easy adjustment.
Mau's gender has no effect on her performance as a fighter pilot. Only two things needed to he changed: The size of her G-suit and facemask (her equipment is extra-small). As she emphasizes:
Flying is a great equalizer. The plane doesn't know or care about your gender as a pilot, nor do the ground troops who need your support. You just have to perform. That's all anyone cares about when you're up there – that you can do your job, and that you do it exceptionally well.
G/O Media may get a commission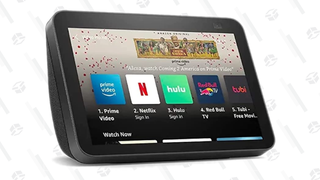 These awesome photos let you peek into Lt. Col. Christine Mau's first flight in the cockpit of a F-35A. Just look at the last photo below where she reacts to the sight of her friends. Pure happiness.
All photos: Staff Sgt. Marleah Robertson/U.S. Air Force