Presidential race loser and US Senator John Kerry (remember him?) has sent a note to the FCC basically asking why AT&T has an exclusive iPhone contract with Apple. Two years after its introduction? This horse is late to the race:
We ask that you examine this issue carefully and act expeditiously should you find that exclusivity agreements unfairly restrict consumer choice or adversely impact competition in the commercial wireless marketplace [...] Whether exclusivity agreements are becoming increasingly prevalent between dominant wireless carriers and handset manufacturers.
According to Ian Paul at PC World, the underwriters—Senator Kerry, Roger Wicker (R-Miss.), Byron Dorgan (D-N.D.), and Amy Klobuchar (D-Minn.)—are mainly addressing the most successful smartphone out there in that note.
But why do this now? Only because the iPhone has been a raging success? Wasn't this as bad two or one year ago as it is today? And why is this an FCC concern? Why should the government make any company to do business or sell their products in a certain way? Maybe the reason is that Kerry has Verizon and he's pissed off he can't have the iPhone or the Pre (for now)?
I don't know about you, but as much as I would like to choose whatever carrier I want—you actually can, since you can buy the iPhone unlocked—this "concern" seems a a bit retarded to me. [PC World via Christian Science Monitor]
G/O Media may get a commission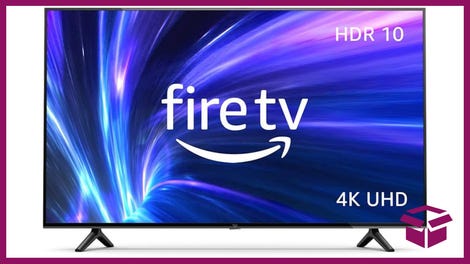 42% Off
Amazon Fire TV 50" 4K Smart TV