Yesterday, CNET broke the story that Apple lost another iPhone prototype. Juicy! Unfortunately, the CNET article created more questions than answers.
According to CNET's source, Apple didn't file a police report when the iPhone went missing. That threw up a few alarms—later in the article, CNET claims the San Francisco Police Department accompanied Apple security to a suspect's house to search for the missing iPhone prototype.
CNET reports that the iPhone prototype was left at Cava 22 sometime in late July. A "day or two later," Apple contacted the SFPD about the missing device. The article doesn't specify how much longer it took for the iPhone to be tracked to the home of a Bernal Heights' resident, who was then visited by the SFPD and Apple Security personnel. The man allegedly informed the police and Apple employees that he was at Cava 22 on the night in question, but knew nothing of the missing iPhone. Even after being offered money "no questions asked" by an Apple employee, the man continued to tell police he had no knowledge of the iPhone or its whereabouts. After that, who knows what happened to the iPhone. CNET speculates that it "may have been sold" on Craigslist for $200—but offers no evidence to back that claim up.
An initial call to the SFPD yesterday ended with them asking for an email detailing all our questions about the investigation. Apparently, no one in the media department had any knowledge of the missing iPhone or the investigation around it. As of this writing, they have not replied to the email.
G/O Media may get a commission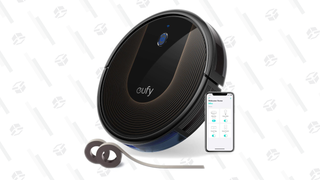 48% Off
Eufy BoostIQ RoboVac
After another call to the SFPD's media relations department today, I spoke with Officer Albie Esparza, who had talked to Apple earlier this morning about the incident. He requested a report number so that he could inform the media what was happening in the investigation. But according to Officer Esparza, there is "no record" of this lost iPhone. Nothing.
I emailed Craigslist asking to see their cached posts from late July. The media contact informed us that once a post is off the site, it's gone forever. So I asked for any confirmation that they were contacted by Apple or the SFPD about the missing iPhone prototype. Craigslist hasn't replied to our inquiry.
I called and emailed Apple to ask about the incident. They haven't gotten back to me. Of course, I don't expect them to get back to me. But at this point, besides CNET's source, it seems like Apple is the only organization that knows exactly what's going on. Which leaves us with more questions than answers.
- Would the SFPD help Apple investigate a missing device without having an incident report?
- If the SFPD knew they were working with Apple, wouldn't they have been prepared to speak to the press regarding the incident?
- Why would CNET's source give them such a vague range of dates? This impedes any sort of independent confirmation.
- If the phone was lost in July, why are we just now hearing about it? What's happened over the last month?
- Where is this mystery iPhone prototype? It was reportedly sold on Craigslist for $200.
- If it's still functioning, has Apple already tracked it down again and retrieved it?
Do you know what happened? We'd love to hear from you.