Simon Pegg swears Benedict Cumberbatch's villain isn't who you think in the Star Trek sequel. Jon Favreau talks NBC's Revolution. Nick Frost promises more dwarfs in a prospective Snow White and the Huntsman sequel. Plus new characters for Game of Thrones!
Spoilers from here on out!
Top image from Total Recall.
The Dark Knight Rises
Here's a brand TV spot. [/Film]

---
Star Trek 2
Scotty actor Simon Pegg says that Benedict Cumberbatch isn't playing Khan in the movie, promise:
"It's not Khan. That's a myth. Everyone's saying it is, but it's not. I think people just want to have a scoop. It annoys me — it's beyond the point to just ferret around for spoilers all the time to try to be the first to break them."
And here's Benedict Cumberbatch himself pointedly refusing to reveal anything:
[Star Trek was] amazing. One of the best four months of my life. It was just solid extraordinary fun from beginning to end. JJ Abrams is a god. And the rest of the cast and what we were asked to do in the film is blindingly brilliant. I adore them all. It was a huge roller-coaster adventure and I can't wait for the world to see the film. I can't tell you anything about it, even what part I am playing. There is all sorts of speculation about all sorts of characters. It would be kind of spoiling it for everyone if I clarified anything. So I am going to leave it with a smile.
G/O Media may get a commission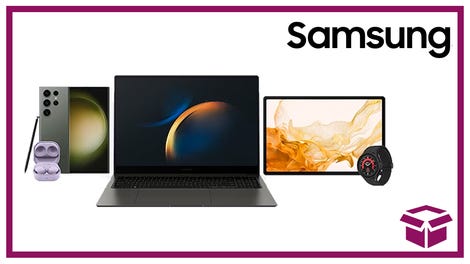 24 hour deals
Discover Samsung - Daily Deal
---
Total Recall
Here's a TV spot. [Coming Soon]

---
Snow White and the Huntsman
It's already been suggested that any sequels would likely ditch Snow White and the Evil Queen in favor of Chris Hemsworth's Huntsman, and now costar Nick Frost says that he and the rest of the dwarfs might well earn an expanded role in the sequels too:
: "I think the dwarves first appear in the script on page 64. I don't think this is about us, not at this point. What did I sign up for? Two or three. I think the next one will be kind of Dwarf-heavy. It'll be 'Dweavy.' But this one isn't about us, it's about Snow White, her battle with the Queen and the Huntsman's treachery. We do see a lot of action though. The whole final third of the film is a push on [the Queen's] castle, and the dwarves play quite a big role there."
---
The Host
Twilight author Stephenie Meyer praises Gattaca director Andrew Niccol's approach to her other novel, specifically the one about an invasion of alien soul-stealing parasites:
"Andrew and I work pretty well together, he's really, really great. And so he was super easy to work with. In the script-writing process he loved to hear what I had to say and worked really well with me on that. He's really about, 'What do you think about this? What do you think about that?' I think [I have more input] because we are really in sync... This [set] has beautiful landscapes everywhere we've been and so that's been kind of different, too. We're not in a forest where you can't really see, we have all this beautiful stuff. It's great."
---
Game of Thrones
Because they just couldn't cram enough awesomeness into the standard fifty-odd minutes, this Sunday's finale episode "Valar Morghulis" will be an extra ten minutes long. [Den of Geek]
EW has an early list of characters expected to debut next season, which will adapt part of the third novel A Storm of Swords. The new characters include Mance Rayder, Daario Naharis, Jojen Reed and Meera Reed, Edmure Tully, Ser Brynden Tully (The Blackfish), Lady Selyse Florent, Shireen, Olenna Redwyne (The Queen of Thorns), Beric Dondarrion, Thoros of Myr, and Tormund Giantsbane. For short descriptions of the characters, check out the link. [EW]
Speaking of new characters, Winter is Coming claims that casting is currently underway for Vargo Hoat, the lisping, foot-chopping leader of the Brave Companions. There's even a link to someone's audition video, although it appears to be inaccessible. [Winter is Coming]
---
Grimm
True Blood actor James Frain will reportedly appear next season as Eric Renard, the brother of Sasha Roiz's Captain Sean Renard. Frain will reportedly be a recurring guest star who is on not great terms with his brother and "comes to Portland after a very bad creature makes its way into town", but "Eric has his own plans, and it looks like Nick (David Giuntoli) is the target." [Zap2It]
The show is also looking for an actor to play "a man who morphs into a bloodthirsty, brutal, saber-toothed killing machine." The character is expected to appear in at least two episodes. [Zap2It]
---
Revolution
Here's a new promo for NBC's new action series from J.J. Abrams and Supernatural creator Eric Kripke about a world without energy.

Iron Man's Jon Favreau directed the pilot episode, and he offers these thoughts on the show and how he approached it:
"From my perspective, it's about the characters and the families - how they've had to adjust. What's scary about [the world] and what's positive about it. The world in some ways has gotten more innocent. It's a simpler time, and one could argue that people are closer together. There are dark characters and there's a lot of danger in that world because you don't have governments and you have armys. You have militias popping up and you have clans fighting. I'm a big fan of swords in film, so it was a chance to work with sword choreography. Without modern technology, modern weaponry starts to disappear after 15 years. Modern gun powder. A couple of people have been able to hoard more modern weapons, but without electricity, it's hard to manufacture that high-grade, high-tech product. So we're getting back to handmade things. So a lot of swords, black powder weapons, Kentucky rifles, and a couple of very powerful people have been able to accumulate weapons from our times."
[EW]
---
Eureka
Here's a sneak peek for next week's episode and the seventh of the season overall, "Ex Machina."

---
Falling Skies
Here's a full set of titles, airdates, and descriptions for all of season two:
ASeason Premiere Part 1: "World's Apart" – Sunday, June 17, at 9 p.m. (ET/PT)
The season two premiere begins three months after Tom Mason agreed to go with the alien invaders. Weaver is still in command of the 2nd Mass, while Anne continues to serve as medic. They have seen many battles and are a much leaner unit now. Pope has taken command of the Berserkers, a renegade group within the 2nd Mass that Weaver doesn't fully trust. When Tom suddenly returns, he is faced with doubt about his loyalties to the group. Meanwhile, Hal and Ben continue to drift apart as Ben challenges his older brother's authority.

Season Premiere Part 2: "Shall We Gather at the River" – Sunday, June 17, at 10 p.m. (ET/PT)
Tom is still haunted by memories of his time with the aliens and begins to wonder if they did something to his mind. Pope, who is in charge of questioning Tom, plants seeds of doubt about him among the group. Meanwhile, Ben's hatred for skitters grows, and the 2nd Mass scouts locate an old bridge that will help them cross the river to safety ahead of an impending attack.

"Compass" – Sunday, at 9 p.m. (ET/PT) – Sunday, June 24, at 9 p.m. (ET/PT)
The 2nd Mass moves into an airport hanger, but the drafty conditions cause Anne to grow concerned about the group's health. Meanwhile, the Berserkers hatch a plan to get rid of Tom. And while dealing with a loss of one of its own, the 2nd Mass receives a promise of hope from a mysterious visitor.

"Young Bloods" – Sunday, July 1, at 9 p.m. (ET/PT)
While on patrol together, Ben and Hal try to help a young boy and wind up having their bikes stolen. The hunt to recover them leads them to the discovery of something much bigger. Also, Matt is put in danger, and Weaver is reunited with a family member.

"Love and Other Acts of Courage" – Sunday, July 8, at 9 p.m. (ET/PT)
A familiar face returns to the 2nd Mass, but his intentions remain unknown. Meanwhile, a skitter is captured and brought back to the camp as a prisoner. And Hal bonds with Maggie as she begins to open up about her past.

"Homecoming" – Sunday, July 15, at 9 p.m. (ET/PT)
Hal stumbles across bodies of de-harnessed kids and finds someone from his past. Tom and Anne grow closer. And Weaver's health deteriorates just as Tom discovers he may have been keeping important matters from the group in order to protect them.

"Molon Labe" – Sunday, July 22, at 9 p.m. (ET/PT)
Ben is placed in harm's way by someone who he thought he could trust. Tom captures another hostage. Weaver offers Matt a job to lift his spirits and make him feel useful. And when members of the 2nd Mass are trapped in the basement of a building, the situation takes a turn for the worst when they find themselves faced with a new enemy.

"Death March" – Sunday, August 5, at 9 p.m. (ET/PT)
The 2nd Mass pushes on to Charleston, but some are still grieving the group's recent losses. Weaver learns more about Tector's background before the invasion. And Matt begins to bond with a harnessed girl who was found recently.

"The Price of Greatness" – Sunday, August 12, at 9 p.m. (ET/PT)
The 2nd Mass meets new faces, while Tom comes across his former mentor and professor Arthur Manchester (guest star Terry O'Quinn). But it's difficult to know whom to trust. Maggie begins to realize that Pope may not be sticking with the group very long. And Tector embraces his military past

Season Finale: "A More Perfect Union" – Sunday, August 19, at 10 p.m. (ET/PT)
When skitters approach the newly combined resistance force, the groups' interaction surprises everyone. Meanwhile, Tom finds out life-changing news just as the 2nd Mass comes face-to-face with their most dangerous threat to date. Terry O'Quinn guest-stars.
[KSiteTV]
---
The Vampire Diaries
Star Nina Dobrev talks about playing both Elena and Katherine, as well as season four in general:
"I'm vampire-squared now. I'm playing two vampires, so my challenge is going to be making them different, as I have thus far. Before it was because one's a vampire, one's a human - it was easy - and now I have to try and make Elena a vampire. Finding out that she chose Stefan even though she actually met Damon first... there's so much going on and there are so many emotions. It's going to be a new beast going into Season 4."
---
Arrow
Star Stephen Amell discusses the show's take on Green Arrow:
"Nobody in our universe has super powers, so that's a big jumping off point. I think we find Oliver Queen more injured than we saw him before. Other than in name, there are virtually no similarities between [Hartley's version and the new version]. It's not to say that one's better than the other, it's just that they're so different, it's almost weird to compare them."
[Zap2It]
---
Beauty and the Beast (CW)
Stars Kristen Kreuk and Jay Ryan discuss the romance between the title characters, also known as Catherine and Vincent:
Kreuk: Obviously you can't bring these two characters together without difficulty. It's a journey.
Ryan: Vincent has been celibate for, like, 10 years. And there's a moment where he's touched for the first time by Catherine and there's an animalistic flinch. It's going to take a lot for these two characters to trust one another.
[EW]
---
Teen Wolf
Here's a short description for the season two premiere, "Omega":
When Lydia goes missing from the hospital, werewolves and hunters begin a search.
And here's one for the second episode, "Shape Shifted":
Isaac's father is murdered; Scott, Stiles and Derek plan a break-out.
[KSiteTV]
Also, the season features "the coach ordering the entire lacrosse team to head out into the woods in search of a naked, crazy teenage girl", because how the hell could it not feature that? [Zap2It]
---
Continuum
Here's a promo for the second episode of the Canadian time travel show, "Fast Times."

---
Additional reporting by Jennifer Griffith-Delgado and Charlie Jane Anders.