Remember the halcyon days of last week, when the Fring iPhone app supported video calls over 3G to any Fring or Skype user? Fun while it lasted. Today comes news that Skype has blocked Fring altogether. Or did they?
The reported move ends a beautiful four year relationship between Fring and Skype. After the updated Fring app launched, a huge volume of calls caused necessitated that Fring "temporarily reduce support" to Skype. At that point, according to a Fring spokesperson, Skype "demanded that [they] NOT restore connectivity."
As often happens in a messy breakup, Skype has a different version of events, stating unequivocally that "there is no truth to Fring's claims that Skype blocked them, it was their decision and choice to withdraw Skype functionality." At the same time, they make clear that Fring violated Skype's terms by "misusing the Skype software in ways which it was not designed for and which does not scale to meet consumer demand."
So in a nutshell, if I'm parsing this correctly: Fring introduces great Skype functionality for iPhone 4 video chat. Demand for said functionality causes Fring to temporarily pull Skype support. Pulling Skype support suddenly violates Skype license agreement, ergo Skype will no longer play nice with Fring. Or not, depending on who you ask.
G/O Media may get a commission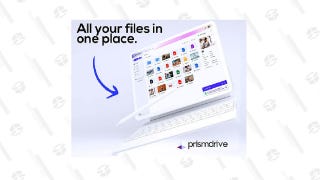 Save 97%
Prism Drive Secure Cloud Storage: Lifetime Subscription
The fact remains that no matter how much he said/she said gets thrown about here, we all just lost a pretty killer feature.
This whole ordeal also raises a bigger question: why is there no Skype app for iPhone that supports video chat? Or that does iOS4 background calling? It's clear that Skype is acting defensively in this case; I just wish they had something more robust that they were defending, since third parties like Fring have to date been our only option. A Skype spokesperson declined to comment on specific iOS 4 video calling plans, but did give us the following statement, which as far as I can tell doesn't actually say anything:
"Skype is the market leader and champion of video calling for consumers and it's clear to us at Skype that the next generation of innovation involving video calling will not be bound to the computer and that mobile video calling will become increasingly important to our customers in the coming year. We're seeing a proliferation of video calling shared between all kinds of connected devices. It's on computers, TVs, and it is starting to come to mobile devices too, such as Skype video calling (over 3G) on the Nokia N900. We envision a world where video plays a larger role in the way we communicate. We're betting big on video, and we intend to set the bar on mobile video calling."
Full statements on the Fring vs. Skype issue from both companies are below:
Following fring's string of mobile video calling wins - Skype blocks fring

Skype - former crusader for open communications - bans competition after fring trail-blazes mobile communication innovation

London, United Kingdom, 12 July 2010. fring, the multi-award winning mobile over internet communication service, today announces that it is being forced to stop its 4 years of Skype interconnectivity following threat of legal action. Skype's anti-competitive ambush comes in the wake of fring's mobile video calling on iPhone 4 launch, which continues to set the standard in rich mobile internet communication.

Since its foundation in 2006, fring's rich mobile communications have been available to both fring users and open 3rd party networks including GoogleTalk, SIP, Twitter and, until now, Skype. However, despite fring expanding its network capacity over the last days to serve its enlarged user base, Skype is refusing to allow fring to restore connectivity to Skype. Accordingly, fringsters will no longer be able to communicate with their Skype friends the way they want, but can invite their Skype friends to join fring and enjoy unrestricted mobile video calling from any mobile phone, chat and voice services without restriction to a user's mobile operator and the freedom to choose internet connectivity (3G/4G/WiFi).

"We are disappointed that Skype, who once championed the cause of openness, is now attempting to muzzle competition, even to the detriment of its own users" said Avi Shechter, fring's Co-Founder and CEO "We apologize to our users for the impact of Skype's bullying and we will be happy to reconnect with Skype once Skype reverses their decision." Avi continued, "We believe in communication openness and know that users will continue to vote with their mobile phones – opting for fring's innovation, clarity, honesty and openness".

fring's newest version is now available for download from fring's website here and from appstores.

Let freedom fring!
"Skype has been in discussions with Fring regarding our belief that Fring is breaching our API Terms of Use and End User Licence Agreement. Skype is disappointed that an amicable resolution was not possible. There is no truth to Fring's claims that Skype blocked them, it was their decision and choice to withdraw Skype functionality.

Skype encourages openness and supports developers to build products that work with Skype in accordance with our various API licenses. In this case Fring violated Skype's terms by misusing the Skype software in ways which it was not designed for and which does not scale to meet consumer demand. Just this past weekend Fring had to pull down Skype support for their iPhone video client which further damaged the Skype brand and disappointed consumers yet again.
Skype will rigorously protect its brand and reputation and those companies that do not comply with our terms will be subject to enforcement."